Steppin' into the spotlight: DE Derek Barnett
12 June 2019 Film Review
---
With the next installation of the "Steppin' into the spotlight" series, we're going to take a look at third year defensive end Derek Barnett. Barnett's 2018 season was cut short due to a season ending injury, but before the injury Barnett put together some pretty good tape in his sophomore campaign.
With Chris Long now retired, and Michael Bennett a Patriot, this will be a huge year for Barnett as he has to prove that he can be a full time defensive player for the Eagles. Let's put Derek Barnett under the spotlight to see how well he played in 2018 for the Philadelphia defense, and to project what his contributions will be in 2019!
Overview:
As a first round draft pick in the 2017 NFL Draft, Derek Barnett came in with very high expectations after becoming the all-time sack leader at the University of Tennessee. Showing an overall dominant game as a run stopper and pass rusher in the SEC, it was almost a foregone conclusion that Barnett would come into the NFL and hit the ground running.
That hasn't necessarily been the case for Barnett however, as he's struggled to stay on the field consistently, either because of injury or because of other talented veteran pass rushers on the Eagles roster. In two seasons Barnett has recorded only 9.5 sacks, and despite his above average play over those seasons many fans and sportscasters feel as though Barnett has fallen short of his draft slot.
Barnett started the first six games of 2018 for the Eagles, and was well on his way to putting together a big season before the injury bug struck. Through those six games Barnett racked up 16 combined tackles, 2.5 sacks, 5 tackles for loss, and 11 quarterback hits. Over a sixteen game season those numbers would project out to roughly 42 tackles, 6.5 sacks, 13 TFLs, and 29 QB hits, all of which would've been career highs. Barnett will need to put it all together in 2019, and also remain healthy, for the Eagles to feel as though he was worth the investment.
Pros:
Run defense
QB pressures/sack potential
Strength
Cons:
Block shedding/counter moves
Awareness
Pros
Run defense
Derek Barnett surprisingly has become a very solid run defender for the Eagles, earning most of his snaps on early downs as opposed to only being designated as a primary pass rusher. Barnett is good at the point of attack and is adept at using his strength and agility to beat blockers and get the ball carrier on the ground, leading to 5 tackles for loss through six games.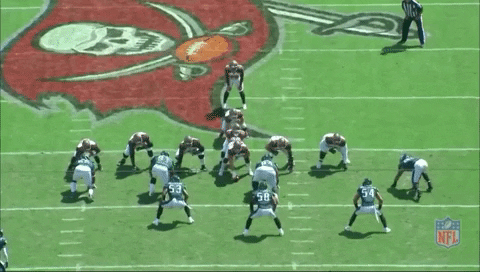 Barnett does an excellent job here of using his quick first step to get past Buccaneers LT Donovan Smith, who Barnett battled with all game. Despite being hooked by Smith, Barnett is able to make the tackle for loss diving at the legs of the running back to make a great stop.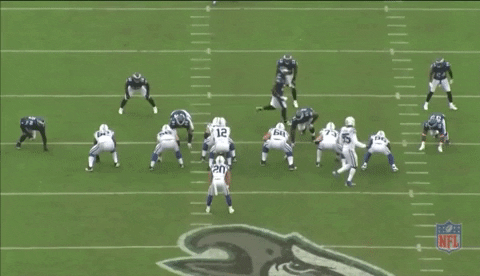 Here Barnett makes a great read on the run play and cuts the back down for a short gain. Clearly him being unblocked was an oversight by the Colts offense, and Barnett makes them pay.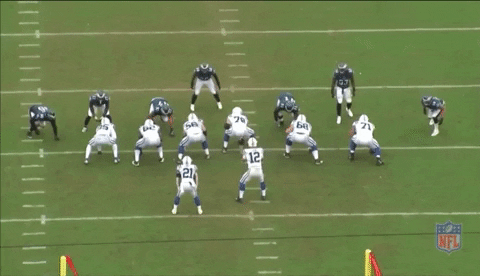 Again Barnett is unblocked on the play, and makes another excellent run stop versus the Colts. Barnett locates the running back and throws him to the ground for no gain.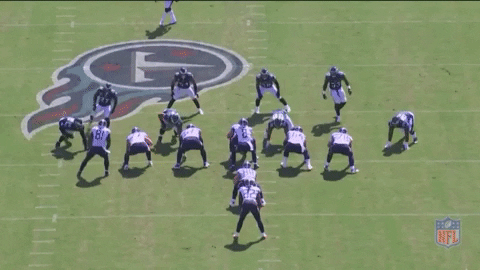 On this play Barnett fends off both the left tackle and tight end to make an excellent run stop versus Titans RB Derrick Henry. These are the kinds of plays that Barnett made consistently through the first six games of the season, and hopefully he can build on his strong start in 2019.
QB pressures/sack potential
Barnett came into the NFL with a reputation as a sack specialist, and despite not living up to those expectations so far in his career, he has shown an ability to generate pressure and hits on the QB. His 27 total QB hits over the past two seasons ranks three behind Texans DL JJ Watt and Vikings DE Danielle Hunter (30), and two more than Eagles DE Brandon Graham (25). It's important for Barnett to convert these hits and pressures into sacks in 2019.
Barnett does a great job again using his quick first step to beat the blocker on the edge for a pressure on Giants QB Eli Manning. The QB hit leads to an incompletion on the outside and again is another really good play by Barnett to make the like of the QB difficult.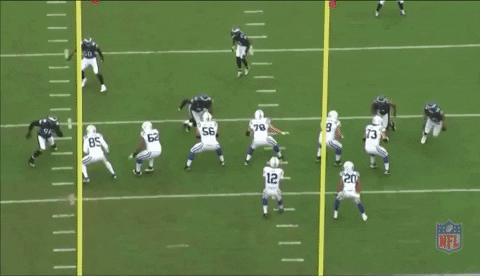 Barnett isn't able to get home on the pass rush, but is able to push the left tackle far enough back in the pocket so that Barnett can get a hand on the ball before Colts QB Andrew Luck can get the pass away. Barnett forces an incompletion, but these are the types of plays that turn into interceptions or fumbles.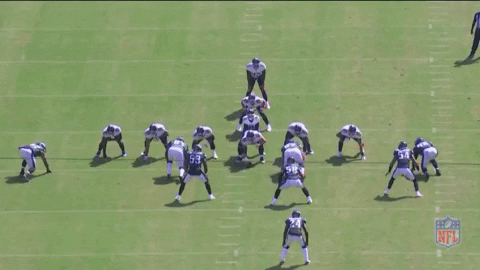 This is one of Barnett's 2.5 sacks in 2018, and on this play he beats Titans LT Taylor Lewan for a great sack on Titans QB Marcus Mariotta. Barnett engages with Lewan at the point of attack, and uses a great rip through move to beat Lewan inside.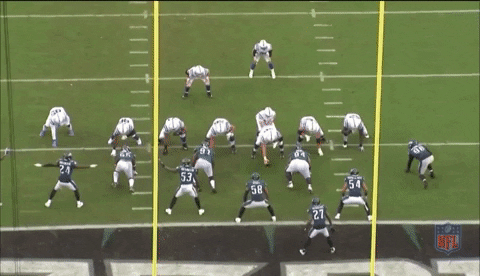 On this final play Barnett uses a great outside speed rush to beat Colts LT Le'Raven Clark for a sack on Colts QB Andrew Luck. Barnett is able to fight through Clark's grasp to get a hand on Luck, and Luck eventually goes down after trying to regain his balance. It's imperative that Barnett continue to rack up pressures and QB hits, but for him to completely maximize his value he'll need to generate more sacks in 2019 and beyond.
Strength
Barnett's playing strength is another positive trait that he's flashed early on in his career as an Eagle. His power move is the move that he relies on most often when pushing the pocket, and he's also able to use his strong legs and upper body strength to anchor down and ward off blockers.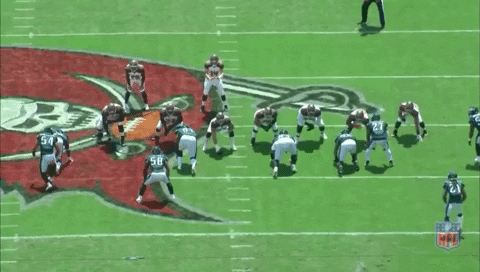 Barnett again uses his quick first step to initially get past the blocker, and then uses his great balance and strength to hold off both blockers with his extended arms. He then makes an excellent tackle by swiping at the legs of the running back, knocking the back to the ground.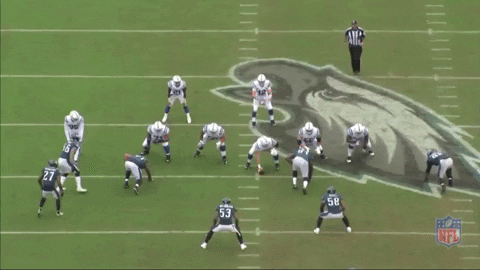 On this play Barnett lowers his head and bowls into the tackle, collapsing the pocket and forces Luck into a difficult pass attempt. While he isn't able to get the sack, this is a great example of how Barnett uses his power moves to push blockers around.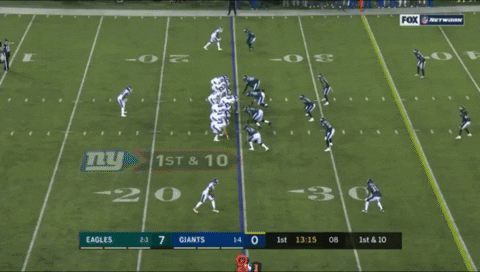 Not only is Barnett strong he's also very relentless as a run defender, constantly working against the opposing blocker to gain an advantage. Here Barnett doesn't give up on the play and eventually is able to free himself to make a tackle.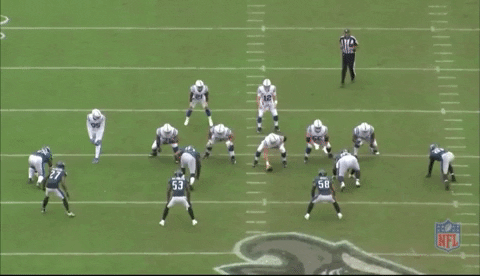 Barnett had a heck of a game against the Colts in 2018 racking up 5 total tackles, 2 QB hits, 2 tackles for loss, and 1.5 sacks. He was all over the place, and this play is no different. He drives the left tackle into the pocket with an excellent power move, then juts out his arm at the last minute to get a hand on Luck.
Cons:
Block shedding/counter moves
Derek Barnett still has a ways to go in regards to shedding blocks consistently, especially as a pass rusher. While he has good play strength and is adept at using his hands, he relies on the same bull rush, or outside speed rush time and time again. Veteran offensive linemen eventually pick up on this tendency and sit on Barnett rush moves, keeping him from getting to the QB.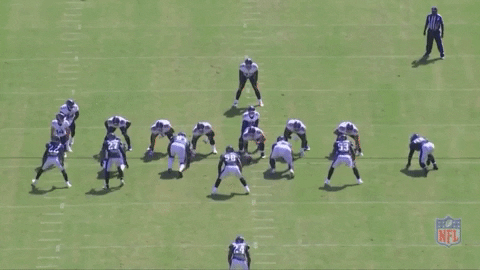 Unfortunately this was a familiar sight with Barnett, when he can't blow by a blocker with a quick first step or overpower them he ends up being nullified as a defender. Here Barnett can't shake loose of Titans LT Taylor Lewan, who engulfs Barnett and completely takes him out of the play.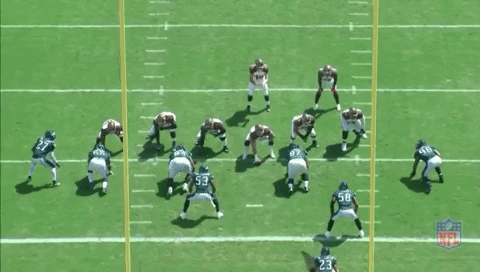 Different game, same exact situation for Barnett who can't escape from Buccaneers LT Donovan Smith and is subsequently pancaked. For Barnett to take it to the next level as a defensive end, he'll need to develop a counter move to break away from initial contact. With out one veterans like Smith will nullify Barnett's pass rushing ability with IQ and patience.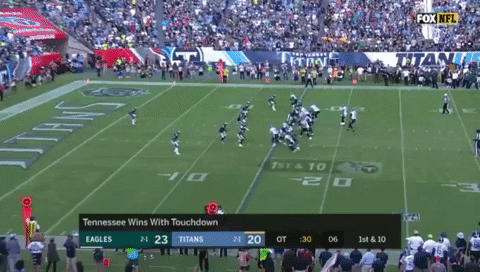 Barnett and Lewan had a hell of a battle during this game, with both getting the upper hand over the other at different times. While Barnett was able to rack up a sack versus Lewan, he was also pushed around quite a bit. Here Lewan again stays patience in his kick step and meets Barnett at the point of attack, giving Mariota a clean throwing window.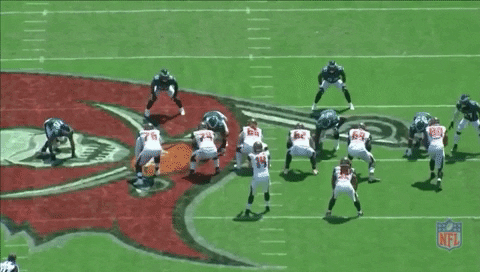 Barnett had quite a battle with Buccaneers LT Donovan Smith as well, but unlike Lewan, Smith never relinquished a sack versus Barnett. Here Smith stands up Barnett and stops him dead in his tracks, a common occurrence through out the entire game.
Same game, same results here as Smith completely dominates Barnett, pushing Barnett so far out of the play he actually injures his ankle. These types of games are great for Barnett's development though, Taylor Lewan and Donovan Smith are two of the best offensive tackles in the NFL and this experience will serve as educational.
Awareness
This is far less of a concern as Barnett's inability to counter or disengage blockers regularly. On tape though there are times where, despite giving all his effort, Barnett is unable to read a play correctly. He had numerous opportunities to deflect passes at the line of scrimmage, or make a tackle earlier in a play, but doesn't due to a lack of recognition.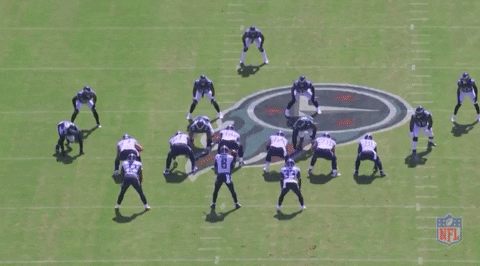 Barnett really had a hard time diagnosing the run/pass option versus the Titans, routinely falling for the adept ball handling of Titans QB Marcus Mariota. Here he bites hard on the play action and Mariota races by him to throw a long incompletion. Had Mariota been more accurate throwing on the run he could've converted a huge play here.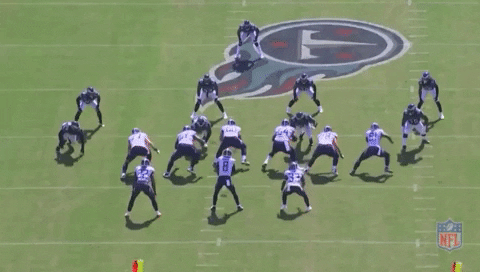 On a very similar play out of a similar formation, Barnett again misreads the handoff and bites hard on the inside look to Titans RB Derrick Henry. Clearly this was the wrong read as Mariota kept the ball and was able to scamper away for several yards. Barnett needs to be more disciplined, as the modern NFL QB has become a much more athletic player.
Wrap up
There's no question that Derek Barnett was on his way to a career season before being injured in 2018. On one hand that's not saying much as Barnett is still early in his career and hasn't put together a ton of statistics to this point. On the positive side though, Barnett showed up as an early down defender that's adept at stopping the run and condensing the pocket from the outside to make QB's consistently uncomfortable.
To take the next steps as a defender Barnett will need to develop his counter pass rush moves and disengage from blockers at a much higher frequency. Since he doesn't move around the defensive line much (at least to this point) the majority of his snaps come against left tackles, the most highly regarded position on the offensive line. His tape versus Taylor Lewan and Donovan Smith leave much to be desired, but he did put together good tape against the Giants and Colts, two teams with average, to below average, left tackles.
Eagles fans don't have to look far though for an example of a player that took a while to hone his skills, as Brandon Graham is the poster child for starting slow but finishing strong. Though Graham has never recorded a double digit sack season, he's one of the premier two way ends in the NFL, equally adept at rushing the passer and stuffing the run. Barnett has a lot of the same skills as Graham, and also has the same nonstop motor that ultimately helped Graham maximize his potential. Much will be asked of Barnett this season, and if he can step up to fill the void of Long and Bennett, the Eagles defense should be in good shape along the trenches in 2019.
Spotlight series: LB Zach Brown, Jordan Howard, Avonte Maddox
---