Steppin' into the spotlight: MLB Zach Brown
6 May 2019 Film Review
---
With the NFL Draft and free agency now behind us, it's time to start analyzing the Eagles depth chart to identify candidates that'll need to step up to make an impact for the Eagles in 2019. I feel like there's no better place to start than with the newest addition to the Eagles, middle linebacker Zach Brown.
Brown joined the Eagles on a VERY modest 1 year $3 million dollar deal, which is a bargain considering the level of talent he brings to the team. Seen as a top free agent once he was released by Washington, his acquisition is another feather in the hat of the OG GM Howie Roseman.
In order to understand the impact that Brown brings to the table, it's important to look beyond the stats and really examine the tape he put together in 2018. Let's put Zach Brown under the spotlight to see what his addition means for the Philadelphia defense!
Overview
Brown is going into his 8th year in the NFL, and overall has been a pretty productive linebacker. Highly regarded coming out of North Carolina as a rookie, Brown was selected #52 overall in 2012 by the Tennessee Titans after blowing up at the combine and posting a 4.5 40 yard dash. There was never a question about Brown's athletic ability, and he provided the Titans immediate return on their investment.
Through his first 8 seasons in the NFL Brown has compiled 632 total tackles, 17.5 sacks, 7 INTs, 20 PBUs, 6 forced fumbles, and 2 career defensive touchdowns. In his two seasons as Washington's middle linebacker, Brown put together good back to back seasons, totaling 223 combined tackles, 22 TFL, 3.5 sacks, and 2 forced fumbles. In his 4 games as a Redskin versus the Eagles, Brown played extremely well totaling 34 solo tackles, 9 TFLs, 1.5 sacks and 1 forced fumble. Brown should provide a lot of value as a middle linebacker for the Eagles, with 3 down potential and a nose for the ball carrier.
Pros
Speed/Athleticism
Tackling
Pass coverage
IQ
Cons
Block shedding
Over aggressiveness
"Hustle"
Pros:
Speed/Athleticism
Brown's calling card has always been his speed and athleticism, and even at 29 years old he remains one of the most athletic linebackers in the NFL. He personifies "sideline to sideline" backer, tearing through the field like a heat seeking missile. Brown's ability to cover a lot of ground is important in today's NFL, which specializes in spacing.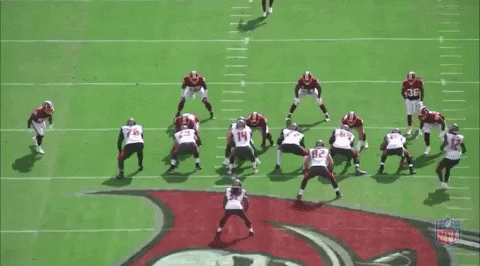 This play is a great demonstration of the kind of athlete that Brown is. He shadows the RB and bounces back and forth with the runner until he can snatch him up and bring him down. There aren't many players in the NFL that can make this sort of play.
Despite biting on the initial play action (something he does too often), Brown is able to recover and run the pass catcher down from behind. His catch up speed is remarkable, and allows him to overcome mistakes that he makes early during a play.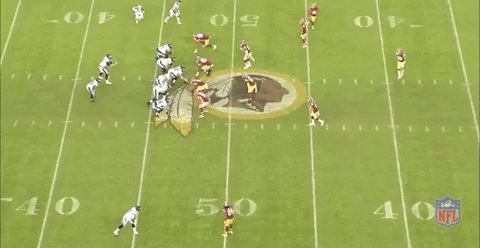 This is another display of Brown's excellent speed and athleticism, tracking Agholor in space to bring him down and prevent an even bigger play. Brown makes plays like this consistently, which will be a great value add to the Eagles defense.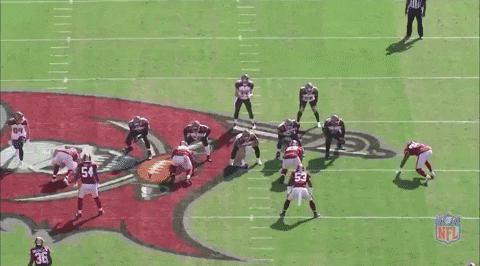 Again this is Brown making a good tackle while displaying his ability to cover space in a hurry. When he's playing under control Brown has the ability to disrupt games as a run stopper and in coverage.
Tackling
Brown is a really solid tackler, who uses great form and wraps up the ball carrier as opposed to only delivering big hits. His tackling ability limits yards after the carry, which is important for any linebacker. Rarely do you see runners get away when he's using proper technique.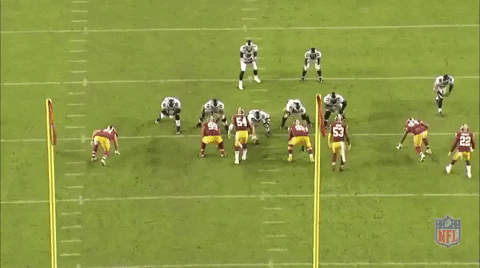 Brown made an excellent read here on the run and used his athletic ability to meet the ball carrier in the hole and make a play. He uses solid form to wrap up the ball carrier and drive him into the turf.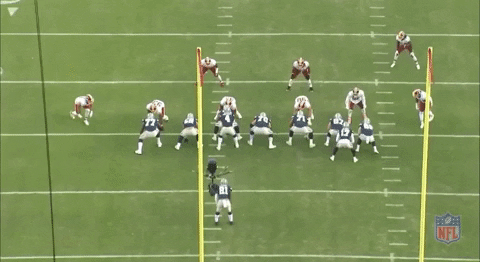 Brown makes another great read here, meeting Zeke in the running lane and going low to wrap up his legs and prevent any forward progress. Zeke is not an easy ball carrier to bring down, and Brown uses his vision, strength, and technique to neutralize Zeke's powerful running style.
Brown breaks down in space and attacks the ball carrier in the running lane and ultimately makes the tackle. When he plays with discipline Brown is a high level linebacker.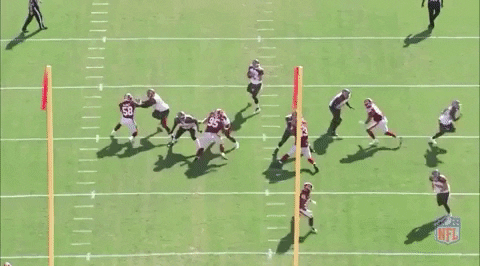 On this play Brown flashes into the screen at the very end and makes a great wrap up tackle on Fitzmagic. While Fitz isn't the fastest player, Brown nullifies anything Fitz could've done by using an excellent form tackle.
Pass coverage
Brown is very underrated in this area, and with his acquisition the Eagles have another option at nickel and dime linebacker. Brown stayed on the field in sub packages up until late into the 2018 season, when he was fighting a quad injury. With Nigel Bradham, L.J. Fort, and Kamu Grugier-Hill all fighting for sub package reps as well, the Eagles should be in good shape with pass defending linebackers.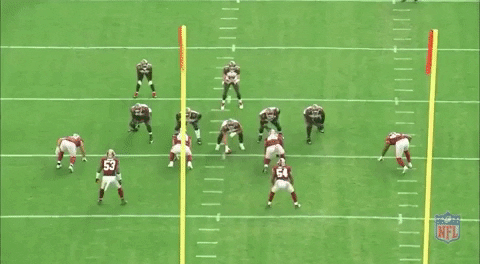 Brown does a good job of defending the angle route out of the backfield, in great position to make a play on the ball despite the errant pass from Fitzpatrick. Brown defends these plays well, and you can tell he's seen this route a number of times.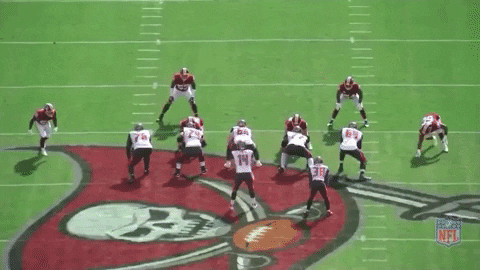 Brown diagnoses the screen play and makes a beeline directly to the back in order to wrap him up and bring him to the ground. Despite the back slipping trying to cut back, Brown ensures that the play goes for a loss with a very technically sound tackle.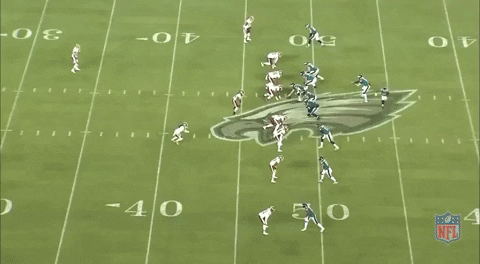 This is a tough play for Brown to defend, and the reason I highlight it is because of the closing speed he uses to accelerate and bring down Zach Ertz. Ertz is running a drag route one-on-one with Brown on the top of the screen, and Brown does the best he can to prevent a bigger play.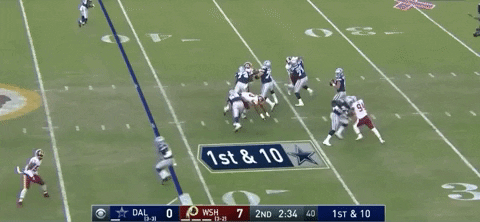 Again Brown makes the correct read on a pass play and breaks down in space to tackle Zeke for a short gain. Brown defends these types of routes very well, and shadows backs out of the backfield as well as anyone on the Eagles roster. It remains to be seen how many sub package snaps Brown gets in 2019, but in base packages Brown has a lot of value as a pass defender.
IQ
Besides incredible athletic ability, Brown is also a very intelligent linebacker that clearly diagnoses plays pre-snap and is very vocal with his teammates. You can see him barking to the other linebackers and defenders to get them aligned, while also attacking the running lanes post-snap, further proving his football IQ.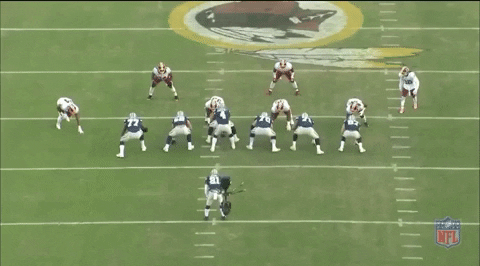 Brown puts all of his skills on display here, as he runs the blocker over and makes a great run stop against Zeke for a loss. Brown clearly recognizes the play at the snap and beats the blocker to the hole for the solid tackle.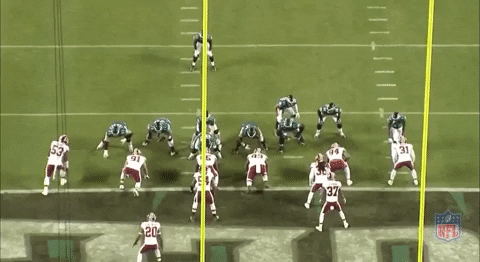 For some reason teams tend to leave Brown unblocked, which isn't a good idea because he can use his speed and IQ to run down plays from behind. On this play the Eagles leave him unblocked at the goal line and Brown makes the easy tackle for a loss.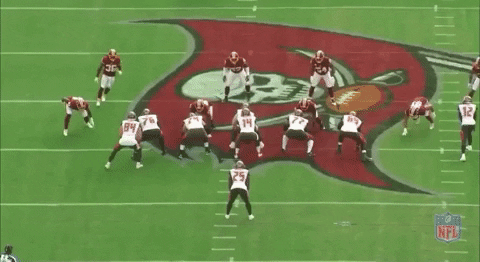 Brown recognizes the toss and navigates his way through traffic to track down the running back for a short gain. Brown's read and react ability should be a benefit to the Eagles defense, softening the blow of losing Jordan Hicks.
Cons
Block shedding
Because Brown is so athletic, he tends to over rely on his speed and burst to run past blockers, as opposed to squaring up to engage and shed them. Many times Brown is able to make the play, but there are several plays where his limited block shedding ability costs the defense.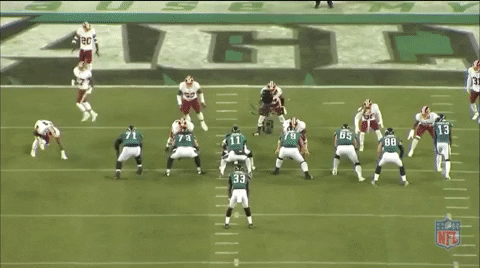 Instead of attacking the blocker, Jason Peters, Brown tries to elude him with a lack luster juke that gets him tossed out of the running lane. Brown tends to try and dance with blockers that he can't just run by, instead of stacking and shedding.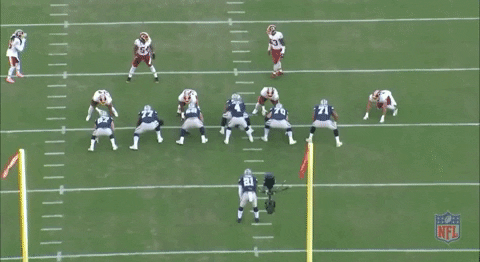 Again Brown hesitates at the point of attack and stutter steps instead of going downhill towards the ball carrier. He gets washed out of the play though luckily he gets blocked directly into the ball carrier.
Brown makes a good read on the run play, but instead of breaking down in space to take on the blocker, he tries to elude him to make the stop. Isaac Seumalo pushes Brown just enough to keep him from tackling Josh Adams, who runs for a decent gain.
Over aggressiveness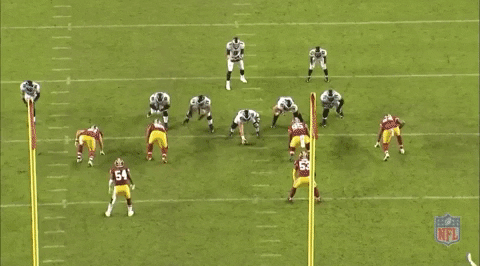 Brown makes a good read in zone to see Ertz coming across the field towards him, but instead of breaking down to make the tackle Brown comes up out of control and misses completely.
Brown again makes the correct read but can't stop the running back after the reception. As Brown approaches, he takes a bad angle and Jacquizz Rodgers spins out of the tackle.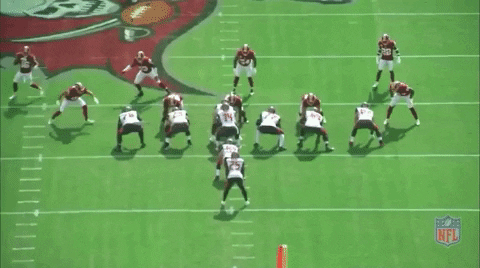 Here Brown's overaggressiveness gets him pushed past the play and out of range to stop the ball carrier. These are plays that you'll live with however, as Brown's athleticism is his calling card.
"Hustle"
There are times on film where Brown isn't giving 100%, which is a concern that's followed him since UNC. The plays are far and few between, but nonetheless they show up whenever you watch Brown play.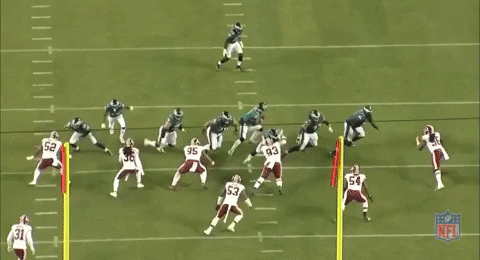 On this play Brown has a chance to pursue the receiver to make a chase down tackle, something he's down numerous times, but instead he hangs back and doesn't hustle to prevent a potential TD. These can be game changing plays, and with Browns speed and tackling ability, you'd expect to see more effort.
Brown doesn't get deep enough in his drop here, and the pass gets lofted over his head for a nice completion. There's a chance that Brown could've been spying Fitzpatrick, but either way he needs to hustle more to get a deeper drop to prevent the big play.
Wrap Up
I have high expectations for Zach Brown in the Philadelphia Eagles defense, as he's a veteran player with plus athleticism and tackling ability. He's prone to occasional lapses in coverage and judgement, but overall he's a solid middle linebacker, and more than capable of filling Jordan Hick's shoes in 2019. Brown should see 50-60 % of the defensive snaps, and if he stays in that range he'll be a very productive player for the Eagles. He offers additional versatility at a very important position in Jim Schwartz's defense, and has the IQ and experience to be the signal caller for the unit.
---
Mal Davis brown, Eagles, linebacker, pass coverage, run stop, zach