Steppin' into the spotlight: DB Avonte Maddox
29 May 2019 Film Review
---
When Avonte Maddox was selected in the 4th round (125th overall) of the 2018 NFL draft, not too many people imagined that he would end up playing a key role for the Eagles defense during his rookie year. Due to injuries to starters and reserves throughout the secondary, that did end up being the case, with Maddox playing 540 total defensive snaps (52.2%). Only Malcolm Jenkins, Rasul Douglas, and Ronald Darby played more snaps on the year in the secondary.
Despite some criticism for his coverage of Saints WR Michael Thomas in the NFC Divisional game, Maddox more than held his own against the likes of Odell Beckham Jr, Deandre Hopkins, Stefon Diggs, and Allen Robinson. Let's put Avonte Maddox under the spotlight to see how well he played in 2018 for the Philadelphia defense!
Overview:
Avonte Maddox is a second year cornerback for the Philadelphia Eagles, who showed the ability to contribute in a number of ways on defense and special teams. Maddox split his time in 2018 between left cornerback, slot cornerback, and safety, due to the number of injuries in the secondary. He was forced to become a plug-and-play defender, playing wherever he was needed on game day.
Maddox became a full-time starter week 5 and never looked back, recording at least two solo tackles each game he started. He ranked second on the team with 2 interceptions, and recorded 28 solo tackles, 4 pass deflections, 1 forced fumble, and a half sack, displaying his overall versatility.
As the graphic indicates (courtesy of PFF) Maddox was a tough person for opposing QB's to target consistently, and when they did it usually didn't go so well. The optics of the Saints game left some fans feeling as if Maddox was a potential liability in the secondary, but his tape and stats from his rookie season tell a very different story. Yes he has limitations like anyone else, especially from a size and strength standpoint, but those limitations should not prevent Maddox from becoming an eventual starter in the Eagles secondary.
Pros:
Playmaking ability
Speed/Athleticism
Tackling
Zone coverage
Cons:
Size/Strength
Overagressive
Man coverage
Pros:
Playmaking ability
Maddox has a lot of positive traits to fall in love with, but his number one quality at this point in his career has to be his playmaking ability. He can read plays like a veteran, and trusts his instincts to attack the ball or ball carrier for a big play or a timely deflection. While his 2 interceptions and four pass deflections may not appear significant, those numbers only tell a small part of the overall story.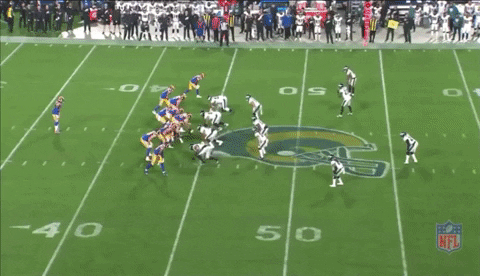 Maddox plays this route to perfection and uses his speed and intuition to break on the curl route to beat the receiver to the ball. This wasn't the best throw from Rams QB Jared Goff, but it's still a catchable ball for the receiver if Maddox isn't in position. He is in position though, and makes the diving interception to bring the Rams drive to a halt.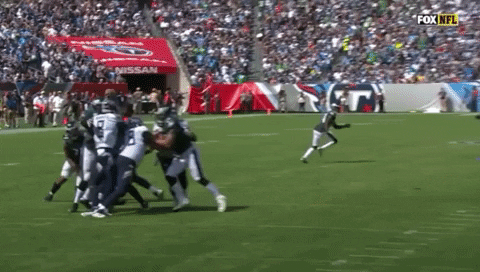 Here Maddox is Mr. Johnny-on-the-spot and makes a great play on an errant pass from Titans QB Marcus Mariota. From his safety position Maddox is able to identify where the ball is going pick it off and return it 23 yards, deep into Titans territory.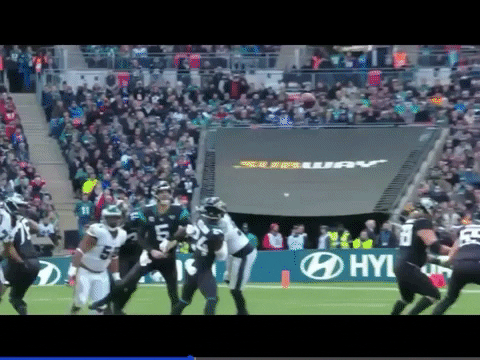 On this play Maddox makes a great tackle in space, getting his right shoulder on the football to cause the forced fumble. He showed good tackling technique throughout his rookie season, proving to pretty reliable in that department. This was a big turnover for the Eagles, and Maddox will look to deliver more of the same in 2019.
Despite not being able to pull in the interception, Maddox makes a heck of a play on an under thrown pass from Bears QB Mitch Trubisky. Maddox is initially beaten by Bears WR Allen Robinson, but recovers quickly to break in front of the pass to force an incompletion.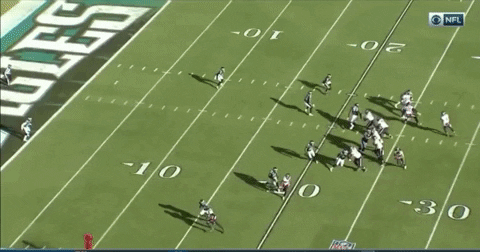 Here Maddox flashes his IQ and speed, identifying that scrambling Texans QB Deshaun Watson was looking to break the pocket for a big gain. Instead, Maddox is able to get to Watson in a hurry, closing in for a half sack and another of many big plays in his rookie season. Maddox showed real promise as a playmaker in his rookie year, and will look to build on that reputation in his sophomore campaign.
Speed/Athleticism
Coming into the NFL, everyone was well aware that Avonte Maddox could fly. Being 5'9 184 pounds means the diminutive defensive back has to use his speed and athleticism to make plays on a regular basis. He will never overwhelm offensive players with his strength or size, but he proved in his first year he doesn't need to.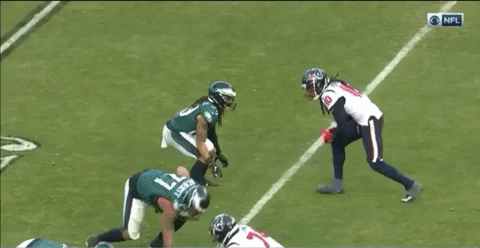 Maddox had his fair share of issues in man coverage as a rookie (more on that later…) often times struggling to mirror the quick movements of the opposing wide receiver. On this play however that was not the case, as Maddox does an excellent job staying in Texans WR DeAndre Hopkins's hip pocket. He then whips his head around to identify the ball and makes a great pass deflection with his outstretched left hand.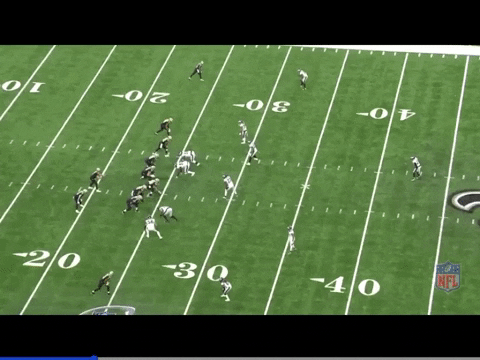 While Saints WR Michael Thomas isn't known as a speed demon, he is an elite level route runner and savvy all around player that routinely makes defensive players look silly in coverage. Maddox is caught flat footed momentarily as Thomas begins to break his deep route towards the sideline, but Maddox is able to flip his hips and quickly recover to get back to top speed, preventing  the long pass play.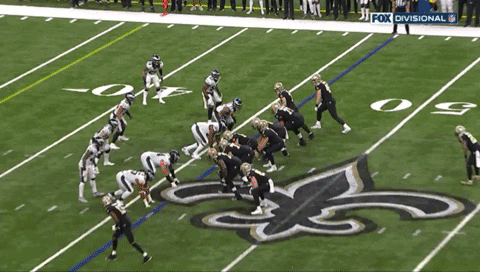 Maddox is quickly beaten off the line of scrimmage by Saints do-it-all player Taysom Hill (QB/WR/RB) and 90% of players would have no chance to recover on the play and make a pass break up. Maddox falls into that 10% of players that can make this play though, and he elevates to prevent a huge play.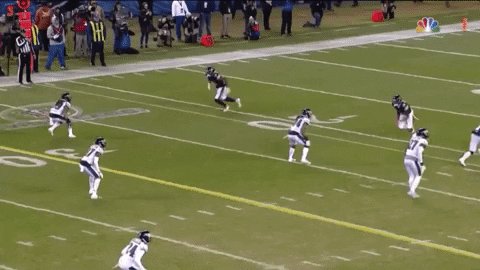 Maddox is again tasked with taking the streaking wide receiver, and in this case that receiver is Allen Robinson. By no means is Robinson a burner, but he is a good route runner similar to Michael Thomas, and is a VERY dangerous downfield receiver due to his jumping ability and huge catching radius. Here Maddox remains in phase and is step for step with Robinson down the sideline, forcing the receiver to make a leaping reception out of bounds. Maddox showed a consistent ability to run with just about any offensive player in the NFL, proving to be more than just a straight line burner.
Tackling
At 5'9 184, you'd assume that Maddox isn't a good tackler, or even someone who is looking to mix it up in run support. In this case though Maddox is a really adept tackler, showing he can make tackles as an outside corner, in the slot, or as a safety. Very rarely do you see Maddox out of position to make a stop, and he is very fundamental in his tackling technique, looking to wrap up ball carriers and take them to the ground.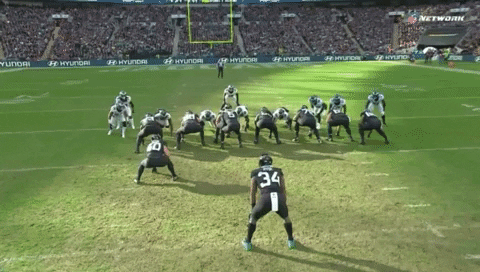 There really isn't a better example of the type of tackler that Maddox is than this play, where he cuts down big back Carlos Hyde for no gain on 3rd down and short. In most situations this is an easy run for a back of Hyde's size (6'0 235 lbs), but Maddox gets lower than Hyde and gets to his legs to impede any forward progress.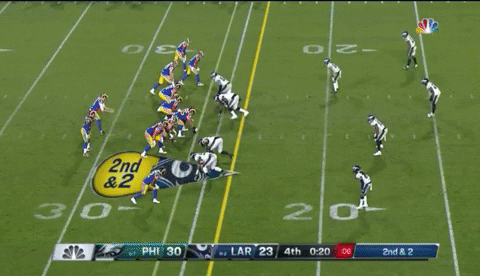 Rams RB Todd Gurley is one of the toughest players to bring down in open space, with his immense lower body strength and overall illusiveness. On this swing pass Gurley has a running head start upfield and has tons of momentum to run Maddox over. Instead Maddox sheds the blocker and attacks Gurley preventing what could've been a much bigger play.
Though just a rookie himself, Giants RB Saquon Barkley made impossible runs like this look routine. Barkley is adept at eluding tacklers by any means necessary, including leaping clear over them. After seeing Barkley knife his way through the defense, Maddox comes up from his safety spot to make a solid tackle bringing Barkley to the ground and ending the ridiculous run.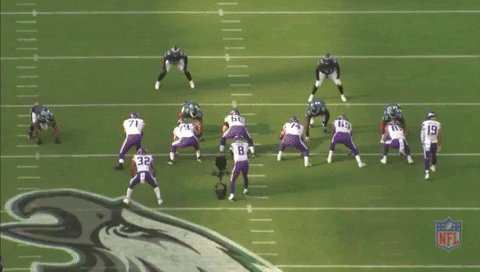 Maddox again shows impeccable form here, coming down hill from his safety spot to wrap up the spinning Vikings running back and bringing him to the ground immediately. Maddox showed that he can be relied on to be the deep safety, and last line of defense, if he needs to be.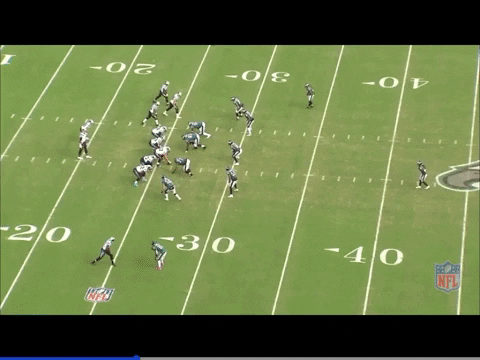 Maddox tracks down Panthers RB Christian McCaffrey from his deep safety position and makes a great tackle along the sideline to end the run. Maddox shows off almost all of his plus traits, flashing his play recognition ability, along with his speed and tackling to make a great play. For being only a rookie, Maddox showed that he's a trustworthy tackler and overall defender.
Zone coverage
Avonte Maddox is most at home in zone coverage, where he can sit back and use his eyes and speed to make plays on the ball. This fits well with what the Eagles defense is looking to do as a unit, especially as injuries took their toll in 2018. Many times on tape you can see Maddox in position to make a play, either from the cornerback spot or at safety.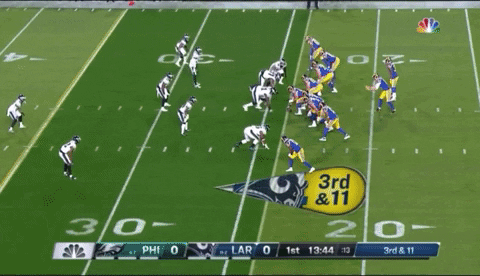 On this play Maddox has underneath coverage, responsible for taking away any quick hitting routes to the sideline or right in front of him. Instead he quickly recognizes that Goff is trying to fit a pass into the tight window behind him, so Maddox bails out to make a leaping pass break up leading to 4th down.
This is a heady play, in a playoff game no less, as Maddox identifies the route out of the backfield and covers an incredible amount of ground to break the pass up. He almost makes an interception on the play, which would've easily turned into a pick six.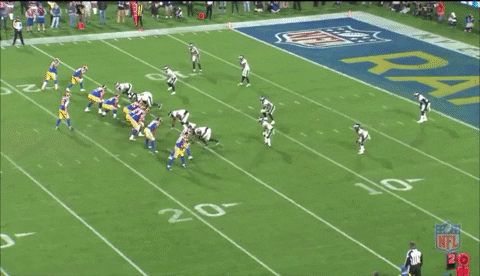 Maddox again flashes his superior zone skills, retreating to prevent a bigger play behind him, then accelerating back up field to make the tackle on the tight end. He quickly attacks the legs of the tight end to make a big stop in the red zone.
Again from the safety position Maddox is able to read the play and react accordingly, making a great tackle on a play that could've broken big had he not been there to stop it. You don't usually see rookies able to make the plays that Maddox made consistently as a safety and cornerback. He clearly became more comfortable as the year went on, providing a steady presence in a fluctuating secondary.
Cons:
Size/Strength
This is an area that Maddox really can't help, and is also a reason why he slid to the 4th round in the first place. Had he been 5'11 195 pounds, Maddox would've been in the conversation as a day one or two pick for sure. But again at only 5'9 180, there are times when he just gets out jumped or out muscled by bigger/stronger players.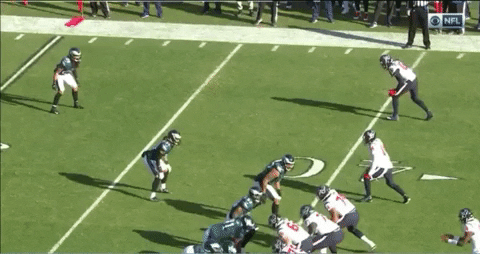 Maddox really can't do much more here, and potentially got away with defensive pass interference against DeAndre Hopkins. Even being draped all over Hopkins, Maddox doesn't have the strength to rip the ball out of the receivers possession, which set the Texans up for an easy 1st down conversion on the next play.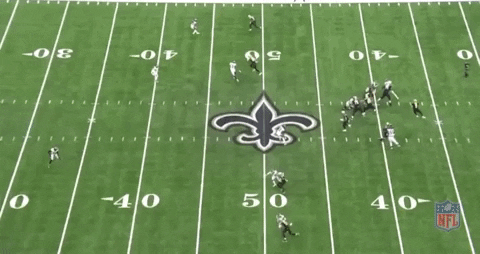 This was a play that really confused me, as there's no way that Saints WR Ted Ginn Jr. (5'11 180 pounds) should ever be able to block Maddox out of the play to this extent. To be fair Maddox did stand his ground, which led Saints RB Alvin Kamara to trip over Ginn eventually. But that's not a sustainable outcome, and Maddox needs to do more to shed the block and make a play earlier.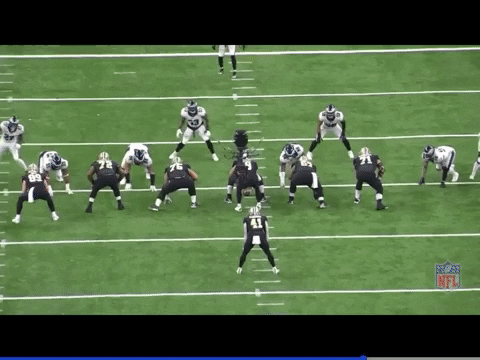 Now this should be the case 9/10 times when an offensive lineman takes on a defensive back. This play gets highlighted for how quickly Maddox gets blocked out the play, opening up a lane for Kamara to continue up field. Many times defensive players will attack the legs of the blocker in order to negate the size difference. On these types of plays Maddox needs to figure out a way to better take on the blocker.
Here Maddox is muscled by Saints WR Tre'Quan Smith who then breaks Maddox's tackle and keeps going for a 1st down. There's nothing that Maddox can do here as Smith is just too big and strong for him to take the ball away from. At 6'1 205 pounds, Smith represents the prototype of receiver that Maddox will face off against regularly. It'll be important for Maddox to continue to add strength to his frame in order to compete better in these situations.
Overagressive
Time and time again Maddox got burned for being too aggressive on defense. Whether that was biting on a play fake, or misreading a route, there are more than a few times where Maddox cost the defense and showed his rookie shortcomings.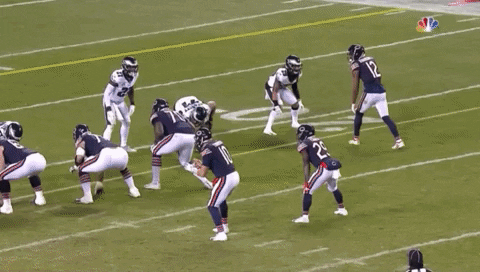 This is one of the most glaring examples of Maddox's aggressive nature coming back to bite him. The Bears set up the quick pass early on during the game, and eventually came back to the double move to catch Maddox slipping. That's exactly what happened and Maddox not only gave up the deep TD, but was also flagged for defensive pass interference.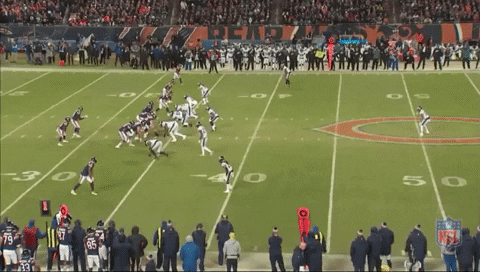 Same play concept, same result as Maddox is beat again by Allen Robinson on the double move, this time with Robinson faking to the inside. Trubsisky delivers the pass on the money allowing Robinson to run some after the catch before being tackled. You better believe offensive coordinators and quarterbacks are taking note of these plays, and Maddox better be prepared to see double moves multiple times a game until he can prove he's upped his discipline.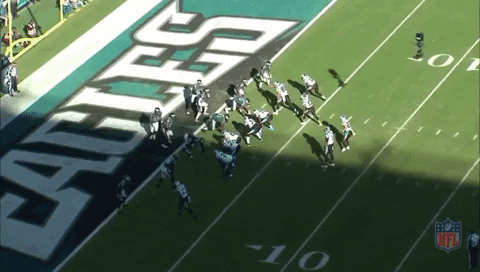 Maddox overreacts to the Cam Newton play action and gets beat by Panthers WR Jarius Wright for a successful two point conversion reception late in the fourth quarter. Maddox is usually capable of using his speed to recover and make a play on the ball, but against another quick player in Wright, Maddox is beat on the play.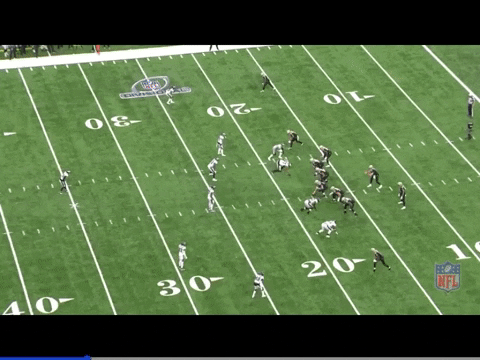 The Saints successfully ran a few quick ins and deep ins in front of Maddox during this game, which led Maddox to cheat inside on this play anticipating another deep in. Instead Saints WR Ted Ginn Jr. sells the deep in, but runs an out route breaking for the sideline instead. Ginn makes the successful reception to move the chains for the Saints, providing a big chunk play in the passing game.
Man coverage
While Maddox may be adept at zone coverage at this early stage in his career, he still has a ways to go from a technique and footwork standpoint in man coverage. He's no longer able to win merely due to superior athleticism, as most receivers in the NFL are elite level athletes. Several times Maddox's lack of polish as a man to man corner was exposed, leading to big plays for opposing offenses.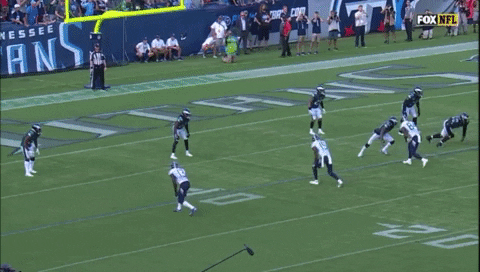 This was the last play from scrimmage during the Eagles week 4 loss to the Tennessee Titans. Here Maddox is matched up against Titans number one wide receiver Corey Davis. Davis beats Maddox on the quick slant, and the sudden movement causes Maddox to slip which ultimately leads to the game winning TD reception. Despite trying to cut off the inside route, Maddox is in no position to prevent Davis from getting to the inside for the big catch.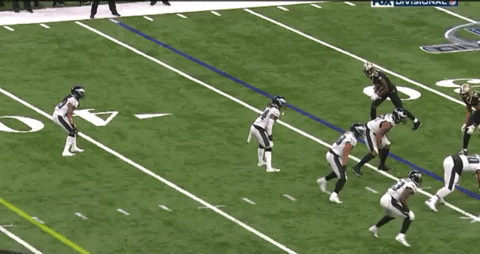 Here Maddox gets absolutely DESTROYED by route running savant Micheal Thomas, who forces Maddox to flip the wrong direction on the in route. This is poor coverage by Maddox, who had a hard time controlling the All-Pro WR en route to a 12-171-1 receiving line.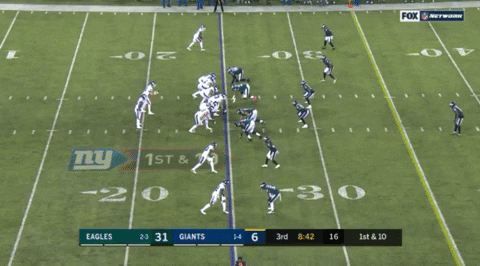 Browns WR Odell Beckham Jr. is one of the quickest receivers in the NFL, and if you fail to get a hand on him at the line of scrimmage he will make you pay. On this play Beckham Jr is still a Giant, and Beckham beats Maddox with a quick slant that he breaks towards the middle of the field before Maddox can recover. As a slot cornerback, Maddox can expect to see these sorts of routes often, and will need to do a better job of preventing these types of easy receptions.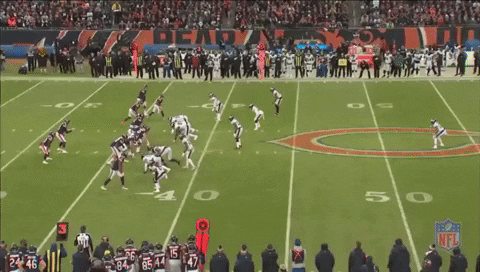 This is a double whammy as Maddox is initially juked by Robinson on the route, allowing Robinson enough space to then rise up and muscle Maddox for the first down reception. Maddox's shortcomings in man coverage are definitely coachable, and he's hopefully dedicating time this off-season to addressing his lack of consistent footwork and positioning. Once he's added more core strength to boost his bump ability, Maddox should be able to better prevent quick hitting plays in man technique.
Wrap up:
There's a lot of argument about where Avonte Maddox will be best utilized in the Eagles defensive secondary. Some believe that his playmaking ability will make him an Earl Thomas-esque (I know it's high praise!) safety, capable of roaming the deep middle of the field making plays on the ball and converting turnovers. Others feel that Maddox is a slot corner, because he's so fast and agile, and too small to consistently line up on the boundary against bigger and stronger wide receivers.
After watching almost every defensive snap that Maddox put on tape as a rookie, I'm thoroughly convinced that not only is he best long-term as a boundary corner, he may already be the second best boundary corner on the roster behind Eagles CB Ronald Darby. Maddox profiles similarly to another small but aggressive outside corner, former Pro Bowler Jason Verrett, whose body eventually fell apart due to the physical rigors of the NFL. Maddox has also drawn Cortland Finnegan comparisons as well, due to Maddox's small stature but feisty and aggressive demeanor. Hopefully Maddox will be able to hold up physically over a long period of time like Finnegan, but he has all of the playmaking ability and IQ required of a starting boundary cornerback.
A secondary made up of Ronald Darby/Sidney Jones/Avonte Maddox will be hard to pass against as all three cornerbacks have good speed and instincts for the position. Throw in boundary corners Rasul Douglas, and Jalen Mills, along with rising slot corner Cre'von LeBlanc, and the Eagles have a secondary that could make some serious noise in 2019 and beyond.
Spotlight series: LB Zach Brown, Jordan Howard
---
Mal Davis Avonte Maddox, defense, Eagles, Rasul Douglas, Ronald Darby, Sidney Jones