Steppin' into the spotlight: RB Jordan Howard
14 May 2019 Film Review
---
For the second installment of this series, let's take a look at RB Jordan Howard and how he fits in with the Eagles offense. Howard was added on March 28th, 2019 in exchange for a 2020 sixth-round pick, which can flex to a 5th round pick depending on how well Howard plays in 2019.
On the day of the trade most fans and media pundits lauded the move as a great addition for Howie Roseman and the Eagles, as Howard gives Coach Pederson an early down banger that's adept at converting in short yard situations and in the red zone. Let's put Jordan Howard under the spotlight to see what his addition means for the Philadelphia offense!
Overview:
Jordan Howard is a 4th year running back out of Indiana University, who was a little known commodity coming out of college. He was selected by the Chicago Bears in the 5th round as the 150th pick, and provided immediate value to the Bears as a rookie. Howard rushed for 1,313 rushing yards and 6 TDs, but he quickly fell out of favor though with Chicago's coaching staff which led to the former Bears leading rusher getting shipped to the Eagles. With one year left on his contract, this will be an important redemption year for him, as a solid season as an Eagle could lead to a decent pay day in free agency.
Even with the addition of rookie RB Miles Sanders , Jordan Howard will have a significant role with the Eagles this season. His ability to produce consistently, even when splitting reps with another running back (looking at you Tarik Cohen) will lend itself well to the inevitable timeshare he'll find himself in this season. Since entering the NFL in 2016 Howard has been a very productive running back, ranking 3rd in the NFL in rushing yards (3,370), 3rd in carries (778), and tied for 6th in rushing TDs (24).
Those numbers are somewhat misleading however as Howard's rushing yards by season (1,313 > 1,122 > 935) and yards per carry (5.2 > 4.1 > 3.7) have decreased since 2016. Those numbers aren't necessarily indicative of his lack of skill, but more an overall fluctuation in his usage year-to-year. He'll provide a ton of early down value to the Eagles, giving them a runner that can punish defenses all game long. He'll also force defenses to play the run, opening up the play action pass over the top of the defense.
Pros:
Rushing TD's/Red Zone ability
Early down production
1st down conversion
Blocking
Durability
Cons:
Agility/Short area quickness
Vision
Decreased productivity
Pros:
Rushing TD's/Red Zone ability
A lot of Jordan Howard's value is in his ability to perform well in the red zone. As mentioned previously, his 24 rushing TDs since 2016 ties for 6th most over that span of time and it's a great value add for the Eagles. Philly has struggled to find consistent TD production since Ryan Mathews's 8 TDs in 2016.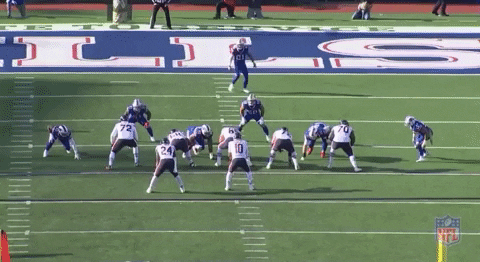 Howard puts all of his skills on display, using his adequate speed, strength, and nose for the end zone to finish off a VERY strong run versus a good Bills defense. This again is a very valuable asset for the Eagles, as he's able to punch the ball into the end zone from almost anywhere in the red zone.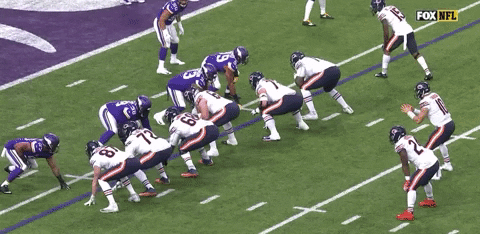 Again Howard uses his strength and red zone tenacity to get the ball across the goal line while running through multiple defenders to do so. The Vikings front seven is more than formidable, yet Howard was able to power his way through them for the TD.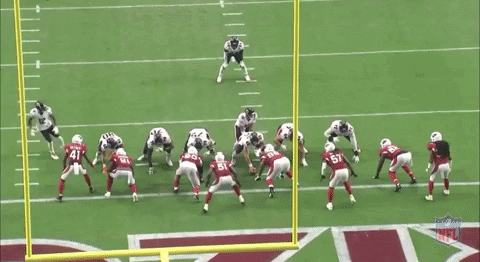 There's no understating how important it is to be able to convert on these types of scoring opportunities, and having a back like Howard only increases your chances of converting for six instead of settling for three. Even though he's stopped short of the goal line, he uses his powerful lower body to push his way to pay dirt.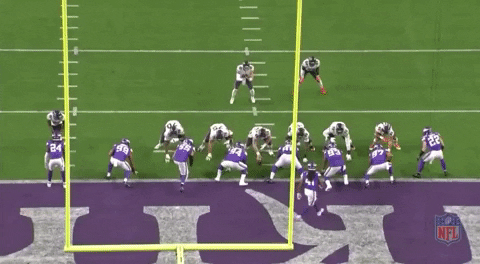 Howard pushes through the Vikings defense again on the goal line to convert a very difficult touch down run. His lower body strength and consistent leg drive is what helps him to finish off so many plays.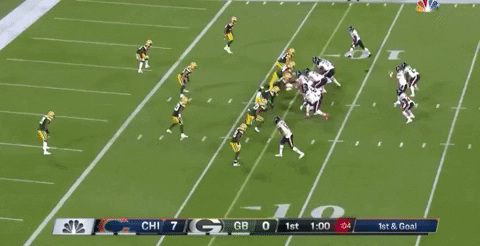 Much has been made of Howard's inability to catch, but in all honesty he's improved drastically as a pass catcher. He won't be confused with a receiving back, but he does serve as a receiving threat to the defense. On this play he makes a great catch in the red zone which sets up an easy Tarik Cohen TD a few plays later.
Early down production
On tape Jordan Howard time and time again chews up yardage to put the Bears defense into good down and distance position. With him being relied on to do a good amount of the early down banging, it was refreshing to see Howard being productive in this role.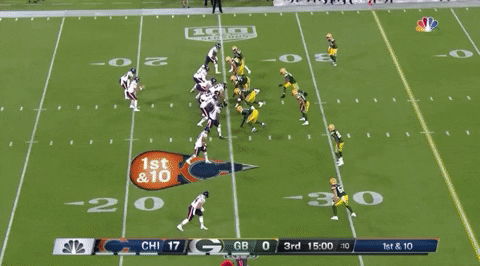 Again, Howard is an underrated receiver out of the backfield who has seen his total receptions decrease (29 > 23 > 20) while conversely seeing his catch percentage jump significantly (58% > 71.9% > 76.9%). Even though he's seeing less targets, he's been far more productive with those touches. On this play he makes a great grab on the swing pass and gets upfield for an excellent gain on 1st down.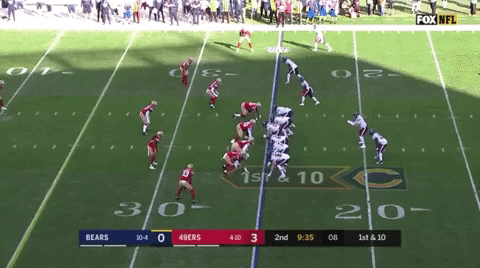 Here Howard gains 9 yards on 1st down to set the Bears up for success early in their drive. Howard has the ability to get downfield really quickly, and when running lanes are available he's more than adept at exploiting them.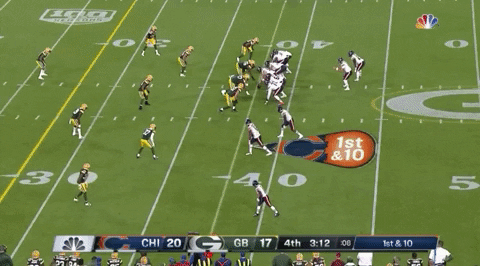 Howard is really dangerous when the 4th quarter rolls around, having already chipped away at defenses for an entire game. Here Howard out maneuvers the Packers defense for a big time first down late in the game as the Bears are trying to hold on to a lead.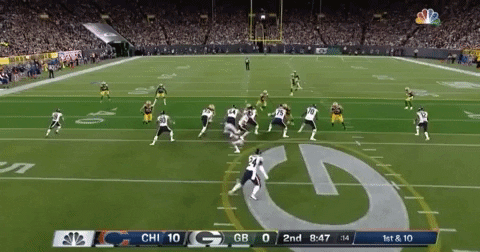 This is one of the few times that Howard shows agility and short area ability to beat the defense and make a play outside of the blocking. He's usually not this explosive, but there are times when he flashes pretty good wiggle for a player his size (6'0 224 lbs). This is a great run and another long gain on first down that puts the Bears offense ahead of the chains.
1st down conversion
Along with Howard's ability to score in the red zone, he also is really good at converting 1st down opportunities. This is another reason why so many fans and Eagles players were so excited to have Howard join the Philly offense, because he's able to bring a very powerful running style to the table.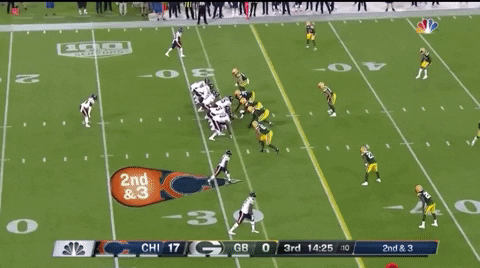 This is another athletic and powerful run by Howard, juking back against the defense breaking tackles racing for the first down marker. Philly will need his ability to convert 1st down's especially if they'd like to make another championship run.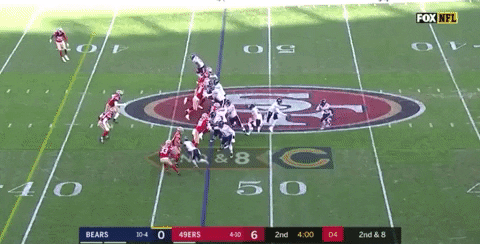 This is a great play design by Bears HC Matt Nagy as he gets Howard wide open on a screen pass, and Howard's then able to do the rest. He is much more of a threat as a pass catcher than he gets credit for, allowing Eagles HC Doug Pederson to get creative as well with his new running back addition.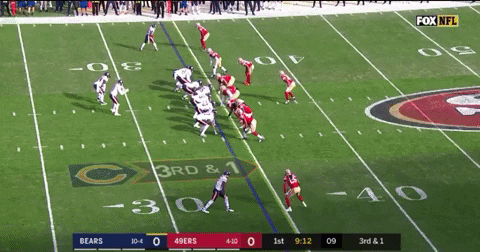 There's no more important conversion than 3rd and short, and here Howard is able to get up field quickly and break through the hole for the 1st down to keep the Chicago drive going.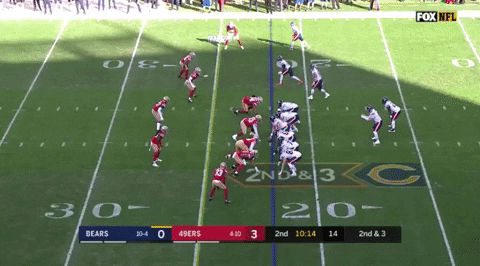 On this final play, Howard is able to convert the 1st down from 3 yards away. Even though these aren't long runs they are still very important to an offense like Philadelphia, which relies on sustaining drives for scores. When he is running well like this, it will again open up the passing game for Carson Wentz and his plethora of weapons on the outside.
Blocking
Jordan Howard is a really good blocker/pass protector, and Day 1 is the most ideal candidate to protect the QB in passing situations. Eventually Howard will lose reps to fellow RB Miles Sanders, but until Sanders gains a firm grasp of pass protections, it'll be Howard that picks up the slack.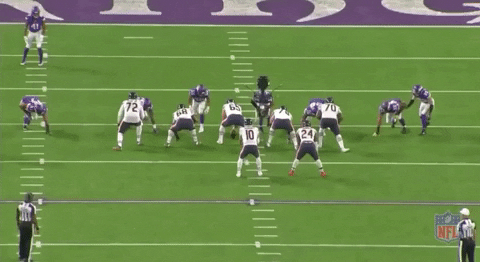 Howard does an excellent job of picking up Vikings LB Anthony Barr, who is blitzing the A-gap on this play. He slides in front of Barr and stops him in his tracks, giving Bears QB Mitch Trubisky enough time to get the pass away.
Again Howard steps up to take on another Vikings defender, with the exact same result once again. He stands up the late blitzing player and chucks him out of the way.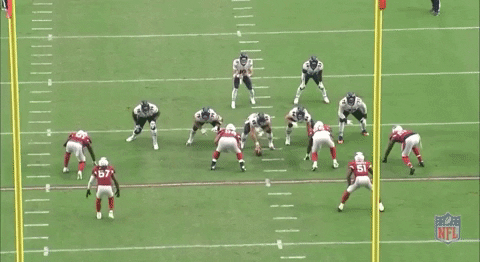 This play is a great example of why it's so important for a running back to understand their blocking assignment. On this play Howard takes the blitzing defensive back and blocks him out of the play and away from the QB. A younger more inexperienced player may have blown this assignment worried about blitzers coming from the opposite side of the formation.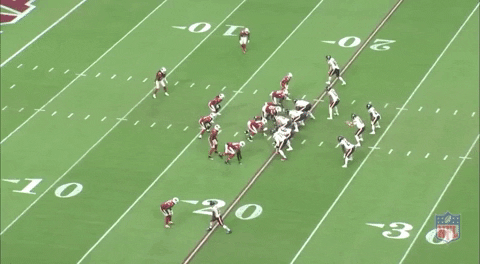 The Bears used Howard a lot of different ways offensively, even occasionally lining him up as a lead blocker. Here he's split off to the left of QB Mitch Trubisky, and makes a great lead block on the outside left against the Arizona Cardinals defender. Had Trubisky read the play correctly and handed the ball to Tarik Cohen, this play could've gone for a lot more yards.
Durability
Jordan Howard has been the pillar of good health thus far in his career, playing in 47 of a possible 48 career games. In that span, again Howard has racked up 778 total carries, which is a significant workload. Despite so many carries, he has been a >60% snap rate player so far in his career.
With the Eagles, he should see a decent snap rate and handle a good share of the offensive workload, which should put him on track for at least another 200+ touches in 2019. Having other talented backs on the roster is definitely a benefit for Howard, as Miles Sanders, Josh Adams, and Corey Clement can spell him to keep him fresh all year long. The last thing defenses want to see is a fresh and hungry Jordan Howard come playoff time.
Cons
Agility/Short area quickness
For all of the positives that Howard brings to the table, he has some pretty glaring holes in his game as well. There's definitely a reason that he's seen his yards per carry drop every year he's been in the league, and a lot of it has to do with his lack of athleticism. He isn't the slowest back in the league, but he does lack the lateral quickness to make plays consistently outside of the blocking scheme.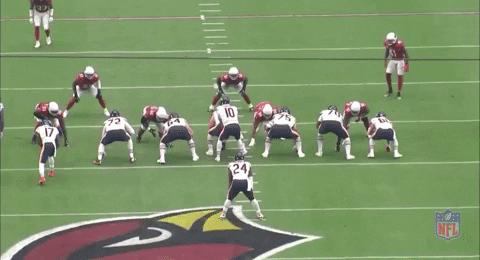 Howard just doesn't have the quickness to make a big play out of a run like this. Despite an opportunity to scrape back across the line and jump cut to the open space on the right side of the line, he stutter steps several times before running into the back of his blockers. You see these types of runs pretty frequently.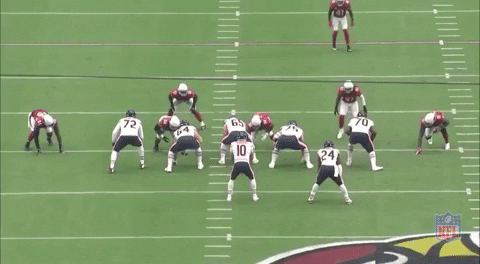 Howard recognizes that the linebacker is occupying his primary running lane, and tries to bounce the run to an outside lane but lacks the speed and quickness to elude the defender. The middle linebacker isn't fooled at all and wraps up him for no gain.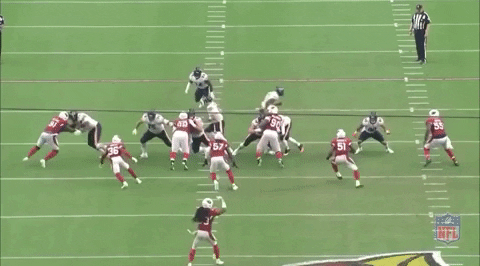 Again Arizona Cardinals middle linebacker Josh Bynes meets Jordan Howard in the hole and makes the tackle for no gain. He tried to elude Bynes but has no wiggle in the short area and instead is easily tackled.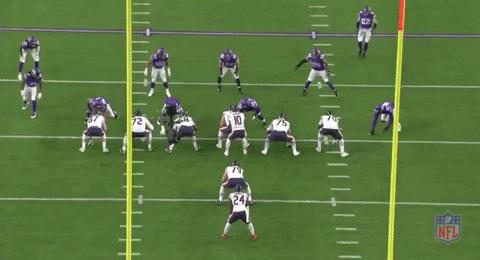 Once Howard's lead blocker is cut down, Howard is out of options and goes down for a loss on the play. Had he been more agile he could've bounced the run to the right where he had additional blocker and a ton of running room. Even though the Eagles have a stout offensive line, he will need to be more productive with these types of runs, as opposed to just falling over.
Vision
Along with his lack of quickness, Howard also struggles sometimes to identify the right running lane. He is prone to taking whatever is blocked, and if he can't see the hole immediately, he then runs into the back of his linemen.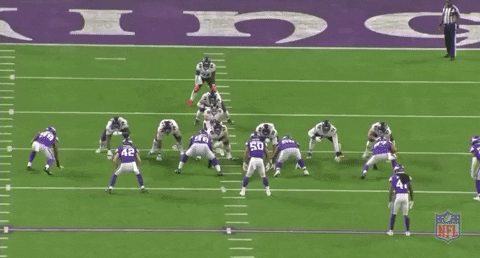 Howard misses out on a cut back lane early on in this run, and instead of following his blocker and hitting the hole downhill, he instead tries to stretch the play further outside until all of his progress is stopped and he's dropped for a loss.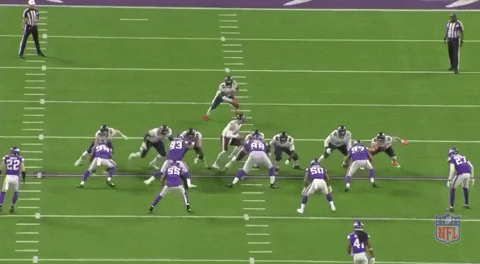 On this play Howard has an opportunity to make the right read and continue downhill for what would've been a short to intermediate gain as opposed to a short loss. He has to become better at being patient and trusting the developing play, as opposed to just running into his blockers.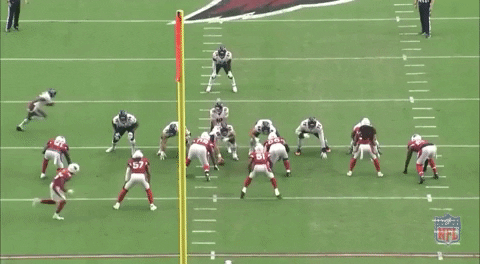 Howard is reading the play here, and clearly this is the direction that the play is supposed to go. Elite running backs, however, can read pre-snap how a defense is going to react and on the snap would identify a potential opportunity to break off a big play off the right side of the offensive line. There's only a single defender backside, and a player as strong as Howard should've been able to meet the edge defender head on and make a play.
Decreased productivity
As noted above, Howard has seen a downtick in his production each year since entering the league. That can be attributed to his lack of elite pass catching skill, or elite elusiveness, but it's also a byproduct of his inability to read and respond to defensive alignments post-snap. Despite all of his overall production on the field, the Bears let Howard go for peanuts, which definitely shows how little they valued him versus a potential late round draft pick.
When you watch Howard on film it can be frustrating at times, because you see the traits of a good player that has yet to take the necessary steps towards "greatness". There's an argument that he's already reached his rushing peak as a two down thumper who may never become a upper echelon running back.
Wrap up:
The Philadelphia Eagles made a great move brining Howard in, as he should play an important role for their offense. He's a player that can be schemed to beat defenses in a variety of ways, while wearing a defensive unit down over the course of four quarters. He will make a dynamic duo at the RB position with Miles Sanders, playing the "thunder" to the rookie RB's "lightening" ability. Howard will definitely exceed expectations in 2019, and if he's able to use his eyes better to identify the correct running lanes, he could easily top 1,000 yards from scrimmage and push for double digit total TDs.
If he can get close to those statistics he'd give the Eagles something to think about in regards to re-signing him to a longer term extension. Despite the running back position being devalued over the past few years, at the right price Jordan Howard could be a steal once again for the Eagles as they look to keep a talented, yet cost controlled, championship caliber roster around franchise QB Carson Wentz.
Spotlight series: LB Zach Brown
---