A non-WR option at pick #21: Kenneth Murray Jr, the answer to our linebacker problems
14 April 2020 DRAFT Film Review
---
Since there are plenty of posts already exploring the numerous wide receiver options that the Eagles can use with their first round pick, I figured it makes sense to look at another position of need, linebacker. I can hear you now, "But Mal, Schwartz doesn't prioritize linebackers" or "Mal, you know Howie doesn't draft linebackers in the first round!". Both of those statements have some truth to them, Jim Schwartz's defense does prioritize pass rushing with 4 players, and leverages his talented (and expensive) defensive linemen over his linebackers. But when you look at our defense, especially now after free agency, one glaring hole is our linebacking corps.
While Nate Gerry has been decent in his transition from Safety to linebacker, I don't trust TJ Edwards or Duke Riley at this point to become full-time contributors for this defense. The Eagles need a playmaker and a leader at the position, and Murray Jr fits the bill. So let's address the other statement that's said over and over, "The Eagles don't draft linebackers early, and definitely not in the first round".
This statement is clearly true, as shown above. Since 2000, the Eagles have never spent a first round pick on a linebacker, and the highest pick they've used in the past 20 years has been on Mychal Kendricks, who was the 46th overall pick in the 2012 NFL Draft. By taking a look at the list above though, you see that even when the Eagles did use a pick on a linebacker, it was usually a miss. Relying on converted linebackers and mid-to late round picks to produce at a high level is not a recipe for success though, and again, this defense is in need of a consistent playmaker in the linebacking corps.
Don't get me wrong, I'm 100% on board with drafting a wide receiver in the first round. If Jerry Jeudy, Henry Riggs III, CeeDee Lamb, or Justin Jefferson fall into the Eagles lap at pick #21, you sprint to the podium to take them. However, I'm staunchly against reaching for need, because that's just bad draft strategy. Denzel Mims from Baylor and Jalen Reagor from TCU are great upside picks, but both will need time to develop in the NFL. We already have WR JJ Arcega-Whiteside who is a developmental prospect, and I don't think it's in Carson Wentz's best interest to add another player that's 1-2 years away from producing with such a valuable pick.
Which brings me to Kenneth Murray Jr, who despite being an extremely productive college linebacker has consistently been viewed as the second or third best linebacker prospect, depending on who you listen to and follow on social media. I, on the other hand, feel VERY differently after breaking down his tape versus LSU linebacker Patrick Queen and Wisconsin LB Zack Baun. While Queen and Baun (widely viewed as the top linebacker prospects) bring a lot to the table, I don't believe that either are the overall player that Murray Jr is. I'm also a firm believer in actions speak louder than words, so to illustrate my point let's take a look at Murray Jr's film and get to know him a bit better.
Strengths:
Speed
Run stopping ability
QB Spying/Pass rush
Intelligence
Position versatility
Weaknesses:
Block shedding
Tackling form/missed tackles
Strengths:
Speed
The first thing that jumps off of the film when watching Murray Jr is how freaking fast he is. He ran the 40 yard dash in a 4.52, which is great in and of itself, but really he seems to play even faster with pads on. He's able to move sideline to sideline in an instant, and closes in on ball carriers in the blink of an eye. While his play speed can sometimes get him in trouble (more on that later) it's definitely his plus skill that separates him from the other linebacking prospects.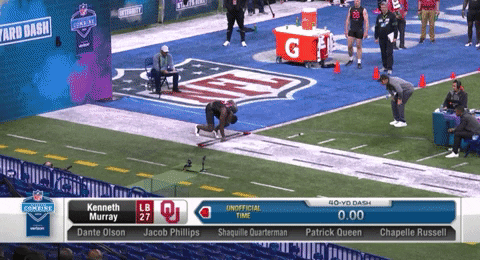 While you can only put so much stock into seeing someone running in shorts, Murray Jr's 40 yard dash clearly corroborates what you see on film. He's a quick twitch athlete that covers space in a hurry. He isn't just a straight line runner though, he's able to change directions quickly as well to chase down ball carriers or the QB to make a play.
I love how quickly Murray Jr reads a play and reacts, which is highlighted here (and with plenty of other plays too) as he reads the swing pass to the running back, and immediately runs the play down for a loss. He's the true definition of a sideline to sideline 'backer.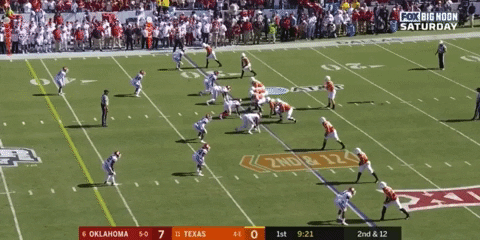 I've watched this place at least 50 times, and each time I watch it I'm impressed with how fast and violent Murray Jr is. He reads the screen pass and maneuvers past the blockers to close in on the wide receiver for a big time tackle. Don't be fooled though, this isn't just a once in a lifetime play for him, he reads, reacts, and destroys opposing players time and time again.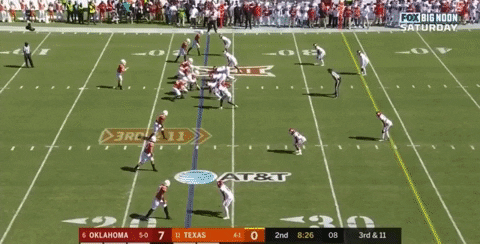 This is one of many examples of Murray Jr's elite speed and QB spying ability, as he eyes Texas Longhorns QB Sam Ehlinger making a break for the sideline and runs him down for a short gain. Ehlinger is a good athlete that ran for 663 yards for the Longhorns last year, and Murray hawks him down with ease.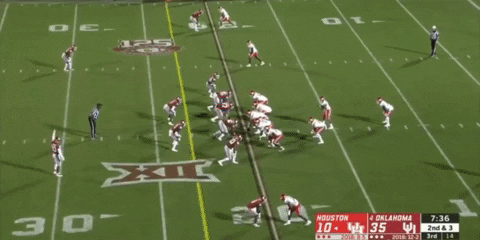 This play highlights Murray Jr's excellent change of direction speed and closing ability, as he runs down Houston Cougars QB D'Eriq King, one of the better athletes in college football, to force an incompletion. Murray Jr closes ground in a hurry, seemingly catching King by surprise, as King was barely able to get the pass away before being driven into the ground.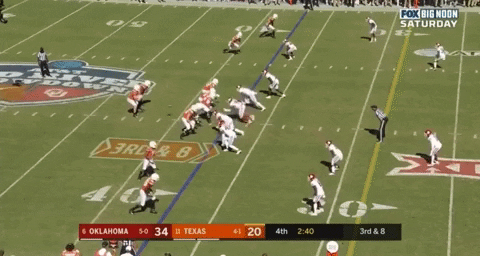 This is the definition of "fast and violent", as Murray Jr puts a HUGE hit on the QB. Murray Jr tracks the QB from the other side of the formation using his excellent speed to run him down and deliver the big blow. This was flagged as unnecessary roughness, which I still completely disagree with. Murray Jr is an intimidator at linebacker, which is something the Eagles sorely need.
Run stopping ability
In his 3 years at Oklahoma, Murray Jr racked up 325 total tackles, and 36.5 tackles for loss, showing his ability to stop the run at all levels. On tape you see a player that reads and reacts to run plays, and flies down hill to demolish the ball carrier. He can blow up plays with the best of them, and at 6'2 241 lbs he packs a punch.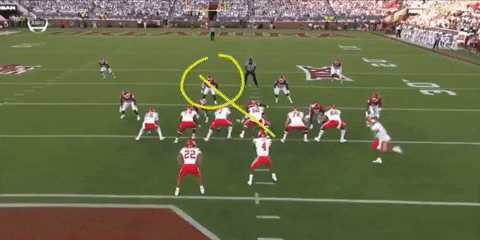 Murray Jr quickly reads the hand off at the mesh point and isn't fooled by the misdirection of the wide receiver crossing his vision. As usual he gets downhill in a hurry and makes the tackle for a loss, forcing the running back to bounce the run outside to no avail.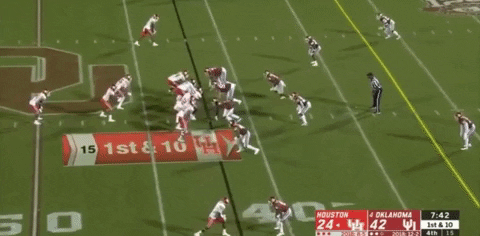 Murray Jr almost singlehandedly shut down the Cougars rushing offense, which ranked 37th in total rushing yards per game (189.3 YPG). Time after time he made stops for losses or short gains, limiting ball carriers throughout the game. Here he fends off a blocker to meet the running back in the hole and stops him for a short loss.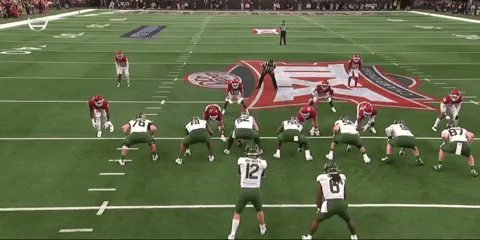 Using both his strength and speed to beat the blocker at the point of attack, Murray Jr gets a big stop on a designed QB run which is a staple of Baylor's offense. His ability to read and react is important, but he also has the quick twitch ability and size to make the plays that he sees.
Another designed QB run, another big time tackle for Murray Jr. He makes these plays routinely, and as the QB position in the NFL continues to evolve and feature athletes that can both run and throw, having a player like Murray Jr can prove to be an equalizer for a defense.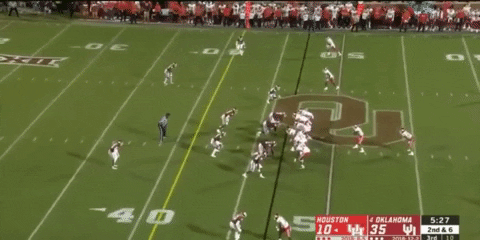 Murray Jr again fends off a blocker to make a tough stop on second down to force a third and short for Houston's offense. Murray Jr brings a lot to the table as a run stuffer, but he clearly is so much more than that. His ability to stay on the field for three downs is extremely valuable to a team like the Eagles, who leverage a lot of nickel formations even on early downs. His ability to play the run and also drop back in coverage is why I feel he's more than worth the pick at #21.
QB Spying/Pass rush
Scheme versatility is something that Eagles covet in almost all of their defensive players, linebackers included. In his career Murray Jr recorded 9.5 career sacks (4.5 in 2019 and 2018) with countless other QB hits and hurries. He's more than just a downhill run thumper, he can spy QBs and chase them down for sacks or short gains.
With the number of NFL QBs (Dak Prescott for example) that can use their legs to make plays growing yearly, having a player like Murray Jr makes it easier for a Defensive Coordinator to scheme ways to stop them.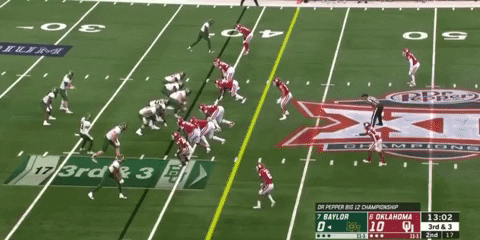 This sack changed the game for Oklahoma as Murray Jr picked up the sack but also knocked the Baylor QB out of the game with a head injury. Murray Jr was able to keep his balance after the attempted cut block by the Baylor running back, and then uses his acceleration to catch up to the QB and bury him.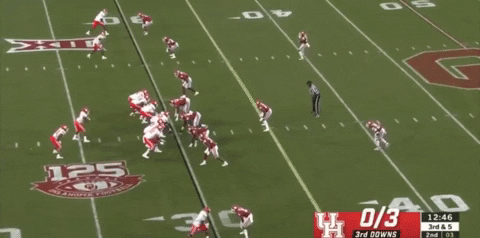 Murray Jr did an admirable job of spying Houston QB D'Eriq King through out the game, ensuring that King didn't manufacture a lot of big plays with his legs. King saw an opening to potentially pick up a first down with his legs, but Murray Jr comes swooping in to make the tackle short of the first down marker.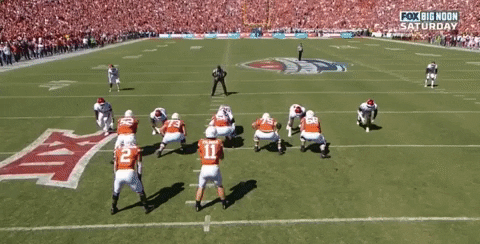 Here Murray Jr stunts and bull rushes his way through the center and running back to record the sack versus Texas. He grabs QB Sam Ehlinger by his ankles and brings him down for the big play, one of his 4.5 sacks in 2019.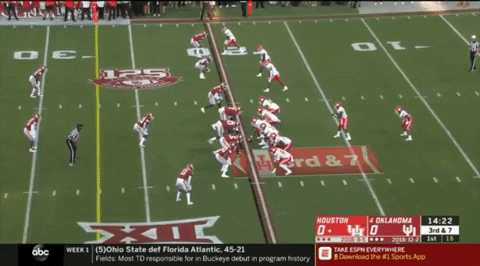 D'Eriq King did about all he could to keep Houston competitive through out this game, using his legs in several situations to evade the pass rushers of the Sooners. He held on to the ball a bit too long here and Murray Jr and his teammates are able to combine for a shared sack on the play.
Murray Jr's ability to rush from either outside linebacker position, or as a middle linebacker, can not be underplayed. I also don't believe that there are too many scrambling QB's, either in the NFL or NCAA, that can actually outrun Murray Jr consistently.
Intelligence
There's so much to love about Murray Jr but one thing that's seriously undervalued is his football IQ. He clearly understands the game of football at a high level, and his athleticism and speed compliment his intelligence. When you have a guy that can comprehend the game at a high level, but also has plus measurables, that makes for a VERY dangerous combination.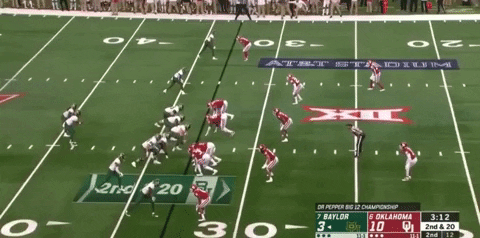 Murray Jr is an underrated pass defender, which makes sense because most of the time he's down hill attacking the ball carrier or spying a QB for a big tackle. This play really speaks to his IQ and understanding of spacing, as he's able to break up a pass thrown to Baylor WR Denzel Mims. Had Mims been able to make the catch, he has a lot of room in front of him for a big catch and run play.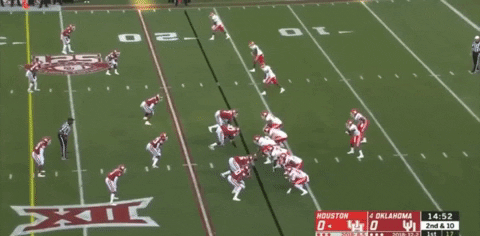 Another yoked up tackle by Murray Jr on a screen play, as he almost rips off the Houston wide receiver's head. Murray sees the quick hitting screen play building up and navigates his way through traffic to destroy the receiver.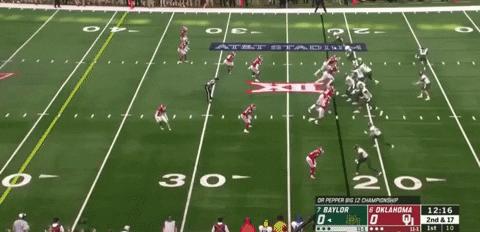 As a pass defender, Murray Jr does a good job of keeping plays in front of him so he can close down on the receiver and make the tackle. Murray Jr reads the running back on the underneath route and immediately breaks on the ball to drop the receiver. Had the running back not partially eluded Murray Jr, he may have been lit up for a big hit.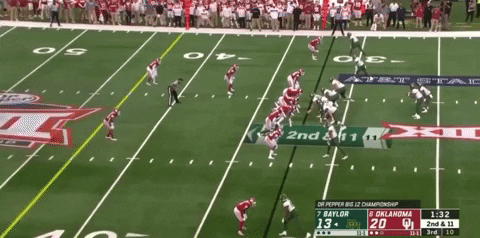 Murray Jr quickly diagnoses the Baylor QB's plan to take off on a run and keys in on him for the tackle. Murray isn't easily fooled by trick plays, play actions, or misdirections, which is a huge plus. He's played a large number of snaps for Oklahoma over his time in Norman, and it's clearly evident when you watch him play on Saturdays. These skills are transferrable to the NFL, and will be a clear addition for the Eagles defense, who struggle with playmakers and leaders at linebacker.
Position versatility
Murray Jr is capable of playing all three linebacker positions in a 4-3 alignment, with his best position most likely as a WILL (weakside) linebacker. He came to Oklahoma as a 3-star outside linebacker, but has played snaps all over the place for the Sooners. He can play MIKE, SAM, or WILL, with his ability to cover space, but also play the run well.
The Eagles need help everywhere in their linebacking corps and Murray Jr is capable of making impact plays wherever they need him. While he isn't a big sack guy, he's good enough and fast enough to become a more potent pass rusher, especially on third downs. Against slot receivers he would be able to mirror their routes, and push them back inside to help. His ability to play all three linebacker positions has to be something attractive to the Eagles, as Philly prioritizes position flexibility.
Weaknesses:
Block shedding
This is one area that Murray Jr will need to work on as he develops his abilities at the next level. While he can routinely beat offensive linemen and tight ends with his speed and athleticism, he has to work more diligently at using his hands and leverage to stack and shed. With out that ability, offenses will continue to send blockers at Murray Jr in an attempt to body him out of position.
While attempting to speed rush the Longhorns left tackle, Murray loses his balance as he tries to use a spin move to get back inside of the tackle. Instead of executing the spin, he's pancaked to the ground, though it doesn't cost the Sooners because his teammates were able to clean up on the play.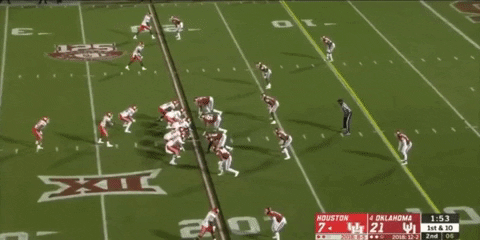 Murray Jr and Houston left tackle Josh Jones locked horns quite a few times during this game, with each getting the best of the other on more than one occasion. Jones gets his hands on Murray Jr and is able to move him out of the hole and away from the ball carrier.
Murray Jr makes a great read here on the dump off pass to the running back, but is unable to disengage from the blocker and is instead pancaked to the ground. Had he been able to use better leverage on the play he may have blown it up completely.
Murray Jr and Josh Jones lock in here again, and again Jones is able to move him away from the play. Murray Jr eventually disengages from Jones but too little too late.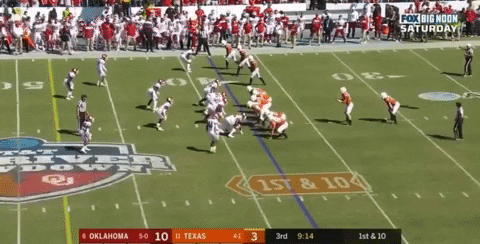 Lined up at middle linebacker, Murray Jr is the last line of defense for the Sooners to prevent giving up a big play. Murray Jr is unable to take on the blockers though, and gets double teamed out of the play. The Texas running back breaks free of the out stretched arm of Murray Jr and breaks into the open field.
In the NFL Murray Jr will not be able to win with just his speed, he will need to hone his block shedding ability and work on his technique so he can be relied on to be a consistent contributor.
Tackling form/missed tackles
Murray Jr is a tackling machine, make no mistakes about it. But he missed several tackles on tape that he's more than capable of making. Many times he just ran by a play, or was off balance when trying to make a stop, which led to an easy block shed. Murray Jr will need to work on his ability to downshift and breakdown in space to make tackles. Otherwise he will be a potential liability for a defense.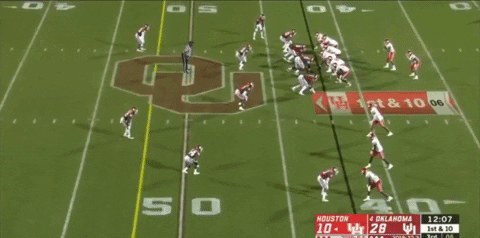 Murray Jr gets sucked down a bit too far on the passing play, leading him to take a bad tackling angle versus the receiver. Murray Jr is unable to get a good wrap up tackle on the receiver and falls to the ground empty handed.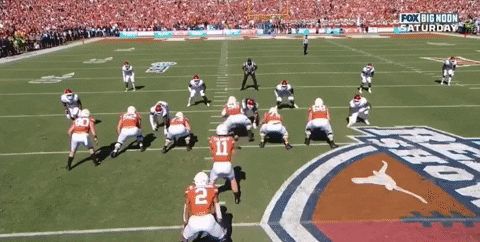 Murray Jr reads the play perfectly but goes too high on the tackle and the QB is able to wrestle himself free and Murray Jr is once again left falling to the ground empty handed.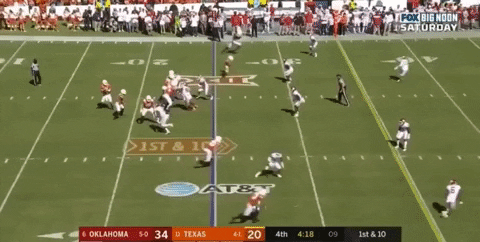 Murray Jr does a poor job of downshifting and breaking down in space to make a tackle on the scrambling QB. Instead he goes running by the ball carrier and is somewhat easily eluded on a quick juke move, leaving Murray Jr grasping at air.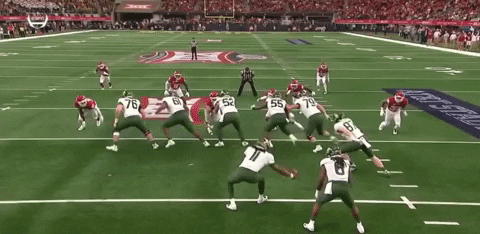 Murray Jr reads the running play correctly, but while trying to chase down the running back he begins to stumble, and then ultimately misses the tackle completely. This isn't as bad of a missed tackle as some of the others seen on tape, but this is still a play he's capable of making.
On this final play, Murray Jr again misses a tackle he's more than capable of making, which is disappointing to say the least. Unlike some of the previous missed tackles above, the ball carrier is able to keep his momentum and pick up the first down. Murray Jr has room to grow as a consistent tackler, and will greatly benefit from being able to focus on and practice football 24/7.
With a good positional coach and constant reps, he will improve in this area and become a much more consistent tackler. But when you're racking up a 100+ of tackles a year, you're bound to miss a few here and there.
Final Analysis
Kenneth Murray Jr is a player that I'd "stand on the table" for as I'm a firm believer that his skills will translate very well to the NFL. I've had the pleasure of breaking down film on numerous linebackers over the years, and his tape ranks about as high as any that I've seen. That includes players such as Luke Kuechly, Patrick Willis, Lavonte David, and Bobby Wagner, to name a few. Statistically, Murray Jr ranks up with just about any linebacker drafted in the first round over the past decade, but has more tangible skills than many of them.
I'll admit, I was somewhat skeptical about his all-around game, as I was well aware that he was an athletic football player. I've been fooled before by superior athletes like Mychal Kendricks, but Murray Jr has the full understanding of football that many other athletic linebackers lack. He has a keen understanding of the game, and trusts his eyes and instincts to make plays all over the field. While block shedding and tackling form are areas of growth, they're more nit picky than they are glaring red flags.
Murray Jr would be a HUGE addition at an area of need for the Eagles, and he would be a Day 1 starter for the defense. The combo of Kenneth Murray Jr and Nathan Gerry would give the Eagles one of the most athletic linebacker pairings in the league, and it would make it really hard for offenses to run by or away from the Eagles. Murray Jr clearly brings more of a run stopping ability than Gerry, and both would be pluses in the passing game.
While Lavonte David is a bit smaller, and also measured slower at the combine, you can immediately see the similarities in their playing styles. Both players fly around the field and are the epitome of sideline to sideline defenders. David has put together an incredible career for the Tampa Bay Buccaneers, making 1st or 2nd Team All-Pro four times in eight seasons. If Murray Jr can have a similar career to Lavonte David, he'd be an absolute steal as a first round pick.
Thanks as always for reading, and I look forward to bringing you more player breakdowns in the future!
---
Mal Davis 21, Baylor, Bobby Wagner, Eagles, football, Houston, Jr, Kenneth Murray, Lavonte David, linebacker, NFL, NFL Combine, Oklahoma, Patrick Willis, Philadelphia, pick, Sack, tackle, tackle for loss, Texas