Javon Hargrave: The Eagles new Grave Digger (a 2019 film review)
5 April 2020 Film Review Philadelphia Eagles
---
When the Philadelphia Eagles signed Defensive Tackle Javon Hargrave to a 3 year $39 million dollar contract early in the 2020 Free Agency period, most people responded by saying "Who?!?". Those fans really can't be blamed though, as most of the coverage leading up to free agency centered around big ticket players at the cornerback and wide receiver positions. Not too many people would've thought that Eagles GM Howie Roseman would be prioritizing adding the Steelers former Nose Tackle as his prize free agency acquisition (at the time), but as always Howie was out here playing chess when we're merely playing checkers.
The move both on paper and in reality makes sense, as it's always smart to bolster the interior defensive line, especially with a player like Hargrave that can be disruptive as both a pass rusher and run stuffer. Despite not putting up big numbers in Pittsburgh, Hargrave showed plenty of ability on tape and was an important contributor to the Steelers defense through his first four years in the NFL.  Playing only 50% of defensive snaps during his career as a Steeler, Hargrave was able to record 168 total tackles, 16.5 sacks, and 22 tackles for loss from his nose tackle position.
Hargrave's potential as a 1-gap defensive tackle for the Eagles should really excite his teammates and fans alike. In order to get a better understanding of his potential contributions to the Eagles defense it's important to take a long look at Hargrave's film from 2019, which was his most productive season as a professional. Let's dive into the film and get a better understanding of what Hargrave brings to the table, and why he's known as the "Grave Digger".
Strengths:
Run stopping
Strength/Anchoring
Pass rushing potential
Hustle/Motor
Weaknesses:
Block shedding
Leverage
Snap upside/Conditioning
Strengths:
Run stopping
This is by far Javon Hargrave biggest asset as a defensive tackle, at least in terms of overall production. Lined up as a 0 technique (nose tackle) for the Steelers more often than not, Hargrave handled his job as a 2-gap run stuffer admirably. Nose tackle is one of the least glorious positions on a defense, but Hargrave made a name for himself as a disruptive interior force.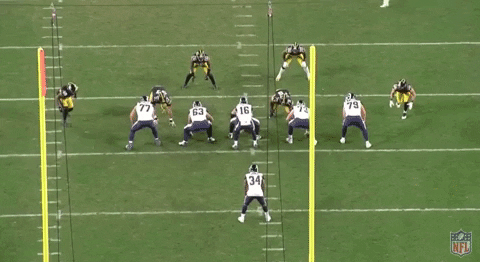 Lined up in a 2-inside technique, Hargrave does an excellent job of exploding off of the ball and warding off the right guard to keep the guard from getting a clean block. By doing so, Hargrave is able to chase down Rams running back Malcolm Brown to make the tackle for no gain.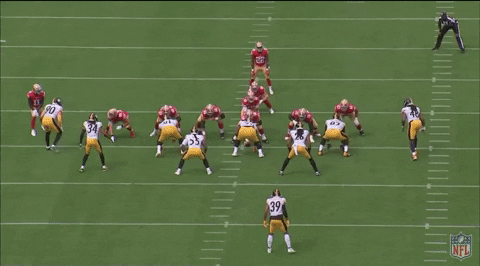 Here Hargrave is lined up as a nose tackle and uses good technique to keep the pulling guard at bay so he can make the assisted tackle on the 49ers running back. Hargrave is a good run defender that regularly makes stops in the run game.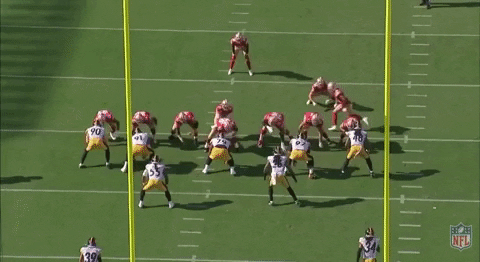 Despite initially being knocked off balance by the blocker, Hargrave is able to regain his footing and make a solid tackle against the 49ers running back, putting a nice pop on the back.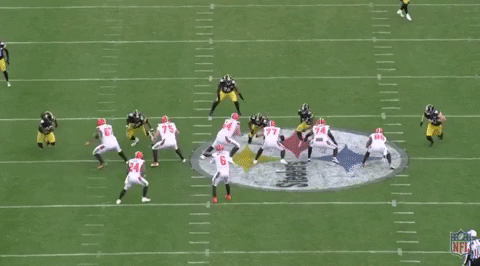 Here Hargrave does another good job of not losing ground against the offensive lineman and uses his hands well to keep the lineman at bay until it was time to disengage. Hargrave releases at the right time and drags down the Browns running back Nick Chubb for a short gain.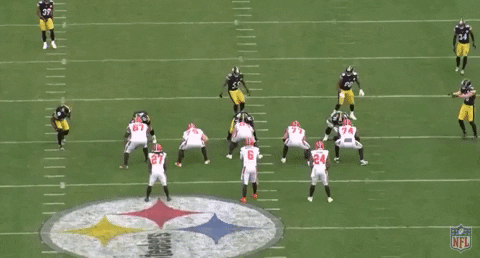 Lined up at nose tackle, again Hargrave makes another excellent run stop against Browns running back Nick Chubb. He stands up the Browns center and doesn't lose any ground before releasing from the block and making the combined tackle with his teammate. Hargrave will pay immediate dividends for the Eagles defense as an early down run defender, especially in our 1-gap system. As a 2-gap space eater, he still showed more than enough ability to be a featured member of the Steelers defense.
Strength/Anchoring
Hargrave consistently uses his power move and upper body strength to shed blocks and stand offensive linemen up to limit the effectiveness of the opposing running game. Hargrave's stout lower body allows him to anchor in place, making it hard to move him off the line of scrimmage.
When Hargrave is using proper technique and hand placement he is almost impossible to move from his anchor point. That's definitely one of his positive attributes as a defender, and on this play he uses his strength to anchor in place even as the Browns guard tries to move him off of his spot. Hargrave breaks loose of the blocker in order to bring down Browns running back Nick Chubb for a short gain.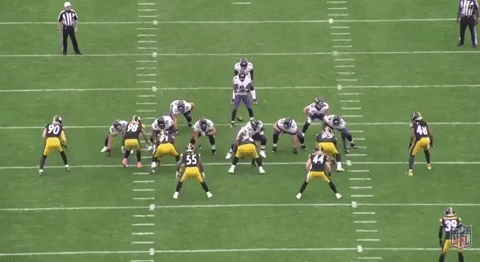 Hargrave does another great job of holding his position and not allowing himself to be pushed back. Instead he stands up the Ravens guard Marshall Yanda and gives Ravens running back Mark Ingram no hole to run through. As Ingram tries to bounce the run back inside Hargrave shoves the guard away from his body and makes the tackle.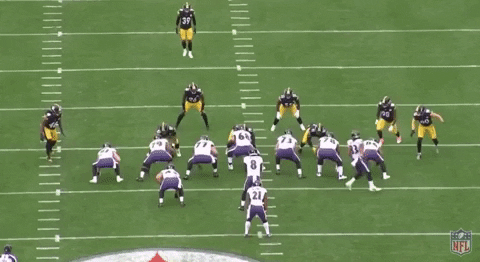 Hargrave shows why he's one of the best nose tackles in the NFL by once again showing off his strength and anchor ability in the middle of a defense. He blows this play up by simply not being moved off of his spot, and stands up right guard Marshall Yanda before making the run stop for no gain.
Another play, same result from Hargrave. The Bengals center Trey Hopkins and left guard Michael Jordan attempt to double team Hargrave and drive him off the ball, but Hargrave maintains his position and keeps both players from getting to the next level. By preventing any upfield movement Hargrave is able to make the gang tackle with both Steelers middle linebackers for a very short gain.
Hargrave's ability to hold his spot and consistently use his upper body strength to stand up blockers make it easy for the linebackers behind him to read and respond to the running plays in front of them. Hargrave should continue to disrupt the running game as a part of the Eagles defense, potentially leading to more tackles for loss as opposed to short gains. Either way these types of plays consistently put offenses into long yardage situations.
Pass rushing potential
Despite having a reputation as a disruptive interior pass rusher coming out South Carolina State, where he recorded 37 sacks and 63 tackles for loss, Hargrave wasn't super productive in this regard as a Steeler. Again that's more a byproduct of the system he was playing in than his actual overall ability. In his last two seasons with the Steelers Hargrave was able to rack up 10.5 sacks (4.0 in 2019) and 13 tackles for loss, which he should be able to build on in his first season as an Eagle.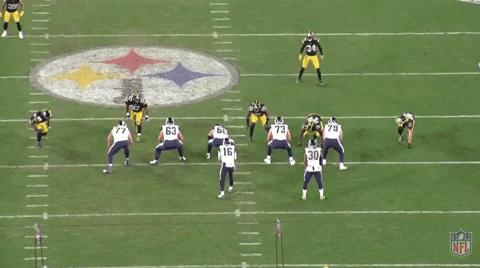 Lined up as a 4-inside technique, Hargrave is able to take advantage of the spacing of the offensive line and uses his quick first step to get up field while also using his strength to push away the arm of Rams guard David Edwards. By getting on the outside shoulder of Edwards, Hargrave is able to force one of his two fumbles in 2019 by hitting the arm of Rams quarterback Jared Goff while also bringing him down for the sack.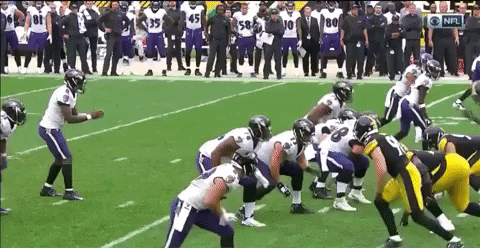 On this play Hargrave is able to use his leg drive and upper body strength to push Ravens guard Marshall Yanda into the backfield, forcing Ravens quarterback Lamar Jackson to step up in the pocket. Hargrave then sheds the block of Yanda to chase Jackson down and pull him to the ground for a sack.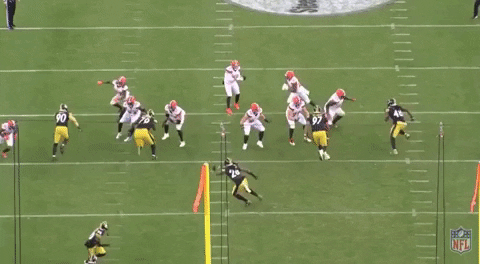 Hargrave uses his quick first step, upper body strength and leg drive to beat Browns right guard Wyatt Teller into the backfield to sack Browns quarterback Baker Mayfield. Despite not having an arsenal of block shedding moves (more on that to come), Hargrave knows how his bread is buttered. He doesn't try to get too fancy, but instead uses his positive traits to make big plays for a defense.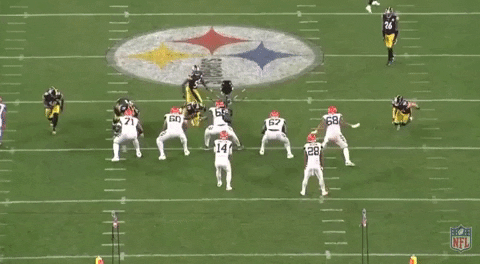 Hargrave again uses his strength and quick initial first step to beat Bengals center Trey Hopkins for a brolic sack on Bengals quarterback Andy Dalton. Hargrave bull rushes Hopkins into the backfield leaving Dalton no where to evacuate before bring him down to the ground.
Hargrave should see far less double teams as an Eagle with defensive tackle Fletcher Cox commanding most of the attention of opposing offenses. With his quick first step and overall strength, Hargrave has a chance to beat his career high of 6.5 sacks in 2020. As long as he works on developing a secondary pass rush move and does a better job of quickly disengaging from blockers, Hargrave should have no problem getting into opposing backfield to harass enemy quarterbacks.
Hustle/Motor
Javon Hargrave has a HECK of a motor, and is a relentless defender which makes him even more difficult to block. While he may not get free early from a blocker, he's a player that will chase down a ball carrier from behind to make plays downfield. This trait should fit in well with the Eagles' high energy linemen Fletcher Cox and Brandon Graham, two players known for their motors and tenacity.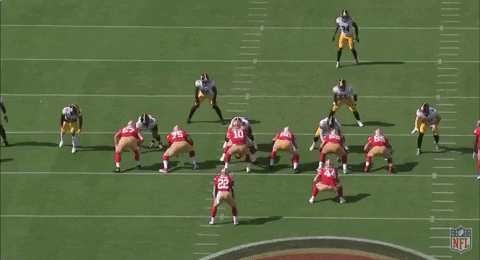 49ers running back Matt Brieda takes the toss and does a good job of reading the defense and finding the hole to get up field for a pretty good run. Despite being on the opposite side of the formation, Hargrave hustles down the field to make the tackle with Steelers outside linebacker T.J. Watt. You don't expect to see plays like this from a player the size of Hargrave, but he gives great effort from snap to whistle.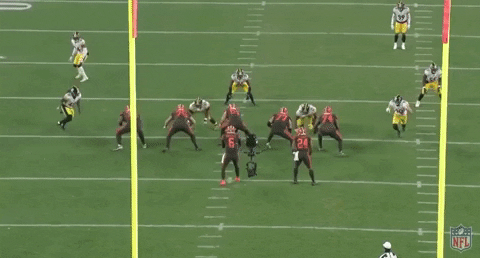 Here Hargrave chases down Browns running back Nick Chubb after Chubb gets a good chunk of yards on the run. Hargrave breaks free from the right guard and sprints downfield to get the assisted tackle.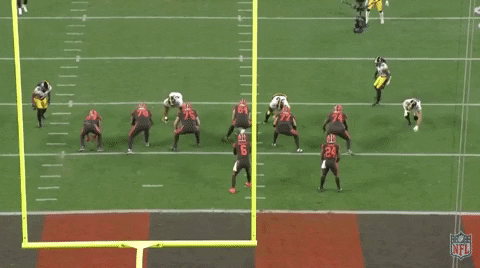 Hargrave gets the stop again against Browns running back Nick Chubb, after first working his way through a quick double team. He never takes his eye off of the back however, and keeps chasing him down field until he makes the tackle. Hargrave will again be a great fit with our defensive line, as they all have great motors and are relentless attacking blockers.
Opposing offensive lines will have plenty of issues with Cox, Hargrave, and Graham, along with whoever ends up rotating in at the right defensive end position. For a player that's 300+ pounds, Hargrave shows good short area quickness, as well as pretty decent speed to catch up to much faster and smaller offensive skill players. I only pulled a handful of examples of him using his motor to chase down players, but trust me there are plenty more of them on tape.
Weaknesses:
Block shedding
This is one area that immediately jumps off the tape as a growth area for Hargrave, as I saw many examples of him struggling to get free from blockers. While he uses his power moves very well, he does not have a secondary or tertiary pass rush move or block shedding move to leverage. If he can't win with his power move, he's usually taken right out of the play, whether as a run defender or pass rusher. To become a more consistent contributor, Hargrave will need to hone his ability as a block shedder, and at least develop an average counter move.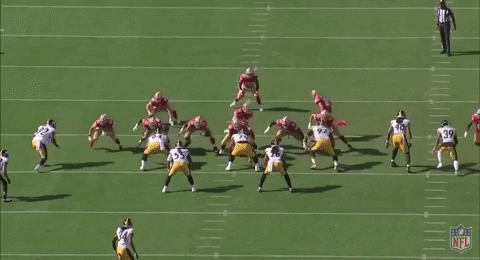 Here's one of many examples of Hargrave not being able to shed the initial block, despite still forcing the 49ers running back to the outside for a short gain. With better technique and hand usage, this block wouldn't be difficult to shed, as the offensive lineman is hand fighting with Hargrave, but he isn't dominating him.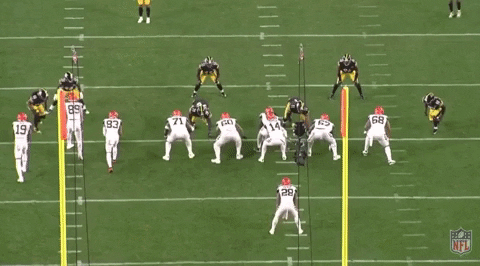 This is a play where Hargrave could've potentially leveraged a spin move to break free of the blocker, but instead he continues to give up the inside leverage and can't break free. Bengals running back Joe Mixon runs right off of the block to get downfield for the first down.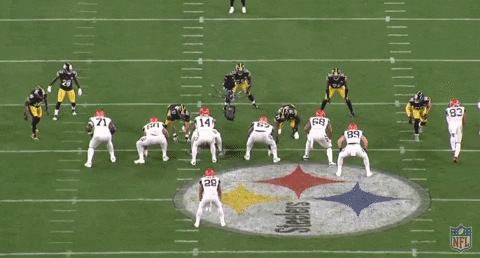 Hargrave gives minimal effort here as a pass rusher, which could be part of the reason he didn't see as many 3rd down snaps for the Steelers in 2019. Lined up at nose tackle, he does absolutely nothing here to break free of the block, and instead allows himself to be pushed across the line and away from the play.
Ravens guard Marshall Yanda and Hargrave had a pretty good battle during this game, with neither necessarily getting the upper hand consistently. That saying a lot as Yanda has been one of the best guards in the NFL over the past decade. Hargrave struggles to get free of Yanda here and is stood up immediately and never able to get free from the block.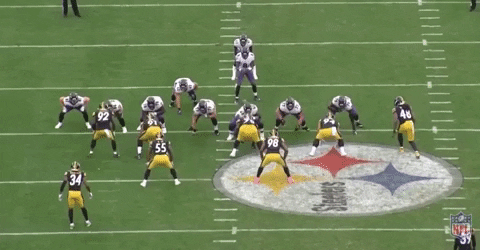 Again Hargrave is stood up at the point of attack, and instead of using his strong base and upper body, he dances back and forth with the Ravens center unable to get free. The other Steelers defenders were able to identify the hole and meet the back to make the tackle, but this is a play that Hargrave is fully capable of making.
For him to take the next step as a defender, this is again a clear area where Hargrave needs to improve. When he doesn't win with a quick first step or with his overall power, he's usually blocked right out of the play. This is something that won't really change going from a 2-gap system to a 1-gap defense, as many of these blocks he couldn't shed were one-on-one. I purposefully didn't put any plays where he was unable to get free of a double team, as he'll most likely see far less of those next to Eagles defensive tackle Fletcher Cox.
Leverage
Despite being a stout and powerful player in his lower body, Hargrave finds his self getting pancaked a bit too many times. More often than not it's from him overextending and not keeping himself square with the line of scrimmage. One-on-one Hargrave should be a VERY difficult player to get on the ground, but he has some lapses in technique that cost him.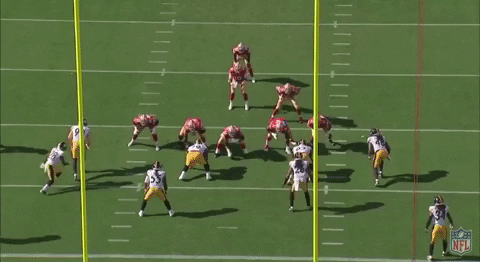 Not only does Hargrave have difficulty breaking away from the block here, he's ultimately pancaked on the play getting driven into the ground by 49ers right guard Mike Person. Person isn't known as an overly powerful or intimidating blocker, but he's able to dominate Hargrave on the play.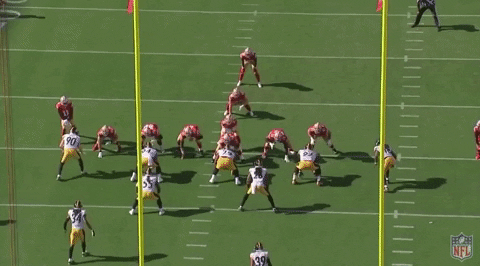 Hargrave is double teamed here and pancaked on the play, which is somewhat understandable as fighting off two defenders is clearly more difficult than only dealing with one blocker. Despite the double team though, if Hargrave uses his lower body better and maintains his leverage, he most likely isn't knocked down, or moved very far off the ball.
Ravens center Matt Skura, again not a blocker known for his brute strength or dominance, is able to pancake Hargrave with no help. Hargrave not only gets dominated on the play, but by getting pancaked he also gives Ravens quarterback Lamar Jackson a clean throwing window over the middle of the field.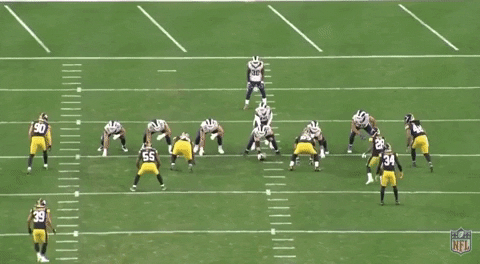 Hargrave is almost instantly disposed of on this play, again receiving a double team. The Rams center and right guard engage with Hargrave, and center Brian Allen shoves Hargrave and sends him flying. Thankfully for Hargrave his defensive teammates were able to blow the play up in the backfield and make the stop.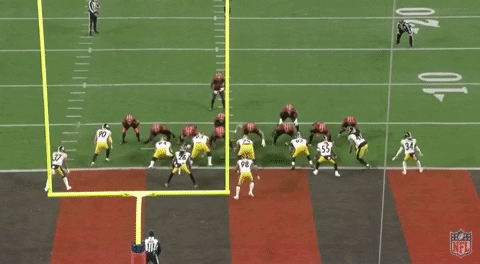 Normally on goal line plays defensive linemen attempt to submarine (attack the knees/lower body) of the offensive line, which allows the linebackers and safeties to make a play over the top. That's not at all what happens here, as the Browns center pushed Hargrave back on his butt, and Browns quarterback Baker Mayfield follows the center for an easy touch down.
Much like with his block shedding, Hargrave has his work cut out for him to improve his leverage and balance so he doesn't get pushed around by weaker offensive linemen. He has all the potential in the world, but to see him pancaked so many times, especially one-on-one, is disheartening. He's way too strong, and his low suquattish build should more often than not prevent this from happening. If he can put less of these plays on tape in 2020, there's no telling how many more plays he can make individually, and the Eagles defense can make as a unit.
Snap upside/Conditioning
Part of the reason that Pittsburgh let Hargrave walk as a free agent is because he was merely a rotational player for them through out his career. Up until 2019, he had never logged more than 492 defensive snaps. For comparison purposes, former teammate and fellow defensive lineman Cameron Heyward never played less than 828 snaps in a season (when healthy) and his other former lineman teammate Stephon Tuitt never played less than 570 snaps (when healthy).
Hargrave saw a huge uptick in playing time during 2019 after Tuitt went out with a torn pectoral injury in week 6. From weeks 1 through 5 Hargrave played only 46% of snaps, but from week 6 through week 17 he played an average of 71% of the defensive snaps. While the uptick in playing time is a great sign, it was still disappointing to see Hargrave taken off the field during some third down plays and during some key situations late in the game. As an Eagle he's being paid to be a starter and high level defensive contributor, which means that he'll need to work on his consistency and conditioning. If Hargrave can show up to camp in top shape, and can keep his conditioning in peak form through out the season, he will be able to put together an incredible season.
Final Analysis
Javon Hargrave is undoubtedly a great pick up for the Eagles, and should be a contributor from the very start. His run stopping ability is well known, as is his strength and anchoring. What has me the most excited is his potential as a pass rusher, where he'll line up in a system that's similar to the one he played in at South Carolina State. His quick first step and IQ will make him a great partner in pass rushing crime with Fletcher Cox, and also keep our linebackers clean in the running game.
He clearly still has work to do to be more consistent disengaging from blockers and must keep his pad levels low and even so he doesn't get pancaked and driven off of the line of scrimmage. While the Steelers may have undervalued Hargrave as a player in their system, feeling he wasn't worth the money in free agency, their loss is the Eagles gain. Even though he was able to consistently produce as a nose tackle in Pittsburgh, Hargrave is probably better suited as a 1-gap defender that is in attack mode constantly. When you add in the acquisition of corner back Darius Slay, Eagles GM Howie Roseman added two impact players to a defense that was in dire need of more playmakers.
At only 26 years old, Hargrave is an ascending player that's now just entering his physical prime and will be at his best through out the length of his contract. He's a guy worth the investment financially and after taking a closer look at the actual contract details, Howie Roseman seems to have worked his financial magic once again! I can't wait to see how Defensive Coordinator Jim Schwartz implements Hargrave, and how he's now able to mix and match Hargrave with Fletcher Cox, Brandon Graham, Malik Jackson, Derek Barnett, and Hassan Ridgeway. The Eagles defensive line has the potential to be a ferocious group that makes it hard for teams to run for big yards, or use deep drops from their quarterbacks in the passing game. Hungry dogs run faster, and I can tell you right now this will be a hungry group that'll be ready to wreck offensive game plans week in and week out. #GoBirds
---
Mal Davis Brandon Graham, Derek Barnett, Fletcher Cox, free agency, Hassan Ridgeway, Javon Hargrave, Malik Jackson, NFL, nose tackle, Philadelphia, run stop, Sack, tackle