The Eagles got their man! A review of Darius Slay's film from the 2019 season
24 March 2020 Film Review
---
The Eagles finally did it! They addressed their dire cornerback situation by making a big time trade with the Detroit Lions to acquire cornerback Darius Slay, reuniting him with is former Head Coach Jim Schwartz, and finally providing the Eagles with a bonafide number one cornerback. Darius Slay's acquisition finally brought an end to what had been a widely speculated move for the Eagles. Where there's smoke, there's fire, and there had been "smoke" in regards to Darius Slay being shipped to the Eagles for weeks.
The question on everyone's mind before the trade was how much would it cost the Eagles, both financially in the form of a new long-term deal, and in terms of draft pick compensation. Both questions were answered Thursday, March 19th when the Eagles shipped a 3rd round and 5th round pick to the Lions, then Philly followed that up by agreeing to a contract extension with Slay for 3 years and $50 million, including $30 million guaranteed. The draft compensation wasn't steep at all, though there have been some questions about if Slay was worth that amount of money going into his age-29 season.
Money and draft picks aside, the Eagles had to make some sort of move to address their cornerback position. They've struggled for the past several years playing an unsuccessful version of musical chairs, subbing in players like Sidney Jones, Avonte Maddox, Jalen Mills, Ronald Darby, and Rasul Douglas to no avail. The Eagles passing defense has not fared well in regards to stopping the pass consistently, giving up the 14th (2019), 3rd (2018), and 16th (2017) most passing yards in the NFL. On paper those numbers don't look terrible, outside of 2018, but in reality it's hard to win in today's NFL if you can't limit the opposing teams passing game.
In order to really get a better understanding of the value that Darius Slay truly provides, it's important to take a look at what makes him a Pro Bowl caliber cornerback, and a highly respected defensive player in the NFL. As the old adage goes "the tape doesn't lie", so let's take a look at Darius Slay's 2019 season in order to get a better idea of the type of player the Eagles just acquired.
Strengths:
Shadow coverage/man coverage
Playmaking ability
Discipline
Team-first mentality
Weaknesses:
Short area quickness/change of direction skills
Penalties/grabbing receivers
Injuries
Strengths:
Shadow coverage/man coverage
There's always a lot of talk about "shadow" corners and the ability of cornerbacks to operate on an island. When you really get down to the nitty gritty though, there are very few corners that can match Slay's ability to track a number one receiver anywhere on the field in man coverage. He plays right corner, left corner, and also tracks receivers into the slot in order to slow down an opposing team's best player.
Here Slay is lined up at the right corner position and is in man coverage versus Washington's rookie WR Terry McLaurin. Slay and McLaurin had a heck of battle this game, with Slay getting the best of the young WR on this play. Slay does a great job of getting a hand on McLaurin and forces him to the sideline. He undercuts a poor throw and makes a great pass break up.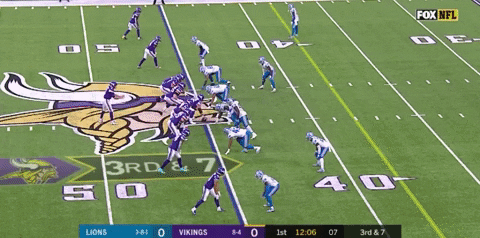 Slay is lined up this time in the slot versus former Vikings WR Stefon Diggs, who definitely got the best of Slay during this game. Despite having a tough game versus Diggs, Slay makes a great pass break up here despite not getting a hand on Diggs to disrupt his route. Slay is able to gain ground versus Diggs on the out route, and gets his left hand in the way to break up the pass.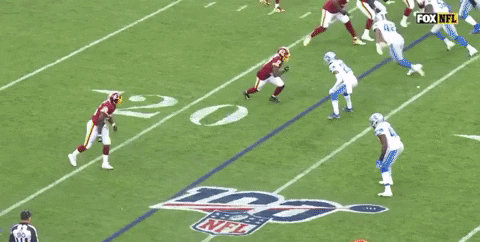 Slay is lined up in the slot against Terry McLaurin, and again does an excellent job of making contact with McLaurin early in the route, and then again near the sideline before spinning his head around and breaking up the pass with his right hand. Slay is a very intelligent defender (we'll get more into that later) and makes plays like this with zero help.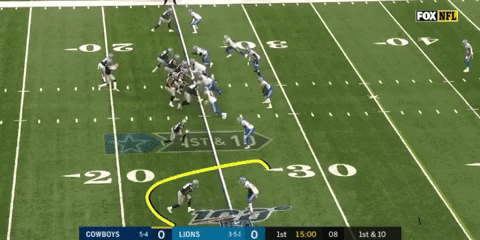 This time Slay is lined up at left corner versus Cowboys receiver Amari Cooper, holding true to his shadow coverage abilities. Slay did a really good job of slowing Cooper down when he was defending him, and on this play is physical with Cooper from the snap all the way through the pass break up.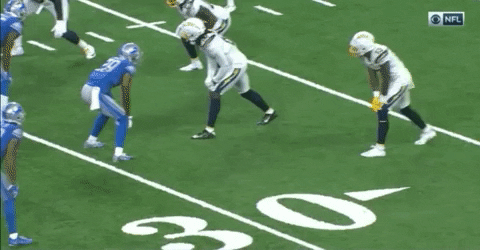 Lined up again at right corner Slay gives up inside leverage to Chargers WR Keenan Allen on an inside route, but is able to recover just in time to break up a pass that former Chargers QB Phillip Rivers threw slightly behind Allen. Nonetheless Slay is able to make the pass break up and get one of a handful of stops versus the talented Chargers receiver. Slay and Allen battled all game long, with Slay holding Allen under 100 receiving yards despite giving up numerous receptions.
The overall theme here is Slay is one of the few cornerbacks in the NFL that can and will track a number one receiver all over the field, and he also doesn't rely on help from the safeties overtop or linebackers underneath to make a stop.
Playmaking ability
Over his years in the NFL, Darius Slay has earned the nickname "Big Play Slay", and deservedly so. Though it does come with a bit of a caveat, as 42% of his interceptions (8) and 25% of his pass break ups (26) all came during his All-Pro 2017 season. That's not to take away from his big play ability, as Slay has recorded at least two interceptions and 13 pass break ups since 2014, and offers the Eagles secondary a level of playmaking at corner they haven't had since Asante Samuel.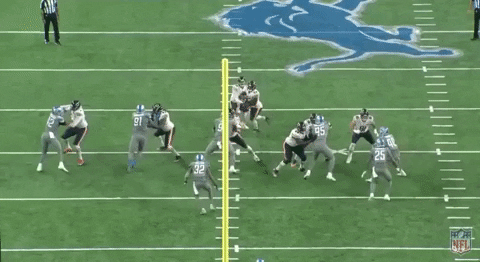 Despite getting beat early on the crossing route by Bears WR Allen Robinson, Slay does an incredible job of closing the gap late and making a great play on the ball, pulling it in for an interception. Slay recorded 2 INTs in 2019, and was able to return this one for 19 yards.
Here Slay basically runs the flag route with Chargers WR Keenan Allen, and is able to stay step for step with him forcing Phillip Rivers into an almost impossible throw. Slay is able to pull in the interception (his first of the season) to seal the game and ensure the Lions walked away with the win. Slay's ability to pull in interceptions is huge, and is a much needed asset in the Eagles secondary.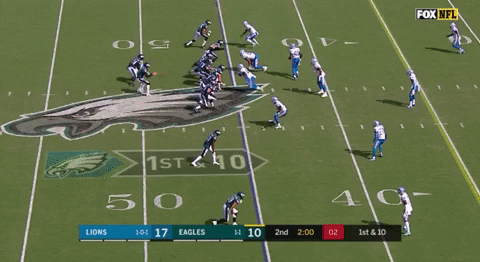 This one really stings, as former Eagles WR Nelson Agholor fumbles the ball and Slay swoops in to scoop it up and return it 38 yards deep into Eagles territory. This is one of Slays's two career fumble recoveries, and is another example of his ability to make big plays for a defense. Big Play Slay is going to bring a much needed element to the Eagles secondary, and if he remains true to his career numbers we can expect at least two interceptions and a dozen pass break ups again from Slay in 2020, if not more.
Discipline
Darius Slay is far from a perfect cornerback, as he gives up his fair number of big plays and receptions during a season. The fact that he often times operates on an island can't be ignored though, as he is again one of only a few corners that will track a receiver into the slot, and operates mostly with out any help whatsoever. Slay has pretty good technique, despite some issues with his footwork (we'll get into this later) and occasional lapses in hand placement when jamming a receiver.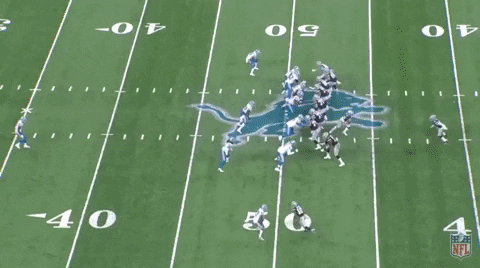 Slay does an excellent job cutting off the throwing window and remains stride for stride with Cowboys former WR Tavon Austin, who is still one of the faster skill players in the NFL. Slay again runs the route in lockstep with the receiver, and if Austin doesn't reach out to tip the pass out of Slay's hands, Slay more than likely records his third interception of the season on this play.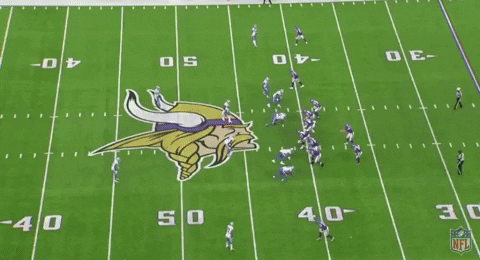 Sitting in zone coverage, which is not something you saw him play very often in 2019, Slay does a great job of releasing the receiver to the linebacker inside and stays disciplined in his read to come up and make a solid tackle on the running back out of the backfield. Slay isn't a big hitter by any stretch of the imagination, but is a willing form tackler that can and will make tackles from his cornerback position.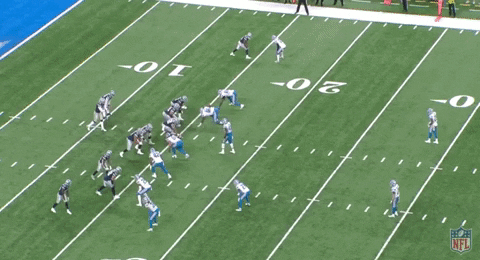 Here Slay does a great job of using both his hands and feet to stay on top of Amari Cooper and disrupt the route from the very beginning. Slay is in Cooper's hip pocket, and as Cooper breaks back for the football along the sideline, Slay jumps the route to break up the pass.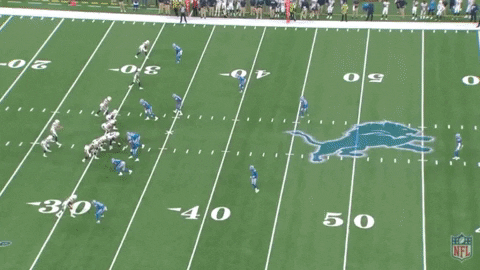 Keenan Allen did a good job of beating Slay on a few out breaking routes throughout this game, but here Slay is able to stay in close proximity to Allen, and uses the sideline to his advantage to prevent the reception. Similar to the Cooper play above, Slay breaks on the ball and is able to disrupt the pass just as the receiver is putting his hands up for the reception.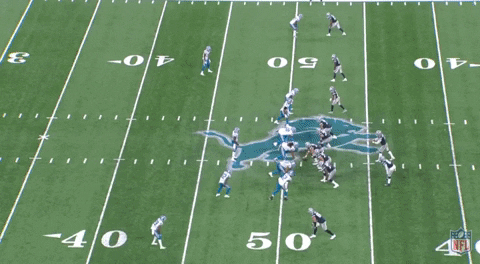 Even though Cooper makes a great reception here, it's almost an interception by Slay, but unfortunately the ball goes RIGHT through his hands for a first down. Slay does everything well here, except for pulling in the INT or knocking the ball away for an incompletion. Slay is clearly a cerebral player that watches tape and trusts his instincts, and what he doesn't have in pure natural ability he makes up for between his ears with his intelligence. His leadership and consistency will be invaluable as the Eagles now have to replace former Safety Malcolm Jenkins, who was in many ways the heart and soul of Jim Schwartz's defensive unit.
Team first mentality
Everything that you read about Darius Slay makes it very clear that he's a leader both on and off the field. You almost never see him pointing at his teammates after a bad play, or screaming at them for a missed assignment. He's a great teammate from all reports, and you even see him congratulate opposing receivers after they make a reception.
Again, with the loss of Malcolm Jenkins, it's more important than ever that the Eagles have strong locker room guys, and players on the defensive side of the ball that believe in accountability. Had it not been for Lions Head Coach Matt Patricia undermining his best defensive player numerous times, there's no telling if Slay would've made his trade demands in the first place. The Lions loss is certainly the Eagles gain, and this part of Slay's game is definitely underrated.
Weaknesses:
Short area quickness/change of direction skills
One reoccurring theme when watching Slay's tape is that he's susceptible to quick slants, and out breaking routes. If he can't get his hands on the receiver to disrupt the route, he can and many times will give up a reception on those plays. He struggled through out his matchups versus Keenan Allen, Terry McLaurin, and Stefon Diggs, but be clear he was also battling those receivers with out any semblance of help. Despite the lack of help in coverage, it is a bit worrisome to see him continue to get beat by the same routes.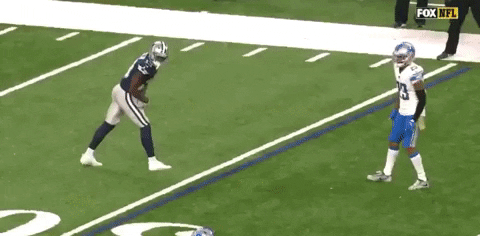 Slay had a great game when locking horns with Amari Cooper, but the same can not be said when he was matched up against the faster and more shifty Cowboys second year receiver Michael Gallup. Gallup mixes Slay here, as Slay doesn't get a hand on Gallup at any point in the route, and is completely spun around as Gallup breaks down in his route and makes a move for the sideline for the first down reception.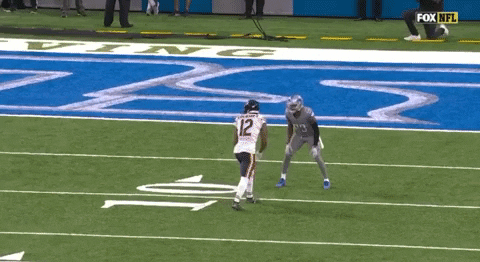 Versus quick slants and quick breaking inside routes, far too often you see Slay flat footed and left reeling by the receiver. Allen Robinson beats him like a drum for an easy TD on a quick slant, where Slay makes zero contact with him before the goal line. You'd expect a corner of Slay's caliber to fare far better against these sorts of routes.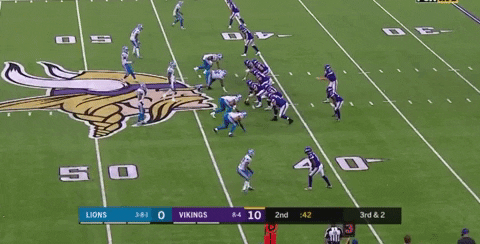 Stefon Diggs put on a route running clinic versus Slay, as did Keenan Allen and Terry McLaurin. On the snap Diggs hits Slay with a jump step, then a quick stutter step, and breaks inside for an easy reception. Slay wasn't even close to making a stop on the play and is once again caught flat footed trying to defend Diggs.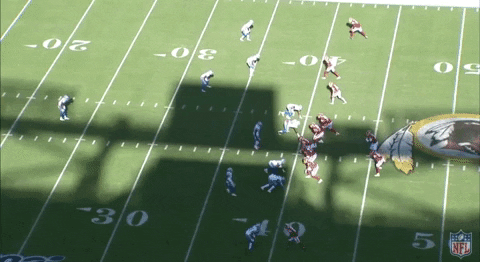 I've watched this route by Terry McLaurin at least a dozen times, and I still have no idea how he was able to get back inside of Slay when Slay had the inside leverage. McLaurin breaks his route outside as if he's running a go route or a deep route, but cuts back inside of Slay about eight yards downfield for an excellent catch. Slay doesn't ever really get a hand on McLaurin, and is beat inside for the reception.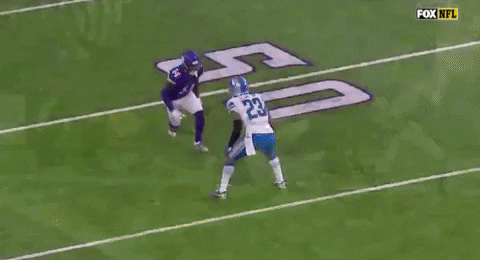 Like I said, Stefon Diggs put on a route running clinic versus Slay during their week 14 matchup, and he beats Slay here for a big time 44 yard reception down the left sideline. Slay does nothing at the beginning of the route to slow Diggs down or disrupt his route, and instead turns and runs with the faster receiver. By time Slay is turning his head to locate the ball it's too late, as Diggs uses a slight push off to get space and pull in an unbelievable catch.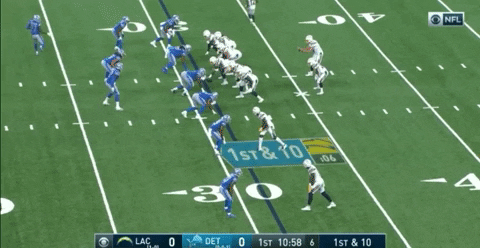 Sticking with the theme of this section, Keenan Allen beats Slay on the quick hitting inside route using his superb footwork and route running savviness to once again spin Slay and take the cornerback out of position to make a play. Allen picks up the first down here, and was basically untouched until he catches the pass.
It's definitely somewhat troubling to see Slay beat so many times by either a quick out, deep out, quick slant, or in breaking route by so many different receivers. There's no question that Slay has the man coverage ability to limit more of these plays than he did in 2019, and the Eagles have to hope that this is something they can have him focus on stopping more often during the 2020 season.
Penalties/grabbing receivers
Many times on film you'll see Darius Slay reaching out to grab a receiver to get leverage or to close the space between the players in order to make a play on the ball. There are several times though when being grabby gets him in trouble, leading to Defensive Holding penalties and Pass Interference.
Those sorts of penalties can be detrimental to a defense and quite a few times you can see Lions Head Coach Matt Patricia expressing his frustration with the penalties on the sideline. Slay was flagged six times in 2019, which isn't a lot on paper, but again some of these penalties could've been prevented.
Half of Slay's penalties in 2019 came against Keenan Allen as Slay had issues all game trying to keep up with Allen (as shown above). There were several other times that Slay wasn't penalized despite reaching out to grab Allen well after the 5 yard buffer. Here Slay is flagged for defensive holding, which potentially saved a bigger play down the field.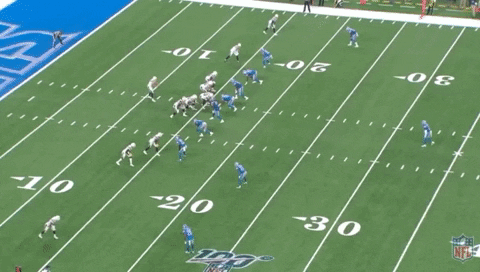 Again Slay gets tangled up with Keenan Allen, and again Slay is called for Defensive Holding. This time though Allen is able to fight through the contact and make the catch downfield for the first down.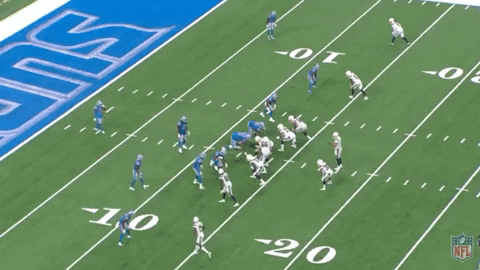 This time Slay is flagged for Pass Interference against Keenan Allen, which put the Chargers offense at the goal line for what should've been an easy touchdown. The Chargers eventually fumbled the ball away and the Lions recovered.
Slay wasn't flagged on this play for Defensive Holding or Pass Interference, but he clearly grabs Keenan Allen around his hip slowing him down and preventing a possible completion. There's really no way to sugar coat the amount of times that Slay makes contact "illegally" with receivers downfield, but he also is constantly on an island and being tasked with nullifying some of the best receivers in the game. I guess you have to get advantages any way you can, and if they don't call it it's not a penalty.
Injuries
Injuries are definitely some what of a concern with Slay, as he's only played 16 games three times in his seven year career. Over the past two seasons he's struggled through hamstring, ankle, and knee injuries that caused him to miss a few games and play injured in several others.
Playing through injuries is a big part of being a consistent contributor in the NFL, and Slay definitely plays hurt when he can. The primary worry is that Slay will be turning 29 in his first season with the Eagles, and struggled mightily in 2019 with a hamstring injury. He also tore his Meniscus around the time he was drafted in 2013 by the Lions and underwent surgery for the injury, and then injured his Meniscus again in December of that same year.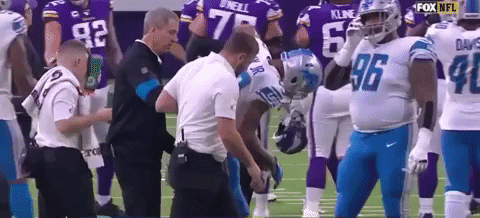 Final Analysis:
It's hard to argue that this wasn't a good trade for both teams, as the Lions unload a player that they felt no longer fit their scheme, and the Eagles received a bonafide number one cornerback. There's an argument to be made that the Eagles overpaid on Slay's contract extension and that the Lions didn't receive enough draft compensation for a player that is one of the few cornerbacks capable of shadow coverage game after game. I fall on the side that the Eagles did the right thing, especially after "missing out" on Byron Jones and James Bradberry, as neither player has the overall man coverage ability that Slay has.
There is clearly the calculated risk that the Eagles are taking as they're banking on an aging cornerback to remain "elite" through his early 30's. There's a very short list of players that maintain their effective play into their 30s, as many have a significant drop off in production once they reach 31. It was a risk worth taking though for Philadelphia, it was imperative that they address their secondary and find a player that they could rely on game after game to be a contributor.
Though Slay hasn't played 16 games in an NFL season since his All-Pro season in 2017, he has played at least 13 games in every season of his career. It's well known that availability is the best ability when it comes to playing football, and more often than not Slay is ready and available come game day.
It'll be interesting to see how Jim Schwartz will use Slay this season as the Eagles don't play nearly as much man coverage as the Lions did in 2019. It may be worth taking a page from the Patriots playbook (I know, I know) by using Slay similar to how Bill Belichick uses Patriots DPOY cornerback Stephon Gilmore. Instead of having Slay chase the number one receiver, the Eagles may be wise to have Slay track the opposing team's number two receiver, and let their other boundary corner take on the number one receiver with help over top and/or underneath. This may extend Slay's career, but also may be a better strategy in regards to containing competing offenses.
I'm excited to see what Slay brings to the Eagles defense in 2020 and beyond, as he's a player that I have a lot of respect for as a player and person. His leadership skills are well documented and his playmaking ability is unquestionable. Hopefully he will be the stabilizing force that the Eagles have been searching for at cornerback, and allow the rest of the secondary to play free and uninhibited. Here's to Slay having a great season, and an excellent career as a Philadelphia Eagle. #GoBirds
---
Mal Davis Cornerback, Darius Slay, defense, Eagles, Jim Schwartz, NFL, pass break up, pass defense