Has Veganism Contributed to Carson Wentz's Regression?
3 December 2020 Opinion
---
During the week leading up to the Eagles facing off against Seattle I compiled data and sent out a thread on my Twitter timeline:
Some took to it differently than others, so I felt that it was my civic duty to dive further into the trend of athletes, specifically in the NFL, falling off after they have chosen to adopt a vegan diet.
Wentz's Diet Changes in 2019
Leading up to training camp back in 2019, Carson Wentz adopted the vegan lifestyle. According to Ed Kracz, an Eagles Insider for Sports Illustrated and contributor for Eagles Brawl, Wentz began his new diet in August of 2019. Kracz reported that Wentz, "Checked his man card at the door", and began turning to plant-based options with the help of his newly hired dietician. If you remember correctly Carson Wentz came into training camp looking more lean and down to a career-low weight of 237 pounds, a direct result of his new eating habits.
The reason behind the avid-hunter turning vegan is not very well known. However, it undoubtedly played a role in the regression of the 2017 Pro-Bowl Quarterback.
It is important to note that Wentz is now gluten-free and still prefers "eating green" rather than "eating lean". However, the mental and physical damage had already ran its course in 2019, and it seems he has completely spiraled out of control in 2020. What started as a precautionary step to reduce injury has turned into seemingly unrepairable damage that has yielded his worst performing season to date.
The Numbers
Wentz has thrown a league-high 15 interceptions in 2020, which is also a career high; there are still four games remaining in the Eagles' regular season. He is also completing the ball on just 58.1% of his pass attempts, another career low. In 2018 Wentz's TD percentage was 5.2%, in 2019 it had dropped to 4.4%. His TD percentage during this season has dropped even more and now sits at 3.8%. Wentz is averaging 6.0 yards per attempt compared to his tally of 7.7 back in 2018. Carson's QBR is currently weighed at 49.7 which ranks him in the bottom five percent of NFL Quarterbacks.
It is difficult to deny that Wentz is playing his worst football since entering the NFL. By no means is this regression strictly because of his diet changes back in 2019, but it is irresponsible and borderline arrogant to deny this correlation, especially as I list some examples of the vegan diet gone wrong below.
Veganism in NFL: Fad or Forreal?
In 2018 Netflix released "The Game Changers", a documentary that covered athlete's benefits from eating plant-based food options rather than meat. Unfortunately the documentary did not cover the adverse effects of going vegan, as the new dietary plan had taken the NFL by storm.
According to a study conducted in 2014 by the US Humane Research Council, "84% of people that decided to go vegan or vegetarian quit typically within a year because their bodies simply can't handle it." If veganism takes a significant toll on the everyday person's mind and body then imagine what it does to a high-level athlete. The penultimate reason that people "fail" veganism is because they do not know how to supplement themselves correctly; they go vegan without knowing how to go vegan.
Multiple members of the Tennessee Titans, with the help of Derrick Morgan and his wife, decided to give the diet a whirl in 2018. Just wait until you see where they have ended up, along with other former NFL stars that have seen their careers slowly wash away.
Cam Newton
Former Carolina Panther and now New England Patriot, Cam Newton adopted his vegan lifestyle around the same time as Wentz back in 2019. Newton began his 2019 campaign with a Lisfranc sprain in his foot that nagged him for the entirety of the season and led to he and the Panthers parting ways. In Week 1 of 2019, Newton was 25/51 (49.0%) for 333 yards and zero scores; he rushed for -2 yards and took three sacks while finishing with a QBR of 23.7. In Week 2 he completed on 25/38 attempts (65.8%) for 239 yards and zero touchdowns coupled with an interception. He finished that contest with a QBR of 20.6 and three more sacks while rushing for zero yards.
Following Week 2 Newton was benched and later placed on the Injured Reserve list in Week 8. He remained there until the season concluded.
Newton was previously pescatarian which means the only meat he ate was fish. Newton's 2018 campaign, which was a year before going vegan, was filled with tons of success. Newton finished with his career's second best Passer Rating of 94.2, second best TD/INT ratio of 1.85, and his career's fifth best yards per carry of 4.8. He also tallied his career best completion percentage of 67.9%.
Now a year removed from injury it seems he will never get back to his career best, as he has taken one step forwards then two steps backward. In 2020 Newton is 23rd in yards (1,984), 30th in touchdowns (4), tied for 23rd in interceptions (9), and 26th in QBR (50.8).
Andrew Luck
It is hard to forget about the most shocking retirement in the history of the NFL. According to a report in 2018 from The Boston Globe, Matt Hasselbeck confirmed that former Colts standout Quarterback Andrew Luck had decided to go vegan. Hasselbeck said, "It's not by accident. I think it's because they're seeing the success that Tom Brady is having and the longevity. He's a trendsetter." This exemplifies the misinformation that I had alluded to earlier as it has been confirmed that Brady is not vegan. Instead he incorporates plant-based meals into roughly 80% of his diet.
Less than a year after Luck decided to turn vegan, he announced his retirement as a 29 year old coming off of a Pro-Bowl season. This highlights the everlasting physical and mental effects that veganism has on some athletes.
Colin Kaepernick
Colin Kaepernick began eating vegan in 2015 after coming off of two good seasons with San Francisco in 2013 and 2014. During the 2015 and 2016 seasons, Kaepernick was graded the worst Quarterback out of the 37 that accrued enough snaps to be graded.
Kaepernick was 2-6 in 2015 and finished with a career low QBR of 43.4. He began the 2016 season as the 49ers starter and lead them to a 1-10 record with a QBR of 49.5. Take out 2015 and 2016 (Kaep's vegan years) and his career's lowest QBR was 60.9; this is over ten points higher than his QBR in 2015 and 2016. He was later replaced by Blaine Gabbert. Gabbert finished 4-9 with the 49ers, and Kaepernick became a Free Agent in 2017.
Marcus Mariota
According to the same report on Luck from the Boston Globe, Marcus Mariota attempted to follow Tom Brady's lead, even though Brady was not vegan. Mariota told his coaching staff about his plans to do so and they were immediately against it. According to the report that dates back to August of 2017, he "Risked the ire of his coaches this summer by ignoring their recommendation of playing at 230 pounds and dropped his playing weight to 215 pounds."
Since Mariota's dietary changes he has slowly declined and now finds himself as the Raiders' third-string Quarterback. The former Heisman Trophy winner's NFL career has been nothing but a disaster.
In 2015 Mariota's TD% was 5.1, in 2016 it rose to 5.8%, and after he began veganism his TD% dropped to a staggering 2.9% in 2017. He was replaced by Ryan Tannehill midway through 2019.
David Johnson
David Johnson decided to give veganism a shot back in 2017, and he lasted three weeks before he quit. "The longer he continued a vegan diet, the more weight he lost. He dropped 14 pounds in less than two weeks." Interestingly enough Johnson hasn't returned to the Running Back he was ever since. Whether he was injured or underperforming, it took just three weeks of vegan eating for Johnson to regress.
Johnson was a Pro Bowler and selected as a First Team All-Pro in 2016, this was just months before going vegan. Since then Johnson has played in 38 of 64 possible games (59.4%) over four years.
During these 38 games, he has rushed for a total of 1,716 yards. In his first two NFL seasons he rushed for 1,820 yards combined. That is 104 more yards in his two seasons eating meat, than his four seasons being vegan. You can't make this stuff up.
Arian Foster
Unlike many of the players listed, Arian Foster adopted the vegan lifestyle early on. He was the catalyst behind the vegan movement throughout the NFL. He had this to say about my thread:
Interesting Arian, then how come you have decided to go back to eating meat now?
Foster retired mid-season in 2016 after being destroyed by injury. In the four years before Foster decided to go vegan he played in 51 of 64 (79.7%) games and was the most productive Running Back in the NFL. He was a Pro-Bowler in three of the four seasons and was First Team All-Pro as an NFL sophomore. After Foster began eating vegan he played in just 29 of 64 (45.3%) games.
Demaryius Thomas
For me this was the most eye-opening of them all. Thomas began veganism in 2017, this was a year after he was selected a Pro-Bowler. From 2012-2016 Thomas accumulated over 1,000 yards receiving each season, and finished three of the seasons with double-digit touchdown receptions. 2017, the year he began his new diet, was Demaryius' first season without 1,000+ yards.
Thomas lost 26 pounds after going vegan and started to battle injury. The Broncos traded him to the Texans in the middle of the 2017 season. Since then he has been a member of three different franchises and finds himself a Free Agent in 2020 with his career likely over.
The Titans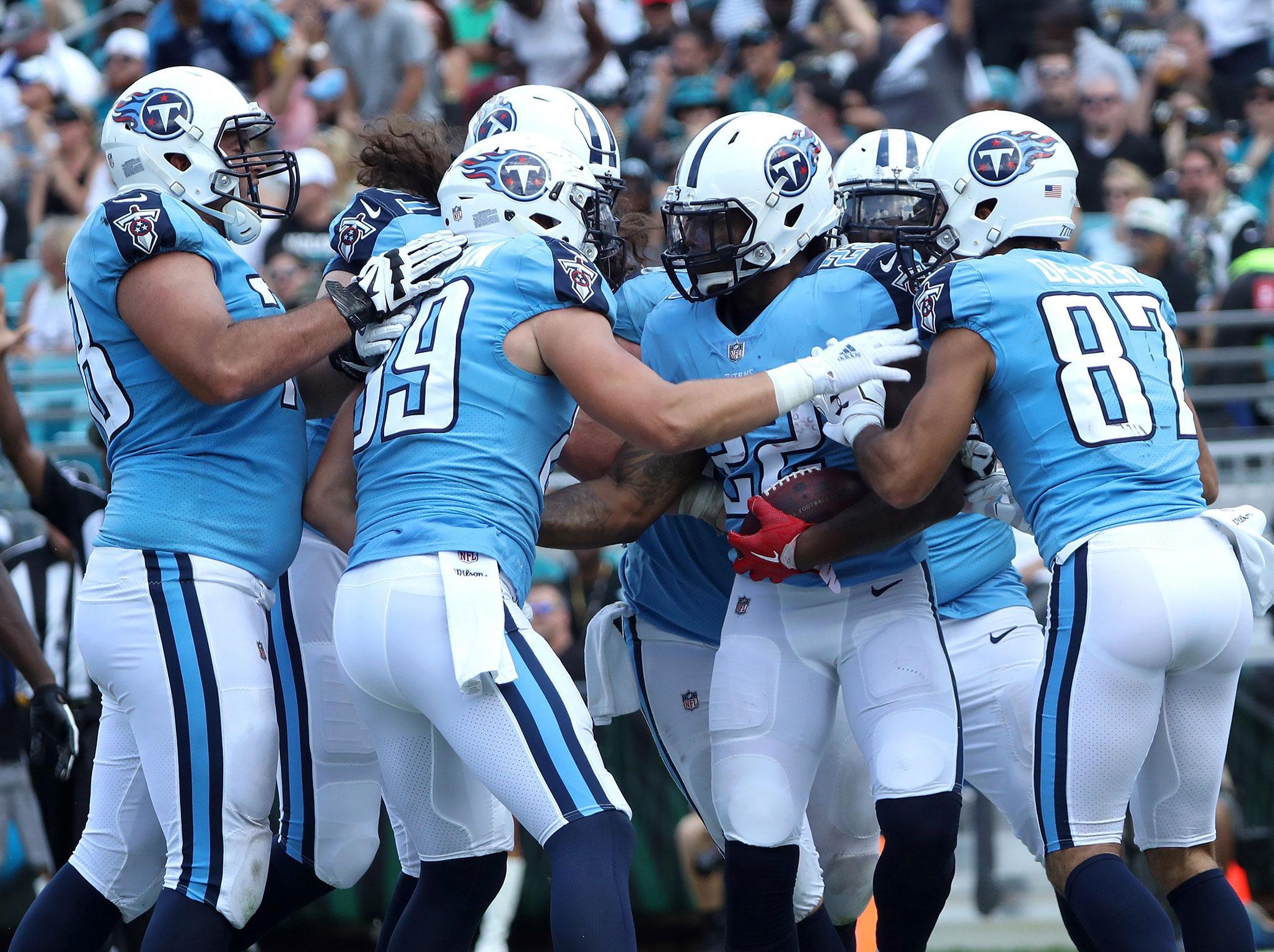 As I had mentioned earlier, multiple members of the Titans went vegan in 2018. Here are some of the names that have been confirmed to be a part of this group: Derrick Morgan, Wesley Woodyard, and Jurrell Casey. Marcus Mariota was another one mentioned above.
So where are they now?
Morgan capped off his nine year career and retired after 2018. From 2012-2017 Morgan averaged 6.6 sacks per year; he finished 2018 with just 0.5 sack in 13 games played.
Woodyard is currently a Free Agent and played his last football with the Titans in 2019 before being released. He was a starting Linebacker for the Titans from years 2012-2018 and became a backup in 2019.
Casey is now a member of the Broncos and still managed to put up decent numbers up until this season. In 2020, Casey has played in just three games after suffering a season ending injury back in September.
Others
Those listed above are just a few of the NFL players that have regressed after going vegan. Here are some other notable vegans that have seen their play fall off over the years: Theo Riddick, Brandon Mebane, David Carter, Griff Whalen, Andre Patton, Trent Williams, Arie Kouandijo, Bennie Fowler, Grady Jarrett, and Kendall Langford.
Most of these players are either retired or free agents, and this illustrates the negative impact that veganism has had on these highly touted athletes.
Any Success?
Much like any diet, weight training regiment, or general lifestyle, there have been varying effects of veganism on NFL players. However, the amount of players that have found success in going vegan is exponentially smaller than those who have seen their careers wash away.
Tyrann Mathieu has been the most successful vegan to date. He has remained almost completely healthy for his whole career, and is a two time First Team All-Pro selection. Mathieu decided to switch up his diet during his recovery process from a torn ACL.
Another NFL stud that has been able to maintain his production after switching to vegan is Malcolm Jenkins. Oddly enough Mathieu and Jenkins play the same position, Safety. Although Malcolm has seen a slight decline in his overall numbers, he hasn't missed a game due to injury in almost seven years. That is very impressive considering Jenkins is now 32 years old and still moves well at such a demanding position.
So why these two? Simply put, they are freak athletes that most likely supplement themselves correctly and wholly. It is also interesting that their position requires skills that the players above did not necessarily need in their repertoire. Kudos to Jenkins and Mathieu for showing that veganism can work for some, but unfortunately it does not suffice for all.
You Be the Judge
I have my opinion on whether or not Wentz's regression is partially because of his sudden change in diet back in 2019. It goes without saying that there are many more factors involved. Whether it be bad decision making, play calling, the lack of weapons, or even the overarching idea of the Eagles drafting a "backup" Quarterback in the second round. Wentz has not been close to his former self, and I truly believe this is a contributing factor.
After reading the history of veganism among NFL players, you be the judge.
---
Follow me on Twitter for more: @Luke_stans
---
Luke Stansfield Andrew Luck, Arian Foster, Cam Newton, Carson Wentz, Colin Kaepernick, David Johnson, Demaryius Thomas, Dieting, Malcolm Jenkins, Marcus Mariota, tennessee titans, Tyrann Mathieu, Vegan, Veganism