Uncategorized
Let's Talk: Devonta Smith's impact in this offense
28 May 2021 Uncategorized
---
Well, the Philadelphia Eagles finally did it. They didn't pass on him, they traded up to get him. They finally got a wide receiver one.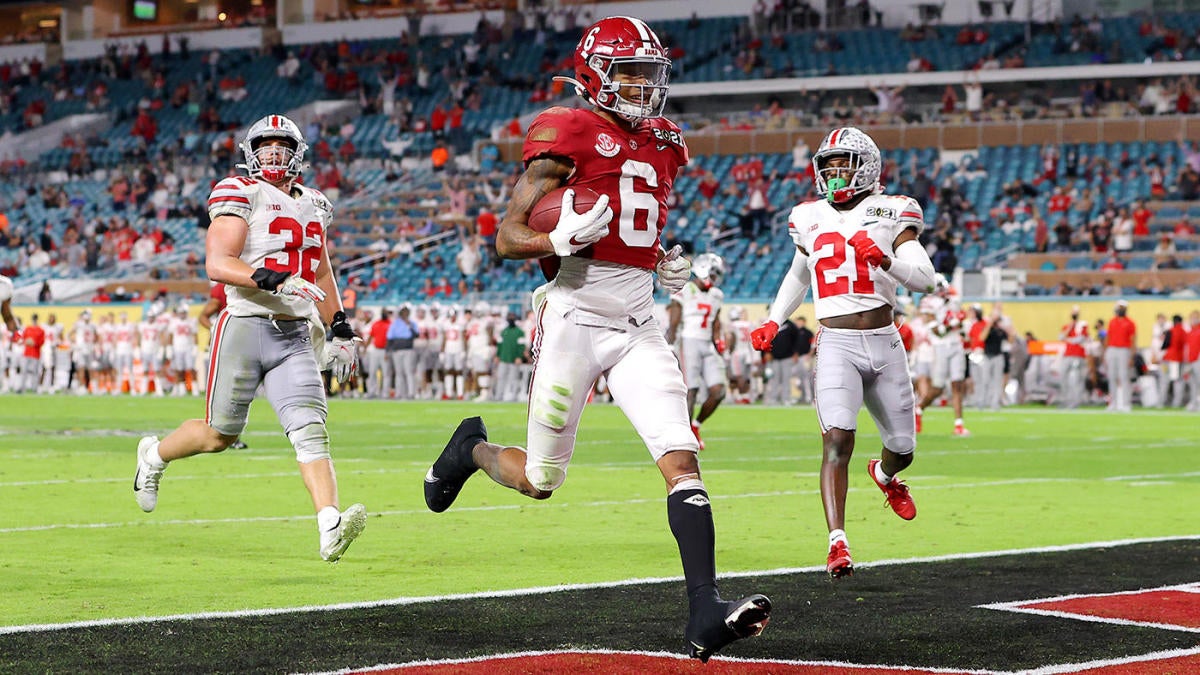 The first round of the draft couldn't have panned out better for the Eagles. With the two top cornerbacks going before the Dallas Cowboys pick, this forced the Cowboys to trade out. Sitting ready to draft Devonta Smith were the New York Giants who sat one pick below the Cowboys.
All of the sudden; news broke of a trade and the Cowboys aided the Eagles. The Eagles jumped ahead of New York and still got their guy. So, essentially trading down from 6 to twelve, the Eagles got a first for next season and arguably the best pass catcher in the draft. That's a good bit of business.
What are the Eagles getting with Smith?
Let's first take a look at his stats from last season. Although they don't speak a full true story.
| REC | YDS | AVG | TD | LNG |
| --- | --- | --- | --- | --- |
| 8 | 160 | 20.0 | 3 | 41 |
| 42 | 693 | 16.5 | 6 | 57 |
| 68 | 1,256 | 18.5 | 14 | 85 |
| 117 | 1,856 | 15.9 | 23 | 66 |
| – | – | – | – | – |
As you can see, he was very productive while at Alabama, especially in his junior and senior seasons. Amounting 1,856 yards and 23 touchdowns in a single season is impressive, let alone 117 receptions. All last season he proved not only is he a playmaker, he is a very reliable target who gets open a ton.
That brings us to our next point, getting open. Smith's route running is on another level. This video does a great job of breaking down Smith's route running ability, check it out below.
One on one, off-coverage is a recipe for disaster for defenses that come up against Smith. He is too quick and too fluid. When he has a clean release at the line of scrimmage, it's game over. Time and time again, you saw him not just win those plays, but dominate them.
What he does really well is, he gets to the defensive back's toes, then he changes gear and direction. By the time he makes his move, the defensive back is already in an uncomfortable situation and its a win for Smith. His route running really separates him from the rest of the pack.
Now, let's talk about his impact with the Eagles this season. Besides Travis Fulgham, the Eagles didn't have one wide receiver show true outside potential. Jalen Reagor had his moments, but was inconsistent in having that presence. While we can expect players like Smith and Reagor to be moved around the offense this season, Smith has the caliber to win on the outside at a very high rate.
People can talk all about his size being a negative for him, but they just do not know anything about football then. Because the fact of the matter is, line him up outside, he is going to win. Against man coverage, Smith had the highest win rate of any wide receiver in the 2021 draft class (78.9%). And since 2019, Smith has scored 23 touchdowns against single coverage, which is the best in college football in that time period. The fact of the matter is, he is REALLY good at beating man coverage.
For the Eagles this season, this is a big addition. He is going to make every wide receiver in the room better as well. With him and Reagor as a one, two punch combination, the Eagles have severely bolstered their wide receiving corps from last season. Smith is going to turn out to be a very important addition to this Eagles team.
Photo Credit: Columbus Dispatch-USA TODAY Sports
---