Should the Eagles Flirt with the Idea of Keeping Jason Peters at Guard?
28 August 2020 Opinion
---
Everyone has heard by now that former first round draft pick, Left Tackle Andre Dillard, is out for the 2020 season. Dillard was presumably the Week 1 starter, but now what?
The Eagles re-signed Jason Peters who is headed into his 17th year as an NFL lineman. The Eagles planned to play Peters at Right Guard after losing yet another lineman to injury in Brandon Brooks. Some believe Peters is suited well for the interior line in his old age, he's also accustomed to changing positions. The team has now gone through most of training camp with Peters at guard, and going back on that decision may inhibit some of the other young linemen talent that the Eagles have acquired.
---
Next Man Up
Doug Pederson has always been a firm believer in the "next man up" mentality, just look at the Eagles Wide Receivers in 2019. Using a first round draft pick on Dillard has yet to yield valued results, and it's safe to say the same will stay true in 2020. So who could play Left Tackle while keeping Peters as Guard? There are two names that could step in and fill the void while successfully locking down Carson Wentz's bindside, both former Auburn Tigers:
4th Round Pick – Jack Driscoll
It's a common misconception that Driscoll would be an undersized NFL Tackle because the Eagles decided to move him to Guard. Driscoll stands at 6'5 and weighs 312 pounds according to the Eagles posted roster. Peters, who is one of the "bigger" tackles in football, stands at 6'4 and weighs 328 pounds. The staff believed that the Eagles depth at the tackles was solidified, and felt that Driscoll could make an immediate impact as a backup interior lineman. He would give guys like Brandon Brooks, Isaac Seumalo, and even Jason Kelce some breathers during the year. Unfortunately this is no longer the case, the Eagles have lost two starting OL before camp has even concluded.
Driscoll had a highly touted career at Auburn, an SEC school that competes against the best defensive linemen in the country. He went toe to toe with Top 50 2020 draftees like Javon Kinlaw, K'Lavon Chaisson, Darrell Taylor, and former teammate Marlon Davidson. Driscoll started 20 games in two seasons at UMass before transferring to Auburn as a D1-AA tackle; he immediately won the Right Tackle job and rattled off 45 consecutive starts, which was good enough for 10th among FBS offensive linemen. He allowed a staggering four QB hits on 1,690 pass attempts in his collegiate career, against some of the best defensive fronts in College Football.
It has also been reported that Doug Pederson has been very high on Driscoll throughout camp; he said that Driscoll is among the new kids that have been standing out. He's a fundamentally sound Rookie with tons of athleticism and upside. If the Eagles were willing to rely on such a young tackle in Dillard, what makes them not do the same with Driscoll?
6th Round Pick – Prince Tega Wanogho
Wanogho is another Auburn Tiger alumn, and he played opposite of Driscoll at the Left Tackle. He suffered an injury in Week 2 of his final collegiate season, and although it did not prohibit him from playing, Prince's knee required surgery after the year. He was practicing in the Reese's Senior Bowl, and was pulled out of it by coaches and staff members that believed he was running too high a risk of injury. His draft stock plummeted and he went from being a top Tackle target to sliding down draft boards, and he fell into the Eagles lap in the sixth round.
Because of Wanogho's injury, it's not sure whether he'd be able to step in to fill the empty Tackle position on Week 1, but he'd be a great choice later into the season, especially given Peters' injury proneness.
Wanogho was a two-time first-team All-SEC selection, and he started 32 games during his four year career at Auburn. He appeared in all but five games in his collegiate career, and was a projected second or third round pick in 2020. Oddly enough, Wanogho played Defensive End in high school, which speaks to his enormous amounts of athleticism in pass protection. He's also very lengthy and his arms measure 33 1/2″, which eliminates a lot of space for any type of pass rusher. According to the Eagles roster, Prince is 6'5 and weighs 309 pounds, a similiar frame to teammates Driscoll and Peters.
Not only can Wanogho excel in the pass game, but he's also a very well kept zone blocker and the athleticism helps. He is very good at gaining ground to the second level and stays technical with his footwork. He's a perfect project lineman to have in the back pocket for times like these: injuries to starters. I'd expect to see him in games as soon as he is deemed completely healthy, which could be as soon as Week 1.
---
These two Rookie lineman can produce at a higher level than current backup Tackle, Jordan Mailata, who has been struggling to progress during camp.
Another quick nugget, Wanogho and Driscoll were the two best Pro Football Focus graded pass protectors in the SEC going into 2019. A league that was home to Andrew Thomas (4th overall – NYG), Jedrick Wills (10th overall – CLE), Isaiah Wilson (29th overall – TEN), and Saahdiq Charles (108th overall – WAS).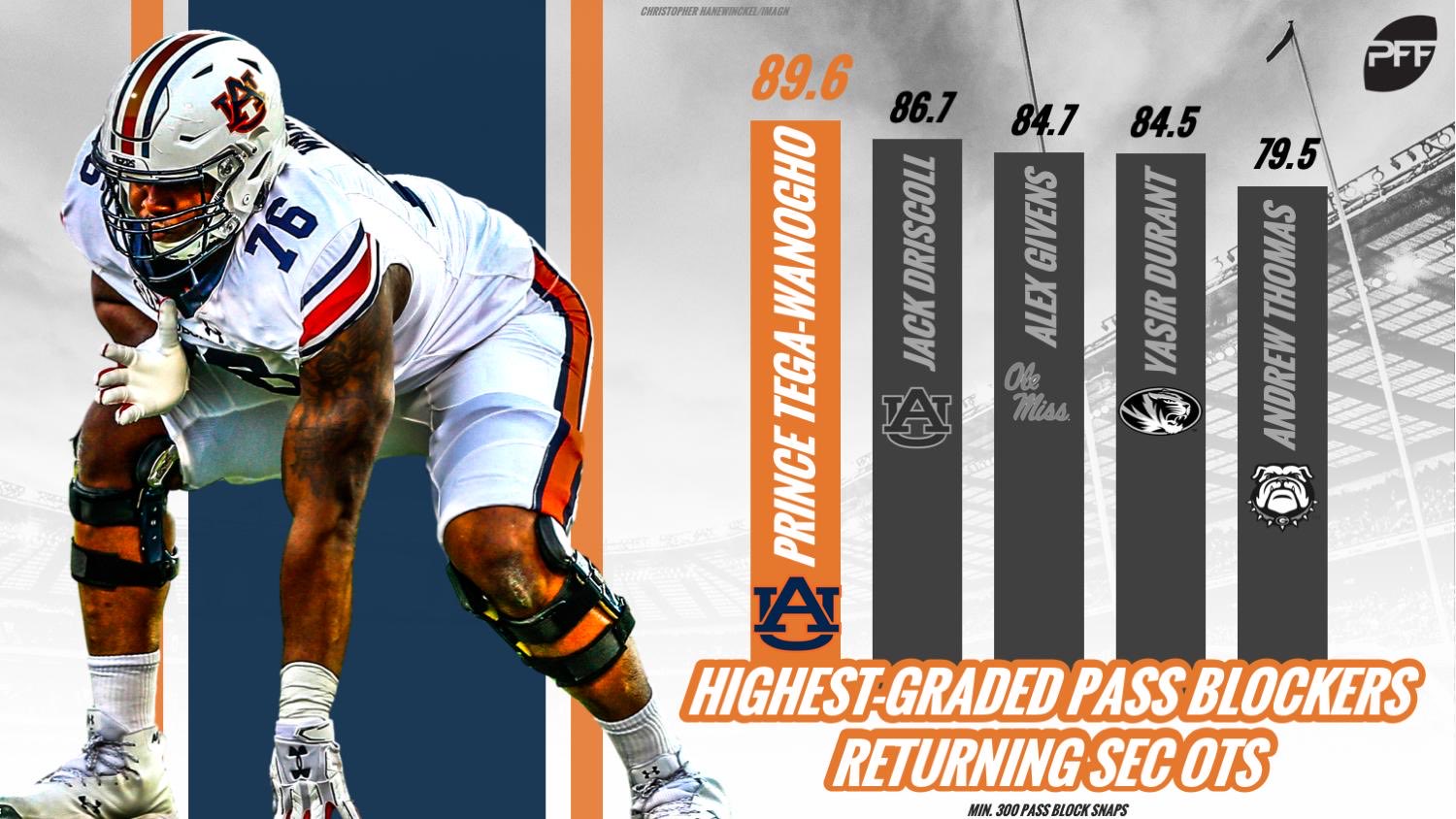 Photo Courtesy of Pro Football Focus
---
Luke Stansfield #EaglesCamp, Andre Dillard, Eagles Offensive Line, Jack Driscoll, Jason Peters, Prince Tega Wangho