A non-WR option at pick #21: Cesar Ruiz, the Eagles potential future at center
20 April 2020 DRAFT Film Review
---
While the chatter around the Eagles selecting a receiver in the 2020 NFL Draft continues to be picking up steam, I still want to reiterate the fact that there are still other options to explore with their first round pick. Jefferson, Jeudy, Ruggs III, and Lamb are all great options, but if there's a run on receivers before the Eagles pick in the 21st overall slot, they must do their due diligence to explore other feasible options.
One clear choice is to trade back, picking up additional draft picks while putting themselves in position to draft a player they covet in a later draft slot. But there's always the option of staying put and drafting a player that could bolster other areas of need on their roster.
When reviewing the Eagles offensive depth chart, it's clear that they are in need of inside offensive linemen. Thankfully center Jason Kelce announced that he's returning for the 2020 season, but he's been entertaining retirement for the last few seasons so he's becoming more of a question mark for the team's future. Left guard Isaac Seumalo has yet to prove that he's ready to be an every game starter, and right guard Brandon Brooks is turning 31 in August. The back up options along the interior offensive line don't really inspire much hope either, so clearly upgrades are needed almost across the board.
When looking at the best interior linemen prospects in the 2020 NFL Draft, one name jumps out as a clear option, former Michigan center Cesar Ruiz. The Eagles have been doing their due diligence researching Ruiz's abilities, which makes a ton of sense since again they need help across their offensive line. Some naysayers will mention drafting Ruiz this year is a waste of a pick, but I wholeheartedly disagree. Their primary reasoning is that "we have Jason Kelce, so he can't help us this year", which is both shortsighted and incorrect.
First, Ruiz played guard early in his career at Michigan, and has the skillset to play either guard position in the NFL. Second, Kelce maybe has 2 years left in the tank at most, which means Ruiz would rotate in as a starter sooner than later. Not to mention that he'd gain a TON of insight on how to play the position at a high level from Kelce, who is one of the best centers in the NFL. As opposed to going back and forth about the pick, and the legitimacy of it, let's take a look at Ruiz's film from 2019 and get a better idea of his potential fit with the Eagles and why he'd be a quality pick at 21.
Strengths:
Intelligence
Technique
Position versatility
Weaknesses:
Anchoring against power rushers
Playing in space
Strengths:
Intelligence
Cesar Ruiz is an extremely intelligent player that's capable of orchestrating the blocking assignments for the entire offensive line. He's rarely caught off guard against stunts or delayed blitzers, and you can tell that he studies his fair share of tape. He started at center for two years for the Wolverines, and you see him making heady plays time and time again on tape.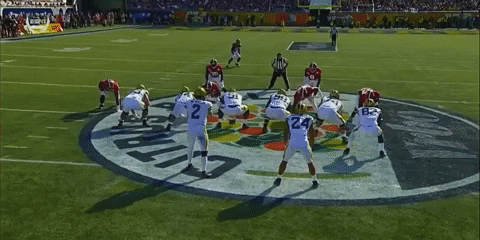 Ruiz does an excellent job of recognizing the backside pressure and pulls from his center position to pick up the outside linebacker so Michigan QB Shea Patterson could hit the receiver on the quick slant for a first down. He clearly made the read pre-snap and was able to prevent a blind side hit on the QB.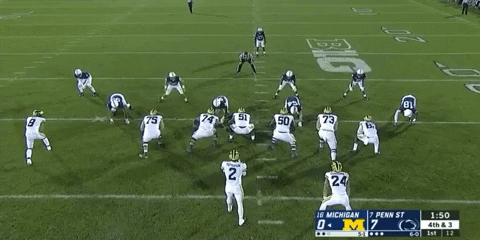 Time and time again Ruiz does a really good job of picking up additional blitzers, as he does here. Penn State brings additional pressure pressure on 4th down with the hopes of making the QB get it out faster than he would like to. Ruiz eats up the blitzer and gives up very little ground in the process.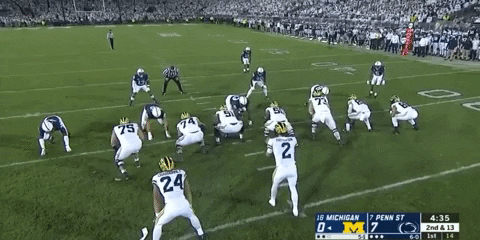 On this play Ruiz keeps his head on a swivel and recognizes that his left guard is getting beat with a power rush. Instead of standing idly by, he comes in to double team the Penn State defensive tackle and shoves the tackle past QB Shea Patterson and out of the play. Patterson is able to step up in the pocket at that point and scramble for a nice gain.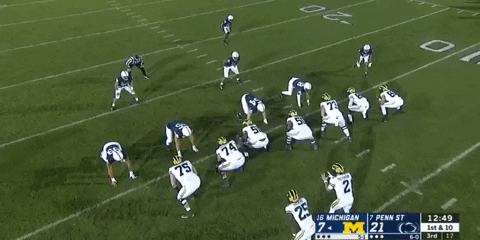 Ruiz again shows off his understanding of the Michigan blocking scheme and identifies Penn State DE Yetur Gross-Matos stunting on the play. Ruiz completely nullifies Gross-Matos's pass rush and moves him away from Patterson and out of the play. Once Patterson sees this, he takes off through the space opened up and scrambles for another nice gain. Ruiz and Michigan left tackle Jon Runyan did an excellent job all game of beating Gross-Matos up and keeping him from getting his hands on Shea Patterson.
Technique
Ruiz is a very technically sound player that uses his hands and feet very well to block opposing players out of the play. He isn't the strongest player, so he has to win with his smarts, sound footwork and hand placement. Rarely do you see Ruiz forced to reach or grab players, or being knocked to the ground due to poor leverage.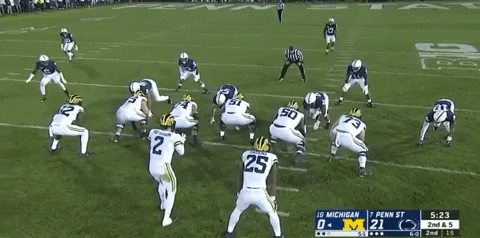 Ruiz completely horses the Penn State defensive tackle and pancakes him out of the way and Michigan RB Hassan Haskins follows up behind his block to get up field for a nice run. Ruiz uses his hands and feet in unison to move the defensive tackle out of the hole, and the right guard provides a chip block that knocks the defensive tackle off balance. When Ruiz sees that he has the tackle is off balance, he finishes the play off perfectly with a pancake.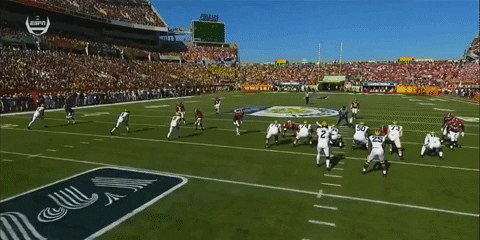 Ruiz uses his technique and intelligence here to fend off Alabama defensive tackle and the blitzing linebacker. He is initially engaged in the double team on the defensive tackle, and notices the blitzing linebacker, at which point he gets his arm out to arm bar the linebacker out of the play. That move gives QB Shea Patterson a clean pocket to step up into so he can get the pass away.
This is something that I saw frequently in the games that I watched of Ruiz, his ability to latch on to a defender and use his hands and footwork to move the defender in any direction he wanted to. The defensive tackle ends up in a solo situation with Ruiz, but was unable to break free of Ruiz's grasp. This provides a clean throwing pocket for Patterson to get the ball away to the out breaking wide receiver.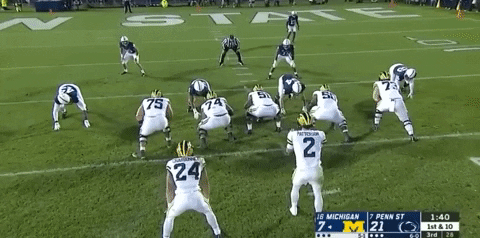 Ruiz does a great job of double teaming the defensive tackle on the snap to work with the right guard to move the tackle up field and out of the hole for the running back. Ruiz then disengages from the defensive tackle and gets to the second level to get his hands on Penn State LB Micah Parsons. He continues to push Parsons upfield and away from the play. The combo block and block on the second level allowed the running back to pick up solid yards on the play.
Cesar Ruiz is an impressive prospect in a lot of ways, namely his ability to use his superior understanding of the game in combination with his excellent technique. He's strong at the point of attack, and while he may not overwhelm defenders with brute strength, he understands how to get his hands on a defender and use his lower body strength and exceptional footwork to remain engaged with the defender to finish the block to the whistle.
Position versatility
This is another really important aspect of Ruiz's game, because if he only projected as a center prospect he would not be receiving the attention that he is in the back half of the first round. Yes, he's played center for the majority of his football career, including the last two years at Michigan, but he also played some guard as a freshman and has the ability to play guard in the NFL. His best position is certainly center, but if necessary, he would be an exceptional guard in the NFL, and still maintain a long playing career.
The Eagles need help across the entire inside offensive line, so a player like Ruiz is extremely valuable to the long term health of Eagles QB Carson Wentz. The Eagles have struggled to protect Wentz at times, but by adding a player of Ruiz's caliber, they may be able to breathe a bit easier when it comes to blitz pick up and keeping their star QB "clean". Let's not forget though that Ruiz is also a really skilled run blocker due to his experience and technique, so he would also be a value add for Eagles Running back Miles Sanders as well.
Weaknesses:
Anchoring against power rushers
Cesar Ruiz has a lot of pluses to his game, so it was somewhat difficult to find areas where struggled as an offensive line prospect. One area that did show up on tape was his difficulty with power rushers, especially power rushing nose tackles. Versus Alabama he had plenty of positive tape, but there were plays where 'Bama defensive tackles Raekwon Davis and Tevita Musika gave Ruiz issues with their brute strength. Considering Davis is 6'6 311 lbs and Musika is 6'1 338 lbs, it's somewhat understandable that the 6'3 307 lb Ruiz would have some issues.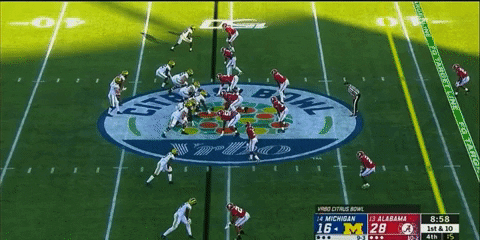 Ruiz is beaten quickly by 'Bama defensive tackle Raekwon Davis almost immediately by a strong pass rush move. Davis was lined up as a nose tackle and smacks Ruiz's hands away at the snap and then chases Michigan QB Shea Patterson out of the pocket to force Patterson to throw the ball away.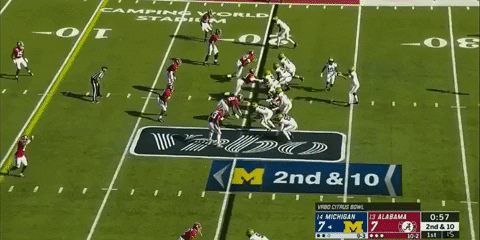 Again Davis beats Ruiz with a quick pass rush move, this time a swim move, then shoves his way by Ruiz and Michigan right guard Michael Onwenu to chase QB Shea Patterson out of the pocket one more time. Davis pressured Patterson all afternoon, many times working his way past Ruiz.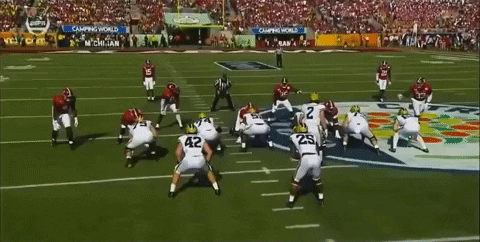 Ruiz did a bit better against Davis at the snap on this play, but Davis uses another strong pass rush move and shoves Ruiz away from his body. All Ruiz could do to keep Davis from blowing up the flea flicker was to hold Davis and drag him to the ground. Fortunately for Ruiz the play wasn't flagged and he got away with it, but this was clearly a penalty.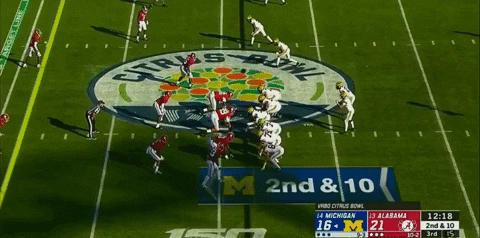 This time Ruiz struggles with a run block versus Davis, and Davis stands him up at the line of scrimmage and refuses to be moved backwards. Davis anchors well at the line of scrimmage and keeps Ruiz at bay with his left arm as he tracks the movement of the running back. Once the running back hits the hole Davis disengages from Ruiz and makes the assisted run tackle.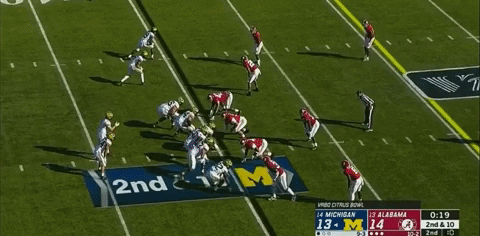 On this last play Ruiz is victimized by the brute strength of 'Bama defensive tackle Tevita Musika who bull rushes Ruiz backwards into the backfield shrinking the pocket for QB Shea Patterson. Patterson realizes that the pass rush is closing in on him and attempts to scramble to hopefully pick up some yards. Instead he is sacked Musika and 'Bama outside linebacker Anfernee Jennings.
Again, there aren't many flags with Ruiz's game, but his inability to slow down the power rushing 'Bama duo of Davis and Musika is something to take into consideration. There are quite a few powerful defensive tackles in the NFL, who may not be as big as Musika (338 lbs) but have the leverage and lower body strength to generate tremendous amounts of power through their hands and arms. Ruiz will need to refine his technique and work on his anchoring ability to off-set some of the power moves he may face versus NFL competition.
Playing in space
Ruiz is a really good prospect when "playing in a phone booth", meaning he is exceptional when he's able to work within specific confines as a pass or run blocker. He's a pretty athletic prospect, and tested well at the NFL Combine for his position, but he sometimes looked confused when asked to pull in space. This is more of an issue if he's potentially asked to play guard early in his career, versus playing center.
Guards are asked to pull and get out in front of running backs to clear out blockers, and Ruiz may have some struggles in this regards as a rookie. I don't doubt that he CAN do it, he had moments on tape where he successfully pulled and picked up the blocker, but there were enough situations where he didn't do it well that I felt it was worth mentioning.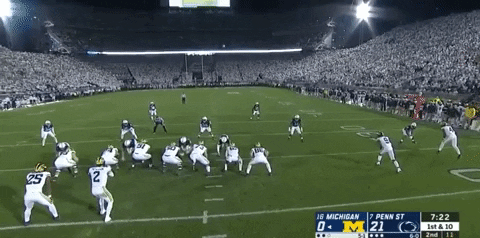 Ruiz shows off his athleticism and above average speed for the position while pulling here, but runs past the linebacker lined up versus the slot receiver. Instead of slowing down as he moves through the hole so that he can identify a player to block, Ruiz runs full speed ahead and ends up blocking no one.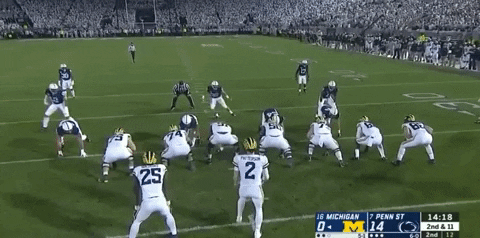 On this play Ruiz does the opposite of what he did above, and hesitates on the pull even when he identifies the player he should be blocking. By not attacking the defender and sealing him off, Ruiz is pushed back into the hole the running back is trying to hit and ultimately allows his man to tackle the running back.
Ruiz has the intelligence and athleticism to improve in this regard, and with an NFL offensive line coach (Jeff Stoutland?) to help improve on his execution and technique, Ruiz should be able to pull and move in space much better than he did against Penn State in 2019. Remember, he's still only 20 and has a TON of room to grow as a blocker and football player.
Final Analysis
Cesar Ruiz is a really good prospect in a relatively shallow draft for interior draft prospects, and his ability to play center and guard makes him all the more valuable. He would be a great short term and long term pick for the Eagles at #21, as he could compete with Isaac Seumalo at left guard while also being the future at center. Once Jason Kelce makes the decision to move on to the greener pastures of retirement, Ruiz would be an ideal replacement to protect Wentz and become the leader of the offensive line.
Many people will still argue the necessity of finding a wide receiver at 21, and again, don't get me wrong I'm all for wide receiver. But if one of the top prospects doesn't make it to 21 and the Eagles decide to stand pat, Ruiz would be a great selection. He showed well on tape in the multiple games I watched and has started 31 games and played in 36 career games in his career at Michigan. His experience is invaluable and his intelligence and understanding of the game is impressive.
There are a lot of similarities between Ruiz and Pouncey, both in their play style and physical builds. Both are physical at the point of attack, and athletic enough to get to the second level to dominate linebackers and/or defensive backs. Pouncey was selected by the Steelers in the 2010 draft with the 18th overall pick, which is not too far outside of the range where Ruiz is currently being projected.
Pouncey has had a very good career in the NFL, with two 1st Team All-Pro selections and seven Pro Bowl selections through 10 seasons in the NFL. Despite suffering some injuries during his career, Pouncey has been a steady pillar for the Steelers as their center and leader along the offensive line. At Florida, Pouncey appeared in 41 games, and accrued 39 starts before declaring for the draft as a Junior. If Ruiz can have a career similar to Pouncey, he would clearly be worth the first round selection.
---
Mal Davis Alabama, Carson Wentz, Cesar Ruiz, Eagles, Isaac Seumalo, Jason Kelce, Maurkice Pouncey, Michigan, Miles Sanders, NFL, NFL Draft, Penn State, Raekwon Davis, Yetur Gross-Matos