Philadelphia Eagles end of season awards
5 January 2017 Eagles News
---
The Eagles season ended on a high note with a win in their week 17 showdown versus the Cowboys. However, the season as a whole was not so high. The Eagles ended the season 7-9, finishing last in the NFC East. Although the season was disappointing, we were left with a glimpse of hope. Hope for a bright future under Carson Wentz.
After every season, there is an award show. That is what we are going to do here. Here is the first annual Philadelphia Eagles honors show.
Coach of the year: Dave Fipp
Under Fipp's control, the Eagles special teams unit was a dominant force this season. Without a doubt they are one of the league's best special teams units. This season, this unit struggled with injuries and still bounced back. The kick returners were always changing due to various injuries and legal issues. However, the Eagles still managed to return a league's best two kick returns for touchdowns. Kicker Caleb Sturgis set a franchise record making 35 field goals. This unit is the backbone of the Philadelphia Eagles. That is why Fipp is the coach of the year.
Offensive rookie of the year: Carson Wentz
Is this even a debate? We are not going to get too much into his season because, let's just say, this is not the only award Wentz won. But, the Eagles did have a pretty solid draft class and a nice little group of undrafted free agents. Halapoulivaati Vaitai and Issac Seumalo are great additions to the offensive line. Wendell Smallwood seemed like a solid contributor when he was healthy too. This draft class was solid offensively, however, Wentz is well above them all. In fact, even though Wentz is a rookie, he really did not seem like it.
Defensive rookie of the year: Jalen Mills
Being a seventh round draft pick, there was low risk involving Mills. However, the Eagles got a pretty high reward in return. When Ron Brooks got injured, Mills had to step up. Mills ended up playing a pretty big role in all 16 games. In fact, Mills had the best average QPR against (97.7) out of all the cornerbacks on the roster. He needs to improve this offseason, but right now, he might be the Eagles best cornerback.
Offensive player of the year: Carson Wentz
Wentz ended the season with 3,782 yards with 16 touchdowns and 14 interceptions. He had an average completion rate of 62.4 and an average QBR of 79.3. Wentz also ran in two rushing touchdowns. Wentz broke numerous Eagles franchise records and an NFL completion record too. Statistics aside, Wentz was the only bright spot on the Eagles offense. For the majority of the year, Wentz had a depleted offensive line and no viable receiving option at wide receiver. However, it made something at of nothing. Wentz always found a way to make a play. He did have some rough times and made some mistakes. However, the good outnumbers the bad and there is a lot to be excited about. The future is bright Eagles fans.
Defensive player of the year: Jordan Hicks
The quarterback of the defense. Hicks is a stud. This season he racked up 85 combined tackles, had 58 total tackles, and  led the Eagles and NFL linebackers in interceptions (5). Hicks is everywhere and anywhere. Every game, Hicks finds a way to make a play. Another interesting fact is this, Hicks is the first player since HOF LB Jack Ham to have 11 plus takeaways in his first 24 games. Hicks is a monster and a turnover creating machine.
MVP: Brandon Graham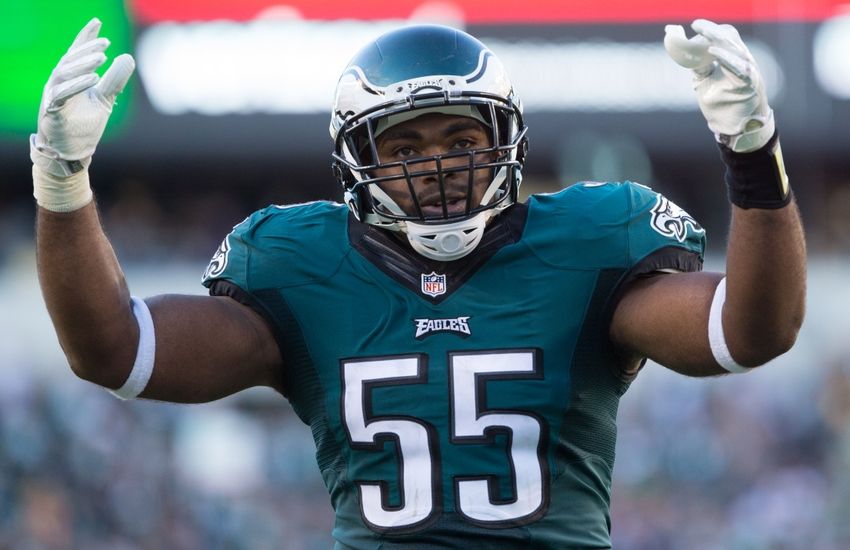 Graham had 59 tackles on the year. Not only is that a career best, but it also compliments his 5.5 sacks and two forced fumbles. However, if you watched the Eagles, Graham did much more than that. Graham pressured the quarterback on almost every snap. He finished second in the league in quarterback pressures, hurries, and knockdowns. Graham was a playmaker and a difference maker in every game this season. He was without a doubt the best player on this team this year. Every game he gave it his all and every game he made a big impact. You could always count on Graham to cause some havoc.
Play of the season: Wentz to Sproles!
This was the play that made me realize Carson Wentz is legit. That is why I love this play. Also, watching Sproles run with the ball in open space is very fun. But, the way Wentz created this play out of nothing was really something special.
The All-22 look of Wentz's 73-yard TD to Sproles. Freaking love everything about this play!! #BeepBeep #FlyEaglesFly pic.twitter.com/vm3opuLzTu

— The Bitter Birds (@AdrianFedkiw) September 27, 2016
---
Ryan Neal Brandon Graham, Carson Wentz, Jalen Mills, Jordan Hicks, Philadelphia Eagles