Davion Taylor: From relative unknown prospect to the future of the Eagles LB corps? A 2019 film review
28 April 2020 DRAFT Film Review Philadelphia Eagles
---
Davion Taylor has been an unknown, relatively under appreciated football player his own life, at least outside of the people that know him best. Due to his mother's religious beliefs he only played one game of HS football before heading off to JUCO in hopes of making a name for himself. When you hear him talk about it, that almost didn't happen either. If it wasn't for the sharp eye of a University of Colorado assistant coach, I probably wouldn't be writing this post and Taylor wouldn't have become a 3rd round pick for the Eagles in the 2020 NFL Draft.
But he was discovered, and he was eventually drafted by the Eagles with the hopes that he'd bring something to the table as a high upside developmental linebacker. I could write an entire article about Taylor's backstory, but instead I want to focus on his prospects of becoming the Eagles next starting linebacker. At the University of Colorado Taylor made 19 career starts on defense and played in 23 career games. Used as a rotational sub package linebacker early in his career, Taylor became an important part of the Buffs defense as a senior as he was used to hound receivers and tight ends out of the slot from the "Star" position.
For his career, Taylor recorded 129 total tackles, 18 tackles for loss, 2 sacks, 6 pass deflections, 3 recovered fumbles, and 1 defensive TD. Not bad for a player that's still learning how to play football in general, and linebacker specifically. As always, I'd rather show you the film then talk at you, so let's dive in and see what Davion could bring to the Eagles in 2020 and beyond!
Strengths:
Speed
Tackling
Coverage upside
Weaknesses:
Block shedding
Defensive IQ
Experience
Strengths:
Speed
When you first begin analyzing Davion Taylor it's impossible to ignore his speed. It's what caught the attention of just about every coach and scout that's ever laid eyes on Taylor. It jumps out on the tape, and he's clearly one of the fastest players on the field, period. He put on a show at the combine with a 4.49 40 yard dash, good for 3rd best amongst linebackers. He also finished tied for 5th in the bench press (21), tied for 8th in the vertical jump (35″), and 4th in the broad jump (127″), highlighting his overall athletic ability.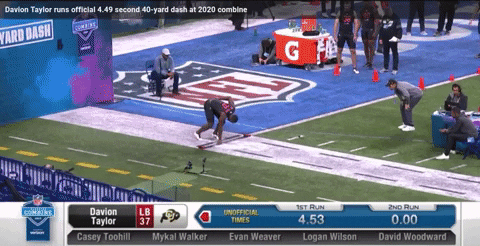 Sometimes you get prospects that can fly on tape but run slow at the combine. Then other times you get prospects that looks slow on tape, but in shorts at the combine they blow the roof off. Taylor is neither of those players, as his 4.49 40 yard dash is more than evident on tape when you watch him play.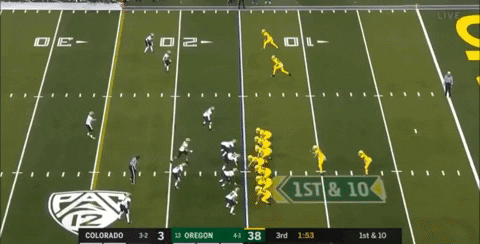 Despite being blocked on the backside of the play, Taylor manages to HAWK Oregon Ducks RB CJ Verdell to prevent the running back from taking the carry to the house. Taylor showcases not only his speed, but also his determination as a defender as he turns on the boosters to make a heck of a play from behind.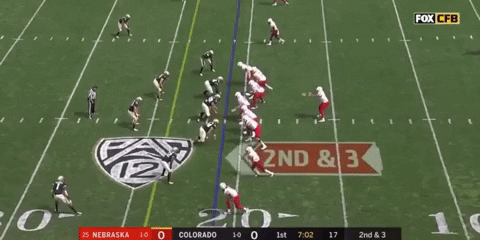 Initially in coverage versus the tight end, Taylor recognizes the scrambling Nebraska QB and changes directions quickly to chase down the quarterback to limit what could've been a much longer gain. Taylor showcases his wheels consistently on tape, whether in coverage or running down ball carriers.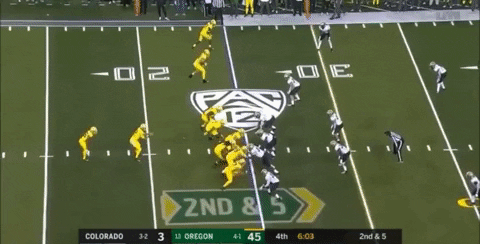 Different Oregon running back, same results for Taylor. He runs down speed back Travis Dye who thought he was off to the races, until Taylor runs him down from behind. Again initially Taylor was blocked out of the play, this time double teamed by two Oregon offensive linemen before he breaks free and ramps up to his 5th gear to catch Dye.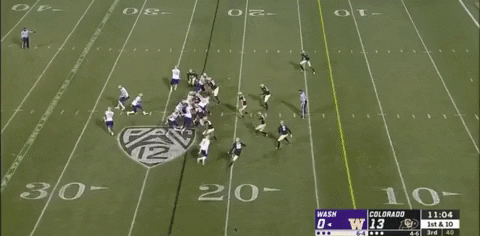 Taylor looks like he's shot out of a cannon sometimes, and here he closes the gap between he and the Washington RB and takes an excellent run pursuit angle to make sure there was no where for the running back to go but either to the turf or out of bounds. Taylor is the epitome of a side line to side line play maker, and automatically becomes one of the fastest front seven defenders the Eagles have.
Tackling
To be honest, I was surprised at what a sure tackler Taylor was at this point in his development as a linebacker. I expected to see bad pursuit angles, poor tackling form, and missed tackles, considering how new he is to the position and football in general. That was FAR from the case, as he clearly has a cerebral understanding of squaring up ball carriers, and also does an excellent job of gearing down so he doesn't over run plays. He had missed tackles here and there, but I wouldn't say they were an issue.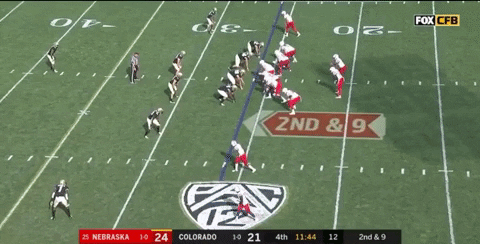 Not only is Taylor a good form tackler, but he packs a punch with his 6'0 228 lb frame. Whether on a blind side tackle or squaring up the ball carrier head on, he makes his presence felt. As he develops into his "man body" he has the potential to become a tone setter for the Eagles defense.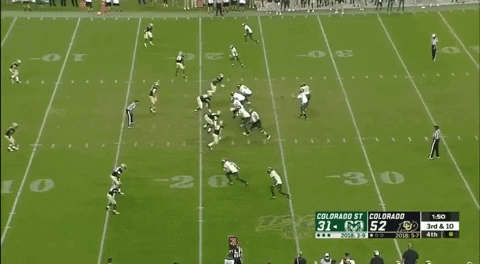 This time Taylor lays the BOOM on Colorado State wide receiver Warren Jackson, who is 6'6 215 lbs. Taylor reads the designated screen pass, works his way through traffic and brings down the big receiver for a short gain.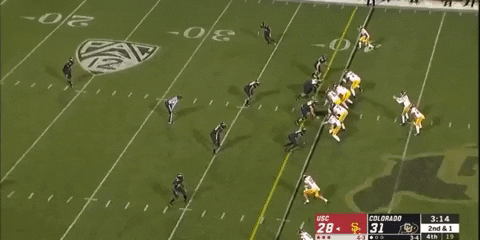 As impressed as I am with his big hits, this tackle may be the one that I love the most. When Taylor can get to the ball carrier unimpeded he will almost always make the tackle, like he does here. The USC running back is able to pick up the first down but Taylor comes down hill to make the stick and doesn't give up another inch.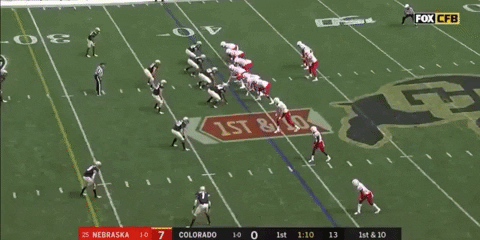 Later in this post I'll go in depth in regards to Taylor's block shedding ability, but you definitely see flashes of his understanding of how to stack and shed blockers to make run stops. Taylor battled with Nebraska tight end Austin Allen (6'8 250 lbs) all game long, but made a great play here to get his hands on Allen before shedding him and attacking the Nebraska running back's legs to make the tackle for no gain.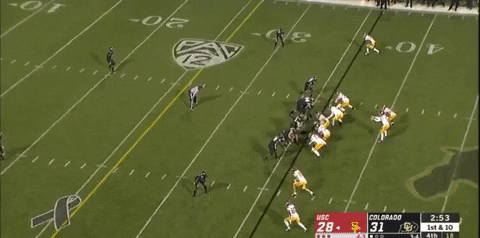 This is another one of my favorite stops from Taylor while watching his tape from 2019, which highlights his "do anything it takes" mentality to get his job done as a defender. He's able to sprint past the outstretched arm of the USC left tackle and fights through the stiff arm to drag the ball carrier to the ground for a loss.
Taylor is definitely a player that has the tools and mentality to take a big leap in the NFL. With continued coaching from Eagles linebackers coach Ken Flajole, and consistent reps through the offseason and regular season, I expect to see Taylor become one of the most consistent tacklers on the Eagles.
Coverage upside
Unlike some of the linebackers taken before him in the draft (Kenneth Murray Jr and Patrick Queen specifically), it isn't very difficult to project Taylor as a plus cover linebacker in the NFL considering he spent so much time at the "Star" position at Colorado. He spent most of his snaps lined up in the slot, or lined up over tight ends making tackles in the passing game.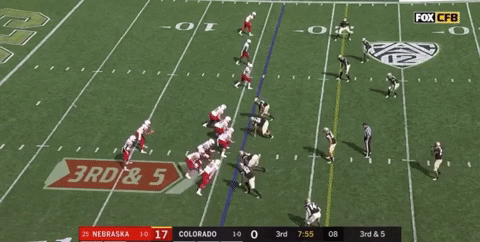 Taylor spent time in both zone and man coverage, which is a definite plus for his coverage prospects in the NFL. He recorded 2 of his 6 career pass break ups versus Nebraska in 2019, doing a great job reading the passing plays happening around him.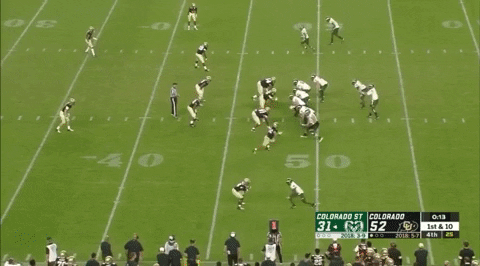 Colorado State wide receiver Warren Jackson gets a bit of payback here as he breaks away from Taylor on the out route, reeling in the pass for a 9 yard gain. I chose to put this play in anyway because it shows Taylor's ability to play man and run with wide receivers. Even though Jackson makes the reception, Taylor is draped all over him.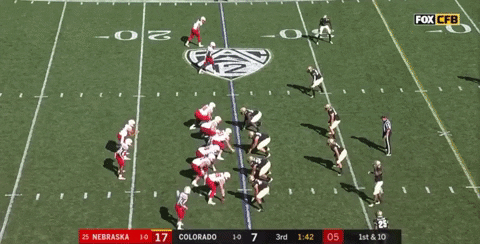 Taylor's second pass break up versus Nebraska is even more explosive than his first one, as he blows up the running back out of the backfield to force an incompletion. Taylor jumps up with excitement to celebrate the hit, I love the passion he plays the game with.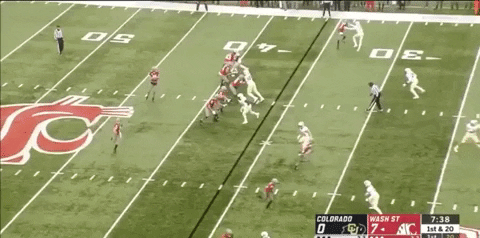 Taylor makes one of his 10 solo tackles versus Washington State, wrapping up the receiver in the middle of the field. He shows good instincts playing zone, with his head constantly on a swivel surveying the space around him. Taylor could push for reps early in his career as a sub package defender, considering the Eagles play roughly 2/3rds of their snaps out of the Nickel formation.
Incumbent Eagles linebacker Nathan Gerry has been the go to linebacker in coverage for the Eagles, especially in 2019. But considering his struggles with missed tackles there may be an opportunity for Taylor to push him for snaps whenever the Eagles go to Dime.
Weaknesses:
Block shedding
Whenever Taylor is unencumbered to the ball carrier he is a force to deal with, but once a blocker gets their hands on him that's a WHOLE other story. Taylor has a ways to go in regards to block shedding, and this should be the primary point of emphasis for him as he enters the NFL. If he can't consistently learn to stack and shed blockers on the next level, it will significantly hinder his upside as a linebacker, especially on early run downs.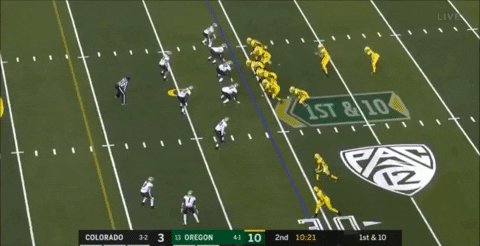 Taylor takes on the blocker but is unable to shed him to make a play on the ball carrier. The entire right side of the defensive formation, Taylor included, get blown back off the ball allowing the Oregon RB to hit the hole full steam ahead for a big gain.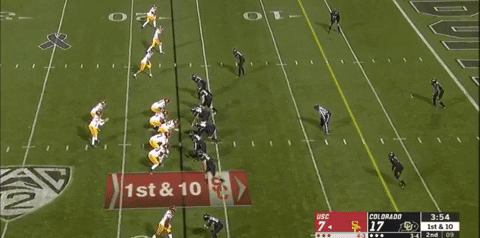 Taylor gets straight up dominated by the USC left guard and left tackle on this play, getting pushed almost ten yards up field. They take turns shoving him down the field, and he gives very minimal effort to break free. If he can't shed blockers, he at least needs to learn how to anchor better, even if he's giving up a significant weight advantage.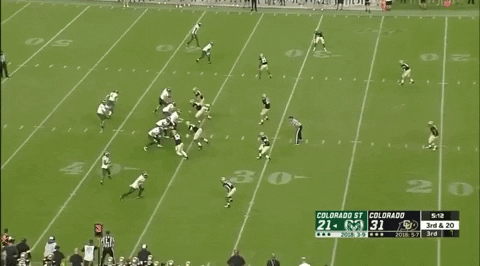 Taylor does a good job of reading the screen pass and gets downhill to make the play, he just couldn't sprint past the right tackle before the tackle got his hands on him. Again, instead of anchoring or stacking and shedding on the play, he gets pushed downfield by the tackle and taken out of the play completely.
Like I said before, Taylor had problems with Nebraska tight end Austin Allen, who has both the height and weight advantage on him. Allen gets his long arms on Taylor and uses them to drive Taylor back several yards away from the hole where the play is designed to go. Getting bodied by offensive linemen is one thing, but Taylor can't afford to lose battles to tight ends in the NFL if he plans to see reps on a consistent basis.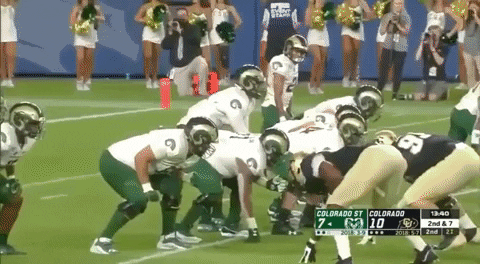 I'm including this chop block versus Colorado State because it highlights Taylor's lack of IQ and understanding when it comes to engaging blockers. Chop blocks happen all the time, and to be fair Taylor does a good job of getting back on his feet to attempt to make a play. But this is a play that Taylor should be able to prevent as the blocker made it clear that he was chop blocking, and Taylor could've used his arms and superior speed to push the blocker to the turf so he could remain upright.
Block shedding is an issue that many linebackers have when transitioning into the NFL, and Taylor is no different. His arm length (32 1/8″) was on the short side compared to some of the premiere linebackers that were available in the NFL Draft, so block shedding will always be a question for him. With proper coaching and reps though, this is an issue over time he may learn to off set and work around.
Defensive IQ
Taylor leaves something to be desired in regards to his pre-snap diagnosing ability, he's much more of a reactionary player at this point in his career. He isn't someone that you want calling the plays for the defense as a rookie, and may never become that player. I don't want to underestimate Taylor, as he's clearly an intelligent person, but he has a ways to go with his understanding of football.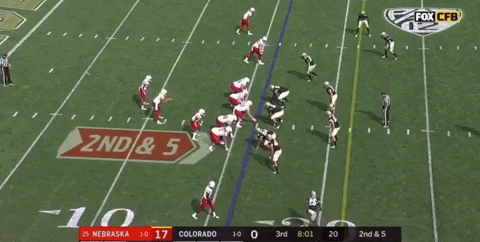 Taylor commits to the run on the play fake and over pursues the running back down into the hole before he realizes the QB pulled the ball and was scrambling away from him. He does a decent job of flipping his hips so he could reverse direction, but had Taylor made the pre-snap read and identified the play correctly, there was a chance for him to blow the play up despite the incomplete pass.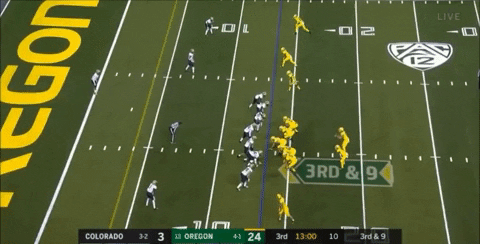 At the last moment Taylor identifies that the slot receiver is uncovered in their scheme and does his best to sprint back into coverage to make the play. At first I thought that Taylor was fully aware of the play and was just slow in his retreat, but after watching the snap numerous times, it's clear that he's late in identifying his man in order to prevent the TD.
Much like with his block shedding, Taylor's IQ should increase with more reps and coaching. Now that he's making the transition full time to linebacker, it should also help him be able learn the keys he needs to lock on to pre-snap to identify things earlier so he can be in position to make more plays.
Experience
As I highlighted in the introduction, Taylor has played only two years of division one football at Colorado, with a total of 23 career games. For comparisons purposes fellow 3rd round linebackers Logan Wilson (50 career games),  Zach Baun (34 career games), Jacob Phillips (34 career games), Malik Harrison (42 career games) all boast more on field experience than Taylor coming into the NFL. They all played significant snaps in high school as well, adding even more career games to their overall resumes.
While this is something that Taylor may be able to overcome with more snaps in the league, he comes in with a significant disadvantage compared to other linebackers the Eagles could've drafted as far as understanding and comprehension of the game. This is an underrated aspect of being successful in the NFL since athleticism can only take you but so far.
Final Grade:

B-
Overall I'm in favor of the Davion Taylor pick, as he shows immense potential to grow into an every down contributor in the NFL. His speed and overall athletic profile was one of the best the draft had to offer, and he could end up being a steal as a 3rd round draft pick. While there are tons of positive attributes for us to focus on, his flags can't be ignored, mainly his block shedding issues and lower level IQ.
The NFL is home to the world's greatest athletes, so being an athlete isn't the immense difference maker that it is in college football. Taylor will have to hit the ground running in the NFL and take to NFL coaching immediately. If he's willing to put the time and work in to master his craft, he could pay off as a draft selection. The reason I grade him a bit lower than some is because if he doesn't hit his ceiling as an NFL player, he may be out of the league before his second contract. He also must make a name for himself early on as a special teamer, while he pushes incumbent linebackers Nate Gerry and TJ Edwards for snaps.
There's no guarantee that Taylor breaks the rotation as a linebacker in year one as he continues to learn the position, and considering there were talented 'backers to be had at the #53 overall pick (Jalen Hurts) all eyes will be on Taylor to produce. If he doesn't, questions will continue to surround his selection, especially if the linebackers selected right before and right after him play well. I personally hold out high hopes for Taylor, but only time will tell if he can be the player that the front office, and myself, envision him being.
---
Mal Davis Buffaloes, Buffs, Colorado, Davion Taylor, linebacker, Logan Wilson, Nate Gerry, NFL, Oregon, QB, RB, Running back, TJ Edwards, USC