Understanding the genius of the Jalen Reagor selection (a non-stan film review)
26 April 2020 DRAFT Film Review Philadelphia Eagles
---
Let me start this off by saying I'm not a Jalen Reagor stan. I was REALLY disappointed by the Eagles selecting Reagor in the 2020 first round when Justin Jefferson from LSU was still on the board. I was even more distraught when the Vikings selected Jefferson with the very next pick, so much so I went for a walk in the rain with my pit Freddie Spaghetti (spaghetti-tini). I had to take time to really process the trade, but it wasn't easy. Even with the homies Gayle Saunders and Chris Mallee stanning HARD for Reagor, I had to take time to jump in to Reagor's tape and take a long look at what he might bring to the table for the Eagles in 2020 and beyond.
Needless to say, my mind has been changed. This was a really solid pick by the Eagles for a variety of reasons. After looking at the additional selections the Eagles made (aside from Jalen Hurts), it's clear that the Eagles want their QB Carson Wentz to have speedy and athletic skill players for him to get the ball to. I plan to get more into those other players in later posts, so for this one, let's focus on Reagor.
Reagor had a somewhat up and down career at TCU, but a lot of it really wasn't his fault. He sandwiched a 72-1,069-9 season in 2018 between a 33-576-8 season in 2017 and 43-611-5 in 2019. His down 2019 can be attributed to a variety of things, mainly a freshman QB who was overwhelmed many times through out the season, but really it was just overall stagnant play calling. Instead of using Reagor as the jack of all trades player he is, they insisted on sending him downfield as a X/Z receiver, limiting his opportunities to touch the ball.
In order to really get an understanding of what Reagor brings to the Eagles as a receiver, and all-around Swiss Army knife, it's important to dive into the tape like I did to review his overall career at TCU and project what his usage may be as a rookie in 2020. So let's go!
Strengths:
Speed
Athleticism
Position flexibility
Special Teams/return ability
Weaknesses:
Drops
Ball security
2019 tape
Strengths:
Speed
Jalen Reagor's speed can not be disputed. Despite running a somewhat disappointing 4.47 40 yard dash at the NFL combine, it's clear that Reagor is much faster than that when watching him on tape. If you don't get a hand on him he'll destroy you, and even if you do, if he escapes from the bump and run coverage he is able to reach his top gear pretty quickly. He'll add a deep threat element to the Eagles defense that they sorely missed in 2019 after DeSean Jackson got injured.
Reagor's route running ability is a bit underrated, though he still has work to do in that regard. He shows off solid route running chops here and gives a solid fake versus the Texas Tech cornerback before executing a great deep post. The speed difference is clear as Reagor sprints past the defender and into open space to make the catch for a deep TD.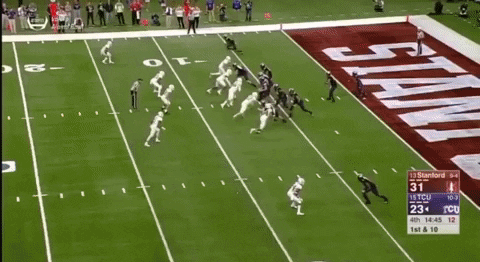 Reagor has flashed his speed since first arriving to TCU as a freshman, as evident here by this play versus Stanford in 2017. Reagor went OFF in the Alamo Bowl against Stanford posting a 5-169-1 stat line, with his lone TD coming on this go route. He blows by the Stanford secondary and races untouched to the end zone to bring TCU within one point early in the 4th quarter.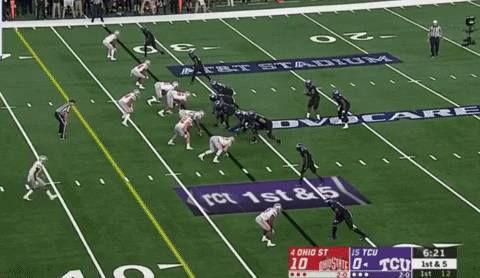 This is a play that I'm sure you've seen numerous times, as many people point to Reagor's film versus Ohio State in 2018 as the best example of what he's capable of. Reagor hung a 7-98 line up on tOSU, while beating fellow 2020 1st round pick and former Ohio State cornerback Damon Arnette a few times. Here Reagor beats Arnette over the top on the go route and makes a circus catch to pull in the pass.
It can't be understated how dynamic Reagor is as a deep threat, again showing off his skills as a freshman blowing by the West Virginia defender for a 48 yard TD catch in 2017. Like the saying goes "if he's even, he's leaving" and that absolutely applies to Reagor. He plays so much faster than his 4.47 40, and is lethal on deep routes.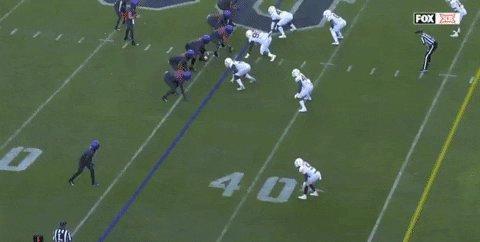 Even though Reagor had his struggles in 2019, he was able to get loose from the Texas Longhorns cornerback for a 44 yard TD reception from TCU QB Max Duggan. With no help over the top, clearly the cornerback should've opened up and ran with Reagor, but instead he's eyeing the QB and gets blown past for the easy TD.
Reagor is the epitome of a deep threat, and should be able to beat NFL defenses over the top if they don't pay attention to him and provide help. He's not a one-trick pony though, as he can run deep ins, deep outs, posts, and corners, along with the go routes I highlighted.
Athleticism
Reagor isn't just a straight line speed guy either, he also has the prerequisite athleticism to win versus NFL defenders. His 42″ vertical jump was the second best result at the 2020 combine amongst receivers, as was his 138″ broad jump. You see his athleticism highlighted on numerous plays through out his career, which helps off set his 5'11 height versus bigger defenders.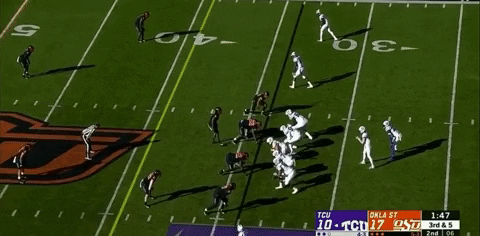 Reagor is a straight up acrobat, and his lower body explosiveness and good hands allow him to make difficult catches frequently. Along with his speed, this is a innate trait that will serve him well in the NFL, as throwing windows are minimized, so the ability to contort your body to make tough catches becomes more and more important.
After seeing these sorts of catches, I really became more optimistic about his prospects of becoming a legit NFL wide receiver. If he was just a speed receiver, that would be one thing, but Reagor is a next level athlete who is explosive in a variety of ways. Here he uses his body to box out the defender, and explodes up into the air to high point the ball and bring it in for a big time play.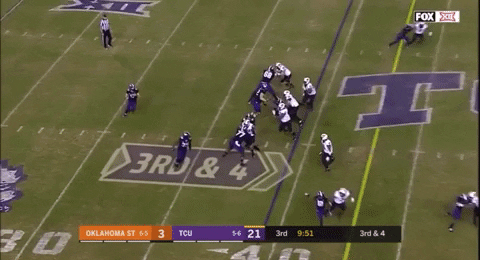 How many 5'11 receivers do you see making catches like this on any level? You can argue till your blue in the face about "level of competition" but big players make big plays and Reagor makes BIG plays. The cornerback was in great position to make a play on the ball until Reagor mossed him for the long reception.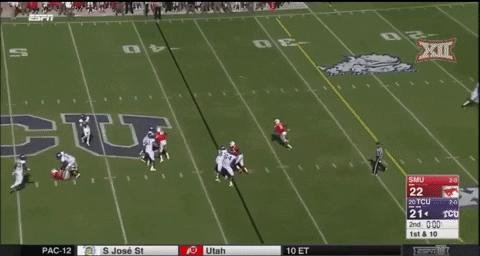 Who else would you toss it up to for the Hail Mary at the end of a half? Clearly the player that boasts the 43″ vertical! Reagor jumps up out of a sea of red SMU jerseys to snatch the ball down for the contested deep TD catch. Reagor will give the Eagles so many options on offense due to his ability to lift up above defenders to grab a pass.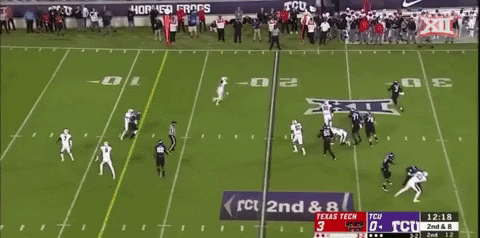 This last TD catch highlights not only Reagor's superior leaping ability, but also his toughness. He doesn't hesitate to go up and make the TD grab knowing he will get blown up on the play by the defender. He takes the big hit and holds on to give TCU the lead over Texas Tech early in the second quarter.
I'm excited to see the types of highlight plays that Reagor can make in the NFL for the Eagles. He'll give Carson Wentz an athletic option on the outside who can make up for inaccurate throws by making mid-air adjustments to pull in acrobatic receptions.
Position flexibility
In 2017 and 2018 TCU did an excellent job of moving Reagor all over the field to put him in position to exploit mismatches. In 2019 they decided to keep him in a more traditional X/Z role outside, and his numbers dropped. When looking at how he was used in the '17 and '18 seasons though, you get a really good idea of why Eagles GM Howie Roseman and Eagles offensive coaching staff were excited to make Reagor the pick in the 1st round.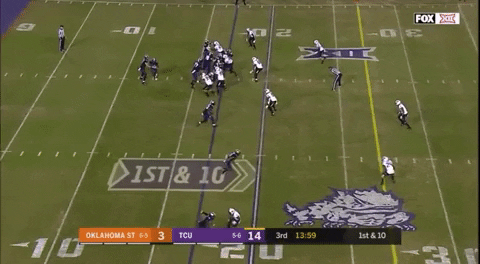 At TCU Reagor was used as a traditional half back outside of his receiver duties taking hand offs from the QB in the shot gun, which is something I hope the Eagles plan to do with him as well. Reagor's game tape versus Oklahoma State in 2018 may be the best overall tape that he has. He put up 233 total yards and 2 TDs on 14 touches (8 receptions, 5 carries, 1 kick return).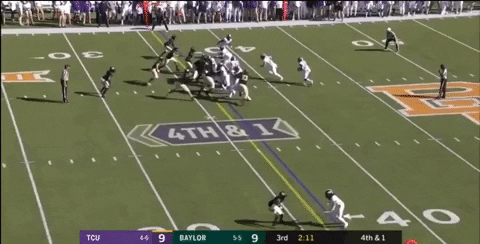 TCU also used Reagor on reverses as well, which was a great utilization of his speed and athleticism. Here the Baylor defense bites on the run, and is unprepared to defend against Reagor on the reverse sprinting in the opposite direction. He takes the hand off and is off to the races, untouched for a 37 yard TD run.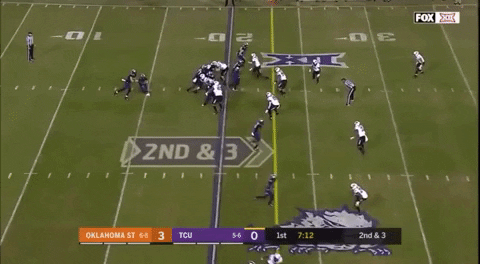 Another hand off against Oklahoma State, another big run for Reagor. His versatility as an offensive weapon should make fans and Eagles coaches alike really excited about what he should be able to do on the field in 2020 and beyond. This is a reason why Reagor has drawn so many comparisons to Kansas City Chiefs receiver Tyreek Hill.
I love how TCU used Reagor on orbit screens, even when they didn't give him the ball. Orbits open up inside running lanes, especially on inside zone runs, which can make it so much easier to loosen up defenses for Eagles RB Miles Sanders. When TCU did decide to pass to Reagor on Orbit screens, he usually made defenses pay. Orbits open up so much space, and Reagor in space is deadly.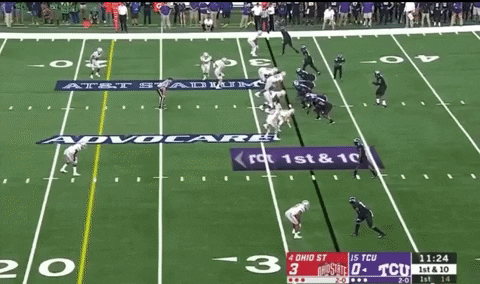 Reagor is also a menace on traditional wide receiver screens, which clearly the Eagles will use him on frequently. No more screens to Alshon Jeffery or Nelson Agholor, two players that weren't able to take advantage of the space the screens provide. Reagor on the other hand is a beast with the ball in his hands, and will expose NFL defenses that don't prepare well for the screen passes the Eagles will inevitably implement.
Special Teams/return ability
In his 3 year career at TCU, Reagor put together 724 total return yards and 2 TDs on 36 total returns. In 2019 TCU used Reagor as a steady punt returner and he rewarded that decision with 312 yards and 2 TDs on only 15 returns, averaging 20.8 yards a return. I expect to see Reagor push for an opportunity as rookie to return punts for the Eagles, and even possibly kick offs as well.
For Eagles fans, this punt return versus Kansas may look eerily familiar to DeSean Jackson's game winning return during "Miracle at the Meadowlands 2", as Reagor, much like Jackson, struggles to field the punt cleanly. Also like Jackson, Reagor finally scoops the ball up and then races through the opposing players for a house call. Reagor's speed and acceleration were on full display here, along with his agility and vision. This kid is no joke.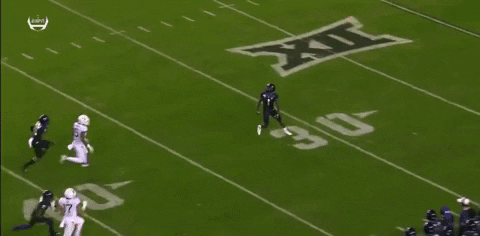 Another punt return, another TD for Reagor, this time against the Texas Longhorns in 2019. Reagor is a magician in tight space, using his vision and jump cut ability to shake free of the gunners closing in to finally break into open space. The Longhorns should've had Reagor completely contained on the play, but his next level athleticism gave him the ability to juke free, and once he hit open field he turned on the after burners.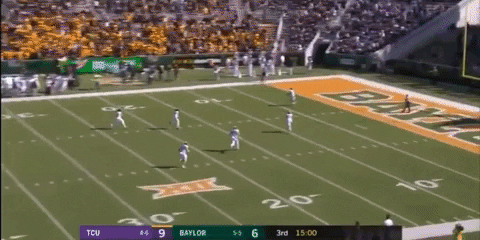 Even though Reagor only had 13 career kick returns in his 3 years at TCU, he averaged a robust 24.2 yards per return. Those are solid numbers, despite the small sample size, and gives a potential indication of what he may be able to do as an NFL kick returner. The Eagles may choose to have Reagor focus on punt returns only as a rookie, as the Eagles struggled to find anyone that could consistently fill that role in 2019.
Darren Sproles, Greg Ward Jr, and Boston Scott all returned at least 7 punts in 2019, averaging a combined 6.13 yards per return. As a team the Eagles average 5.9 yards per punt return on the season, ranking 25th overall in the NFL. Reagor should have a chance to earn the job in training camp, and if he wins it he would provide a much needed upgrade at the position.
Weaknesses:
Drops
In 2019 Reagor was credited with 9 drops, but the numbers go a bit deeper than that. He was the owner of a 47% catch rate in 2019, and had drop percentage of roughly 16%. Those numbers jump out for sure, you draft a receiver, especially a 1st round receiver, to be a consistent contributor. Dropping 16% of you passes and recording a catch rate below 50% are certainly red flags.
As rosy of a picture as I painted with Reagor's upside (which there's A LOT of) there are areas like drops that he absolutely needs to address. While many people will want to blame the QB situation at TCU in 2019, it's on Reagor to catch the passes he gets his hands on.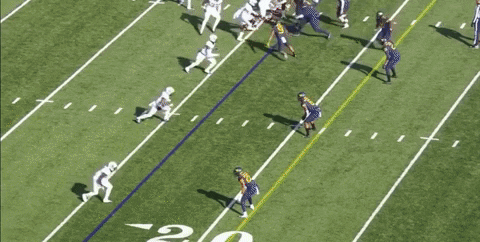 When I was coached to play WR the main thing my position coached stressed was "if the ball hits your hands, you have to make the catch". It's the same thing my dad taught me growing up, and when I was coaching middle schoolers in East Harlem the nuances of the position, it's the same thing I stressed to them.
Now there are times when it isn't that straight forward, but here Reagor gets his hands on the ball and needs to pull this deep pass in. These types of drops are REALLY deflating, as it means a big play is taken off the board. Call it a "concentration" lapse or whatever you'd like, but you have to make these plays.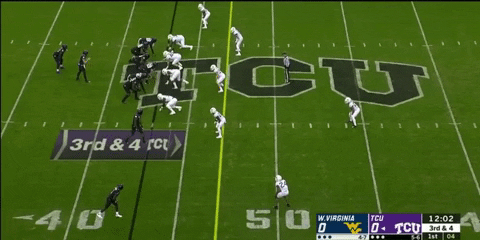 As deflating as the drop above is, this one is even worse because it leads directly to a turnover. Sure the pass is in traffic and Reagor gets hit while trying to corral it, but I've seen him make tougher catches. The last thing you want to do as a pass catcher is tip the ball up in the air so a defender can make a play on it.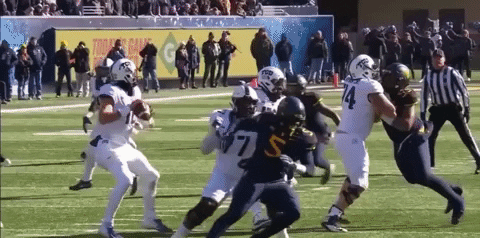 This is the definition of a "concentration drop" as Reagor is looking the ball all the way into his hands but still can't pull the pass in. He's clearly thinking about the play he's going to make after he pulls the ball in, too bad he never got the chance.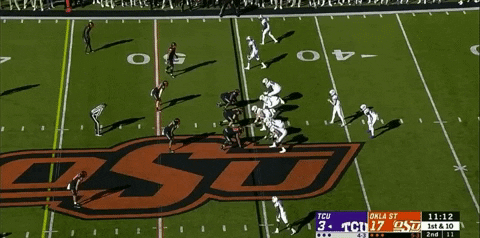 Reagor runs a great comeback route but lets the ball hit him in the hands and fall to the ground for an incompletion. Even though it's a 1st down play still pretty early in the game, when you're down 17-3 you need to make every play that you can. These sorts of drops will frustrate Eagles fans as we've become accustomed to seeing passes deflect off of the hands of Eagles receivers over the years.
Even though this wasn't going to be a 1st down catch, it's again a catch that Reagor is capable of making. He leaps for the catch and gets his hands on the ball but isn't able to reel it in despite being in position to do so. The hit may have deterred him somewhat, but this is a play that Reagor needs to make no matter what.
I have a lot of faith that Reagor will continue to be a good football player, and someone that takes the Eagles receiving corps to the next level. But drops, especially on easy catches, are the best way for players, coaches, and fans to lose faith in you. With the fan base already split on Reagor being the pick at #21, he'll need to be a consistent force for us, especially early on in his career.
Ball security
Aside from the drops in 2019, Reagor also had his issues with ball control. Two things you don't want to see from a receiver are drops and fumbles, especially fumbles lost. In 2019 alone Reagor had 3 fumbles lost, tying him for the most amongst receivers in the NCAA.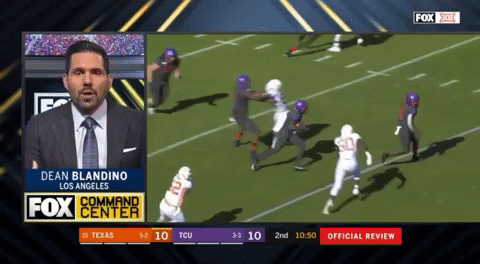 In full transparency, I have my issues with the fumble. Watching the tape I wasn't sure it was a fumble at the time, and then I was shocked to see the referees call it a fumble live. I was even more shocked to see the play upheld after an official review, but my feelings or Reagor's feelings aside (he also clearly disagreed), the play was ruled a fumble and a turnover deep in TCU territory.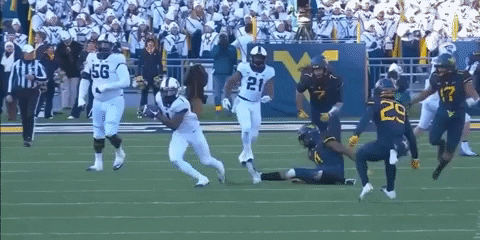 While there's an argument to be made about the fumble above, this one is an open and shut case. Reagor was careless with the ball and his lack of ball security costs him when the West Virginia defender comes from the blind side to put a big hit on him. Keeping the ball high and tight will limit Reagor's exposure to fumbles, and is a tried and true method for improving ball security issues, just ask Tiki Barber.
Make no mistakes about it, Reagor is a monster as a ball carrier, whether from a hand off or after the catch. With little other talent around him at TCU, there was no way that coaches would bench Reagor for his sloppy ball handling. The NFL is a different situation though, and if Reagor can't clean up his fumbles as a professional, he may not get many chances to continue to redeem himself.
2019 tape
We can make excuses, or try to rationalize the drop off in production, but no matter what Reagor's production in 2019 was a complete drop off from his 2018 tape. Clearly in 2019 TCU used Reagor less as a gadget player and more as a traditional X/Z receiver, which makes his drop off even more alarming. He ran more traditional routes in 2019 from the outside and the slot, but wasn't able to capitalize on his speed and athleticism often enough.
Admittedly, TCU's freshman QB Max Duggan struggled, but his 2019 numbers weren't drastically different from the QB by committee numbers put together by Shawn Robinson and Michael Collins in 2018. The numbers that Reagor produced though were quite different, and the Eagles have to hope that they're getting the 2018 version of Reagor and not the 2019 version.
HHHHH
Final grade: A-
Despite Reagor's issues with drops and fumbles, he is a great prospect and an excellent fit for what the Eagles are looking to do moving forward as an offense. He is versatile, fast and athletic, and his comps to Tyreek Hill are well earned. Personally I think of him more as a Percy Harvin and Jeremy Maclin hybrid, able to beat you in a variety of ways early in his career as he develops his route tree and press beating technique. Once Reagor puts all the pieces together as a player he will be a significant weapon in the Eagles repertoire, and someone that Carson Wentz will grow to love.
Despite it taking me some time to gain perspective and appreciation of the draft pick, I can say that I've turned the corner on Reagor being the right pick for the Eagles. There will be plenty of negativity surrounding the pick until we get a chance to see him play in 2020, but as a person that was STAUNCHLY against the pick before breaking down his film, let me just say that Reagor is a stud in the making and a player we will grow to love. He will make things easier for Eagles TE's Zach Ertz and Dallas Goedert, RB Miles Sanders, and QB Carson Wentz, and can be the future for us at the receiver position.
---
Mal Davis Alshon Jeffery, Carson Wentz, Chris Mallee, Eagles, film, Gayle Saunders, Jeremy Maclin, kick return, Miles Sanders, Nelson Agholor, NFL, Percy Harvin, punt return, quarterback, review, stan, TCU