Uncategorized
4thandJawn writers predict the pick: Which side are you on?
23 April 2020 Uncategorized
---
Tonight is the night, the night we have all been waiting for. Weeks of mock drafts and rumors all come to an end tonight. The Philadelphia Eagles are on the clock tonight and nothing is ruled out of the question. After all when its Howie Season, anything is possible. We've pooled together our writers to see what exactly they're thinking will happen tonight. Without going to much further, here's our predictions.
Ryan Neal (@Rwilliamneal) 
TCU WR Jalen Reagor
 The more I think about it, the more I think Jalen Reagor. Without trading up, the Eagles will have to take whoever falls to them and Reagor will be there. However, Reagor could be the guy they want after all. He fits the mold of exactly what they are looking for. He's fast, he can extend defenses and he is explosive. They've been talking to him a lot throughout this process and he has connections to the organization. For all we know, he could have been their guy they wanted this whole time.
Brennan Sokowoski (@BSokowoski) 
Oklahoma WR CeeDee Lamb
Eagles trade up to 11 and land their guy (and mine). The Oklahoma product is exactly what the offense needs. Size, athleticism, yards after the catch, consistent hands, can win the 50/50 ball and take a slant to house. CeeDee Lamb is the ultimate prize for Philadelphia tonight.
Jimmy Smith (@OTR2Victory)
TCU WR Jalen Reagor
My heart says trade up for Lamb. My mind says trade back, get more or better picks and grab Jalen Reagor.
Rick Kern (@rickrkernii)
Baylor WR Denzel Mims
My prediction for the Eagles tonight is Denzel Mims at #21. This is assuming that the Big 3 at WR is already off the board. There has been talk about Jerry Jeudy slipping due to injury, so in that case it would be a tougher decision to make. In that situation, I think Howie passes on Jeudy with the Sidney Jones experiment still fresh on his mind. My argument for Mims over guys like Jefferson, Reagor, Aiyuk, Hamler, etc. is that he has the skillset I prefer in a #1 receiver in the NFL. When I envision the other guys, I see very good #2 receivers. (My guilty pleasure pick for tonight is Cesar Ruiz though.)"
Mark Drumheller (@x_drumheller)
Alabama WR Jerry Jeudy
The Eagles trade up to 11 and select Jerry Jeudy from the University of Alabama. Jeudy's advanced understanding of the nuances of the position will allow him to gain separation consistency at the next level. Carson Wentz needs another elite target outside of Zach Ertz and Jeudy will provide that immediately. His strengths are a perfect fit for Pederson's offensive philosophy to attack horizontally as well vertically. Howie gets what Howie wants, and Roseman is relentlessly active on draft day. I see this year as no exception. The Jets need help in the secondary, and Eagles could very well send some depth at that position in Rasul Douglas to New York along with some picks. 
Chris Mallee (@mallee_chris_24)
TCU WR Jalen Reagor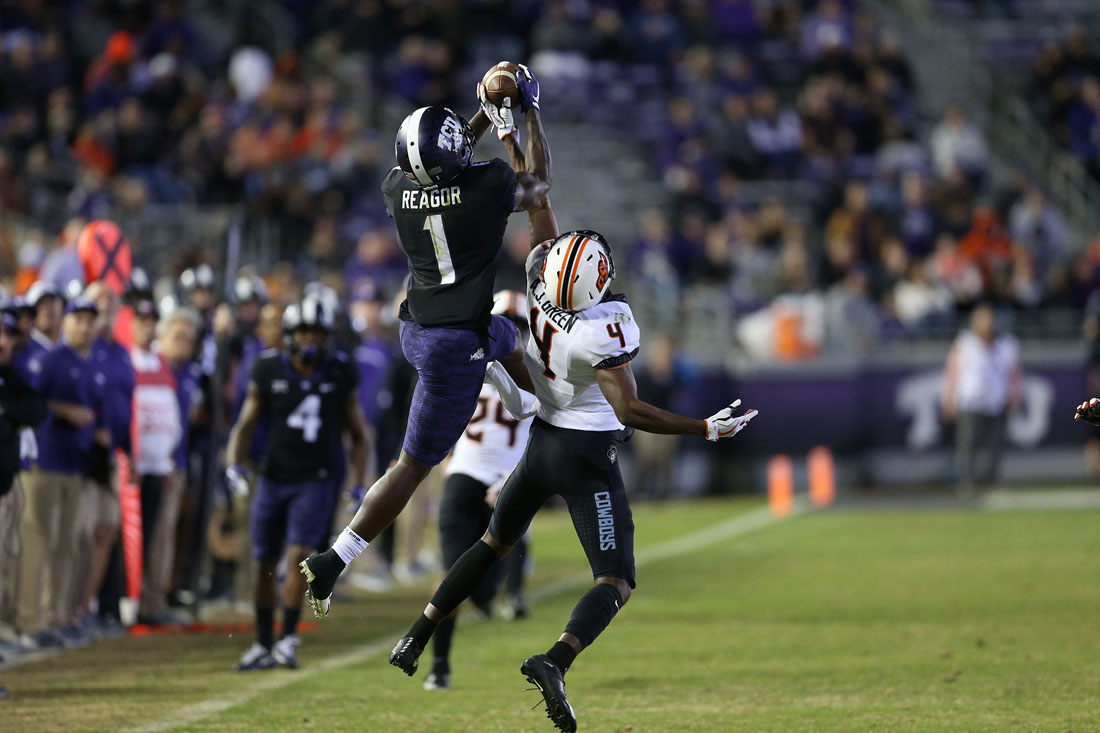 Eagles Fans! Today is the day. I truly believe that Lamb, Ruggs, Jeudy, and Jefferson are gone by 21. So assuming we stay at 21 or maybe move back, Jalen Reagor, WR out of TCU is the pick. Jalen is an athletic freak who lifts like Saquon, burns DBs like Tyreek Hill, and wins contested catches like Julio Jones. He'd be a plug and play week 1 starter who would elevate our entire offense.
Follow 4thandJawn on Twitter for all the latest news and draft coverage. Also, remember to tune into our livestream tonight as well. Fly Eagles Fly!
---
Ryan Neal CeeDee Lamb, Denzel Mims, Jalen Reagor, Jerry Jeudy