Eagles film study- Taking a deep look at Philly's new CB Daryl Worley
10 March 2018 Film Review
---
After Philadelphia traded WR Torrey Smith to the Carolina Panthers for CB Daryl Worley, everyone is quickly scrambling to figure out how Worley now fits in with the Eagles secondary. Let's take a look at his strengths and weaknesses, to get a better idea of how he can help Philadelphia in 2018 and beyond.
(Courtesy of NFL.com)
Quickly taking a look at Worley's draft profile, you see that he's a bigger corner back, with long arms and nice size for the position. He does lack the long speed, and intermediate quickness that you look for in a lock down CB, but Worley has the ball skills that will keep him on an NFL field.
Strengths
Ball skills

Off coverage

Run stopping/tackling ability
Ball skills
Worley's most leverageable skill coming into the NFL was his ability to make plays on the football from his corner back position. Being a bigger player at 6'1 with 33 3/8″ arms, he can get his hands on the ball consistently for pass break ups and interceptions. In 3 years at West Virginia University, Worley collected 10 INTs and recorded 21 pass break ups (PBU's).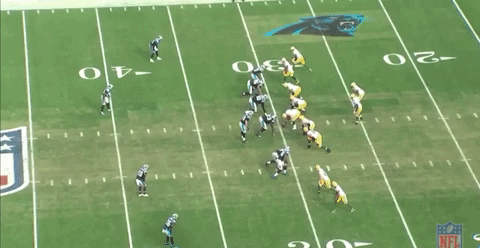 Two of Worley's strengths are on display here, using off coverage to identify the route combination in order to run with Green Bay Packers WR Davante Adams, and undercut the route for an interception. Worley high points the ball, and maintains possession even after hitting the ground.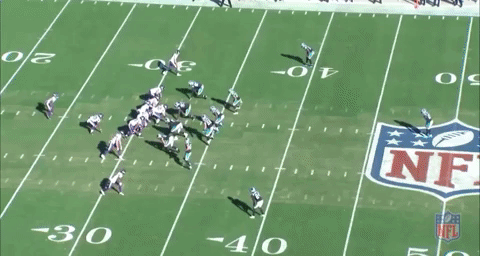 Again Worley uses off coverage to his advantage, sitting at the top of the route and using great discipline to shadow Vikings WR Adam Thielen on a double move. Worley is able to flip his hips and then box out Thielen in order to make the big time INT.
Here Worley uses his physicality to break on the comeback route and make a nice pass break up against Saints Pro Bowl WR Mike Thomas. Worley consistently matches up well with larger WRs, using his long arms and big body to make life difficult for them all game.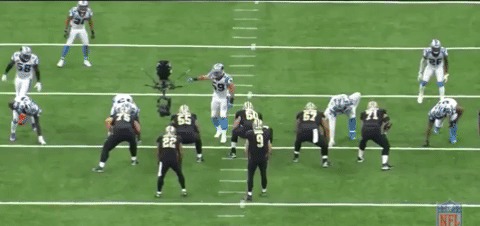 On this play Worley does a great job of getting his hands on WR Mike Thomas in the slot, and stays with the Saints #1 WR all the way to the sideline, making the diving pass break up. In 2 seasons with Carolina, Worley managed 3 INTs and broke up 19 passes.
Off Coverage
Due to Worley's lack of top end speed and change of direction ability, he spends a lot of his time in off coverage away from the line of scrimmage. The Eagles utilize a similar system with their starting boundary corners, especially with CB Jalen Mills. Worley uses the additional space between him and the receiver as a way to identify routes, or to break down on quick hitting routes to make a tackle in space.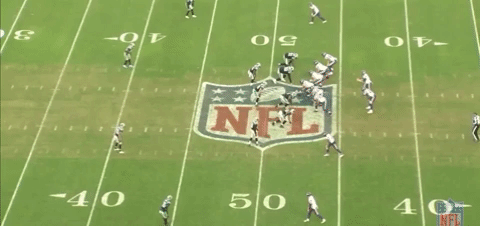 Worley sits back in off coverage, and uses his eyes to identify the route, and comes up to make a nice hit. He uses form tackling to attack the ball carrier and bring them down, many times preventing longer plays.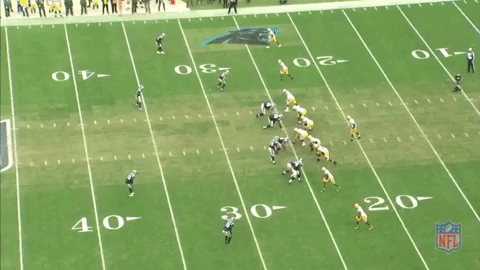 Worley gives the speedy Packers WR Randall Cobb plenty of cushion on this play. Packers QB Aaron Rodgers delivers the quick pass into the flats, and Worley comes down hill to wrap up Cobb and limit the play to only a few yards.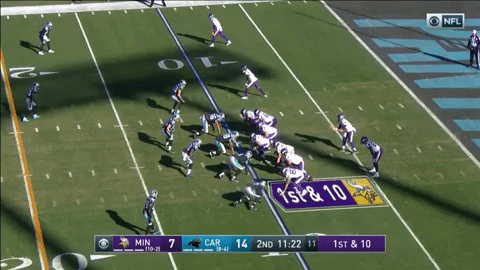 Here Worley reads the route by Vikings RB Latavius Murray, and runs up to clean up the play after Panthers LB Thomas Davis misses the tackle.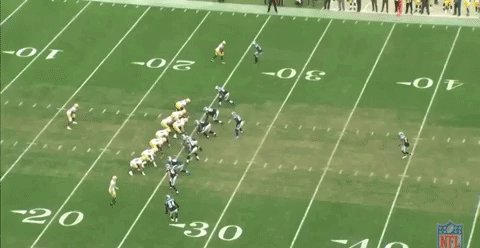 Even though Worley doesn't have the ideal athletic profile, he shows the ability to shadow faster/more athletic receivers in space. Here he uses his footwork and hip flip to shadow the receiver on the out breaking route. Worley understands how to maximize his skill set as a defender, and should be able to continue these sorts of contributions as an Eagle.
Run stopping/tackling ability
Worley is a really solid tackler, racking up 111 total tackles through his first two years in the NFL. In 2017, Worley was the 5th leading tackler on the Panthers, finishing with 49 solo tackles.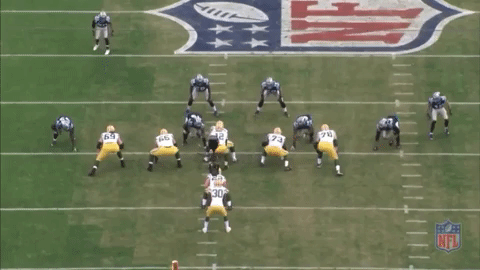 Worley blitzes from his right cornerback position to bring down the Packers ball carrier for a short gain. When Worley gets his pads level and has a nice running start, he can definitely deliver a solid hit.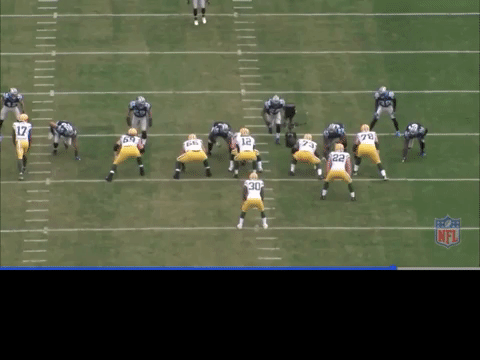 Worley runs down the Packers running back from behind, using a strong form tackle to drag him to the grass. Worley shows a real knack for run support, which is also something he'll be asked to do in Jim Schwartz's system.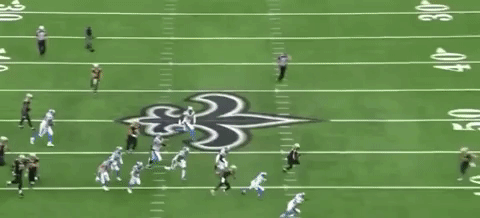 On this play Worley is finally able to drag down Saints RB Alvin Kamara after Kamara weaved through the Panthers defense for a big play. Worley does a nice job of attacking Kamara's legs, preventing Kamara from leaping over him.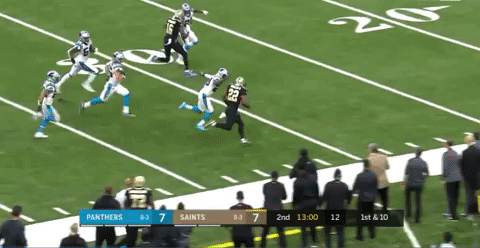 Again Worley is bringing down a Saints running back, this time it's Mark Ingram who is weaving through the Panthers defense for a big play. Worley fights off the block from the Saints WR and wraps up Ingram low by his legs and brings him down.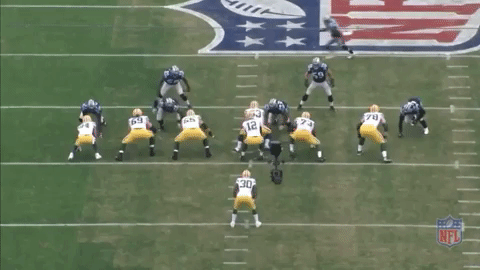 On this final play Worley does a great job to identify the run and come up to fill the outside running lane. He finishes off the play by once again attacking the ball carriers legs and spinning the back to the ground. Worley's tackling ability is something that will keep him on the field for the Eagles, and helps to maintain the tone for a very aggressive and physical defense.
Weaknesses
Press coverage

Overall speed/change of direction skills
Press coverage
As of right now press coverage isn't Worley's calling card, as he struggles to be consistent with his technique and footwork against opposing receivers. Too often Worley fails to get a hand on the receiver, allowing for relatively free releases inside.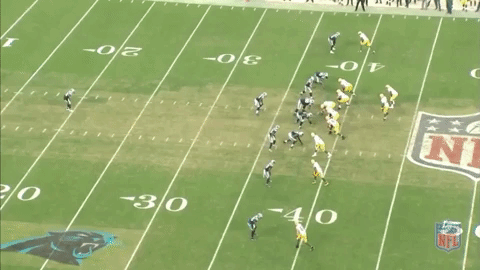 Worley lines up close to the line of scrimmage directly across from Packers WR Jordy Nelson, and initially does a good job mirroring Nelson's footwork. Things quickly fall apart when Worley doesn't get a hand on Nelson, and Nelson beats Worley with a nice move to the inside.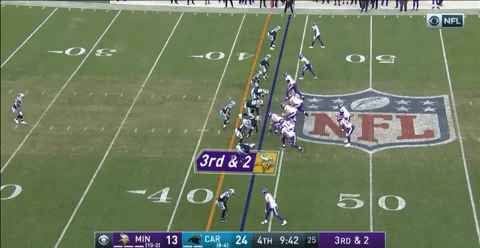 Vikings WR Adam Thielen beats Worley with a great fake outside, and swims over the attempted jam to beat Worley to the inside for an easy reception. Worley tends to give up the inside route in press coverage, which could be prevented by better footwork and better usage of his jam arm.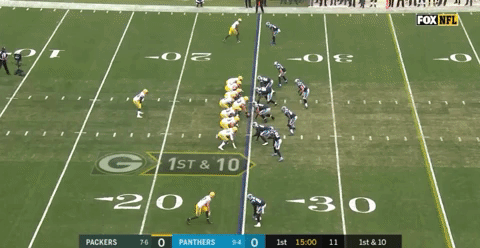 Here Worley walks up to press Packers WR Davante Adams, but isn't able to contain the wide receiver before he breaks inside to open space for a first down. Worley's footwork was a bit sloppy, preventing him from making strong contact with Adams when jamming him.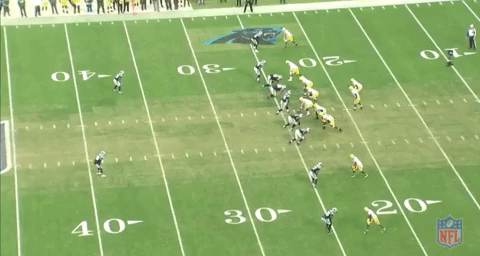 Worley again doesn't get a hand on the receiver, and gets juked right after the snap. His lack of footwork, and inability to jab the receiver leads to him stumbling and eventually falling down. Press coverage is definitely an area for growth, but there's some potential as long as he cleans up his technique.
Overall speed/change of direction skills
Worley has been able to overcome his lack of top end speed and change of direction ability, by playing off the line of scrimmage, and using his big body to his advantage.  But there are times on tape when he can't overcome his physical liabilities, and gives up plays to the opposing receiver.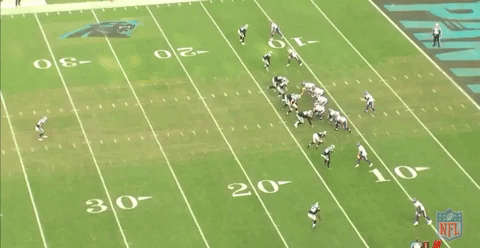 Lined up in the slot, Worley is tasked with slowing down breakout Vikings WR Adam Thielen, which on this play he fails to do. Again Worley is lined up close to the line of scrimmage, and again he gets beat due to faulty footwork and an inability to get his hands on the receiver.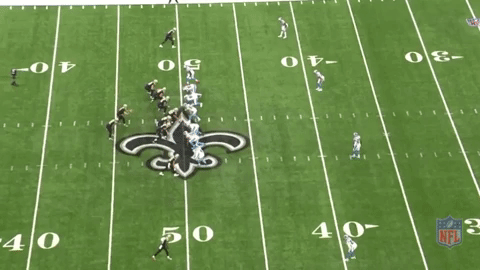 In off coverage Worley gets lulled to sleep by Saints WR Mike Thomas, and then is cooked on the double move. A lot has been made about Worley's inability to get beat by double moves, which clearly isn't true. He was fortunate several times that the QB was looking elsewhere, like on this play.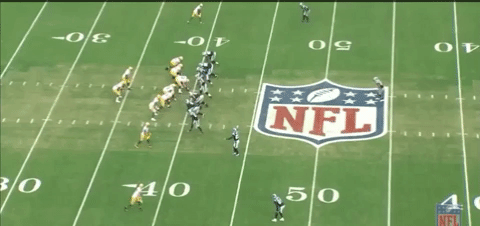 Once more Worley gets roasted on a double move, trying to anticipate the route as opposed to allowing the play to develop in front of him. The Packers WR shifts down on his route, Worley bites, and is left behind for a potential big play. Again the QB is looking in another direction, fortunately for Worley.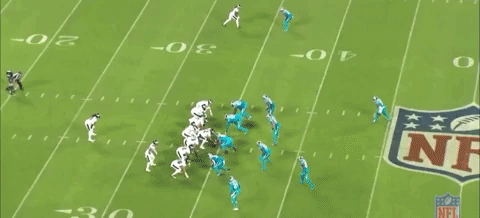 Worley does a solid job of running with the Eagles receiver on this play, but loses his leverage at the end of the play as the receiver breaks down well at the top of his route to pull in the completion. Speed is one area that Worley can't over come, but much like with press coverage, improving on his foot work and technique will go along way towards him shutting down opposing receivers more often.
Overall impression
Daryl Worley fits in with the Eagles secondary in a variety of ways. He's an inexpensive option for the Eagles at CB, and has the size and ball skills to make an impact in the Eagles secondary. His tackling ability is another plus that he brings to the table, able to contribute in run support, or bring down receivers running after the catch.  His  ability to come down hill to either make a play on the ball, or tackle the receiver for a short gain will definitely be welcomed in Philadelphia
Obviously Worley also has his flaws. For a player as tall as he is, with such long arms, you'd expect for him to be a bit more consistent as a press corner. Worley is much more of a zone, off coverage corner back at this point in his career, and will need to work diligently at honing his press coverage skills. He does show flashes of his ability to lock down in man coverage, but it's not nearly consistent enough to be counted on as reliable. Also, Worley's lack of top end speed will always hinder his game, making it necessary that he remain disciplined in coverage, especially against double moves.
Another great move by Howie to free up cap space, and help us get more talent at one of the most important positions in football.
---