Potential fit with the Eagles- Leighton Vander Esch 2018 NFL Draft profile
9 March 2018 DRAFT Film Review
---
After a great combine showing, Mountain West Defensive Player of the Year Leighton Vander Esch is shooting up draft boards, and making people go back and watch more film. Let's take a look at how Vander Esch potentially fits in with the Eagles, and what round he might be available.
Positional fit- Weak side (WILL) linebacker
Strengths
Athleticism

Intelligence

Run stopping ability
Athleticism
Vander Esch is a very fluid athlete that's capable of changing directions on the drop of a dime. For a player that checks in at 6'4 256 lbs, it's really impressive to see Vander Esch move around as well as he does. Vander Esch also does a great job of spying QBs, not allowing them to break free from the pocket.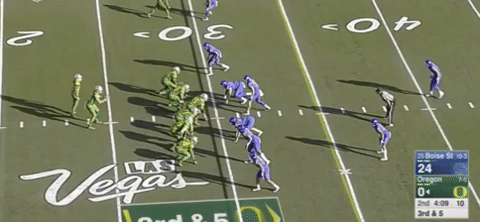 Vander Esch uses his 4.65 speed and his top notch athleticism to sprint to the QB, leap over the RB attempting to block him, and collect a sack. He recorded a 39.5 inch vertical at the combine, tied for second highest among linebackers.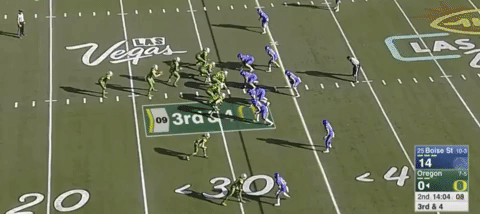 Vander Esch puts his complete athletic ability on display here, initially rushing the passer, then changes direction to run down the ball carrier from behind to prevent a much longer play. Vander Esch made plays like this all season, which is why he was named Mountain West Defensive Player of the Year in 2017.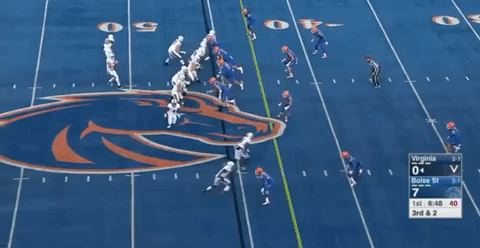 An underrated skill, Vander Esch excels at reading and reacting to QBs while spying them. Vander Esch was tasked with chasing around several mobile QBs in 2017, and showed he has the ability to keep up with almost any quarterback. On this play he is tripped up by the ref, but is able to scrape the turf, recover, and make the gang tackle.
Again Vander Esch is keyed in on the QB and tracks him to the point of contact and makes a strong form tackle to prevent a big play. He consistently takes good pursuit angles to the football and utilizes solid form to bring down the ball carrier.
Intelligence
Vander Esch is an extremely intelligent football player that diagnoses plays pre-snap and attacks downhill like a man that was in the offensive huddle while the play was being called. He clearly watches film on his opponent, and can be seen indicating to the other defensive players where they should be aligned.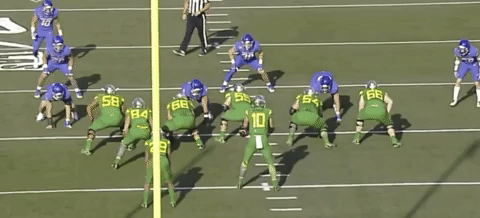 Vander Esch does a great job of reading his keys on this play and uses his eyes to diagnose where the play is going. Once Vander Esch identifies the hole, he attacks downhill and uses great form to bring the ball carrier down.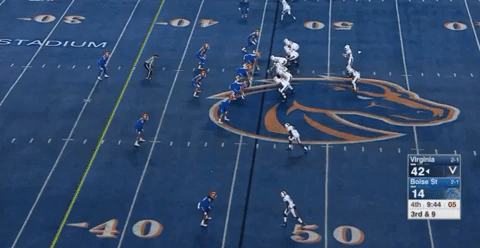 Vander Esch's eyes and athleticism are on display here, as he reads the play, then uses his lateral quickness to fight through traffic to deliver a big hit on the ball carrier. Vander Esch was definitely one of the primary enforcers on the Broncos defense.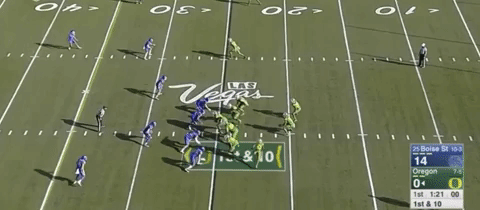 Lined up outside, Vander Esch uses patience to wait out the play and the ball carrier, until the perfect time for him to strike. Once he does, he takes down the ball carrier to limit what could've been a much bigger play.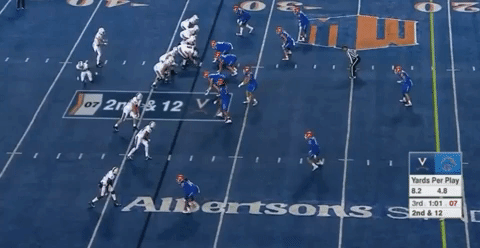 Even though this play goes for a 1st down, this was one of my favorite plays from Vander Esch on film. He reads the QBs eyes, and makes a heard break for the TE to break the pass up. Even though he just misses tipping the ball, the quick reaction reminded me a little bit of Luke Kuechly.
Run stopping ability
While Vander Esch is fluid in space, and is clearly comfortable moving around side line to side line, or dropping into coverage, his real calling card is his run stopping ability. Vander Esch will be able to make an immediate impact in the NFL with his ability to attack the running game consistently, frustrating offenses all game.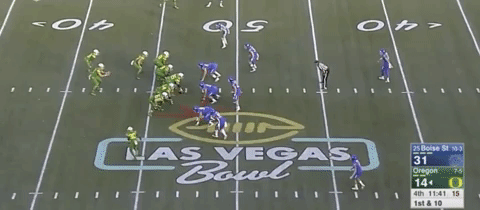 Vander Esch fights through the initial blocker, and is able to go low in order to up end the back before he can turn the corner. Vander Esch works on every play to make the stop, and will never be a player cited for lack of effort.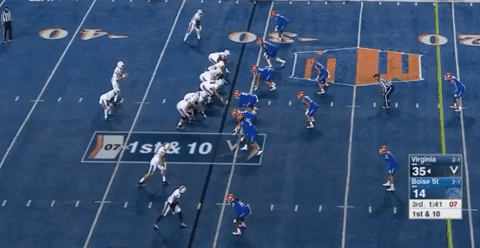 Vander Esch reads run and fires into the backfield like he was shot out of a cannon. He does an excellent job of using his speed to limit east-west runs, forcing teams to go north-south.
Again Vander Esch makes a stop in the backfield, pulling down the ball carried for a short loss. His ability to fire down hill quickly is a plus for him as it keeps blockers at bay and allows him to use his speed to his full advantage.
Once again Vander Esch uses his patience to allow the play to develop, then identifies the hole and attacks. He does a great job of using his right arm to keep the offensive lineman away from his body long enough to make the tackle.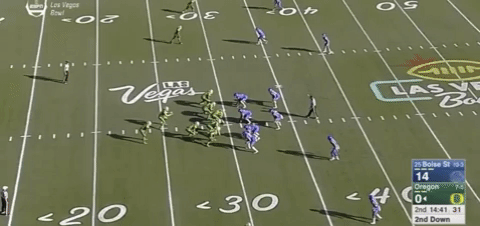 Despite his measurables, Vander Esch wouldn't necessarily be described as a "big hitter" in the run or pass game. He does however lay licks on the ball carrier when he gets a chance, and has the power behind his pads to impose his will on the opposing skill position players.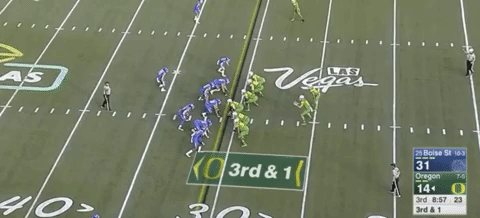 Here Vander Esch does a great job of "getting skinny" in the hole, limiting the surface area that the blocker has to latch onto him. Vander Esch uses his power to push through the blocker, wraps up the ball carrier, and slams him hard to the turf. Vander Esch was named the MVP of this bowl game (Las Vegas Bowl) after his stellar performance.
Weaknesses
Missed tackles

Strength

Limited production
Missed tackles
Even though Vander Esch takes great angles to the ball, he sometimes comes up empty handed when trying to bring the ball carrier to the ground. Whether it be over pursuing, or a lack of strength when hitting a player low (legs), Vander Esch needs to continue to work on his technique in order to limit the number of tackles he misses in the NFL.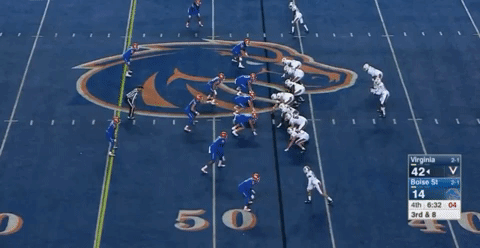 Vander Esch pre-snap points into the backfield and is indicating to his fellow defenders that the play is a run. He does a good job diagnosing the run and takes a bee line to the ball carrier, but over runs the play and gets washed out of the hole by the pulling guard.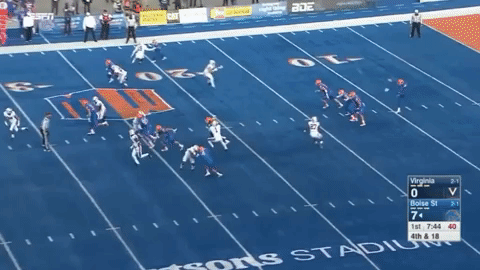 The good news here is that Vander Esch uses his speed and athleticism to beat the coverage team down field on a punt, weaving between blockers for a potential clean hit on the return man. The bad news is that the punt returner gives Vander Esch a little juke in space, and Vander Esch whiffs on the open field tackle.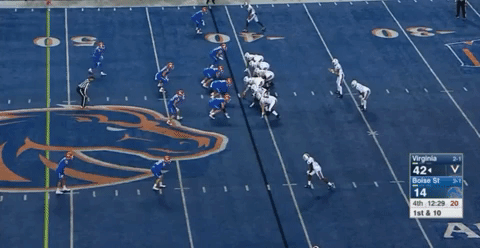 Vander Esch does a great job of diagnosing the running play, and identifies the hole quickly in order to meet the ball carrier there. Vander Esch goes low, but the running back is able to squirm free from the arm tackle, and stumble forward for a few additional yards.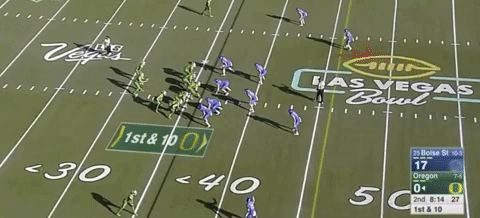 This is a double whammy as Vander Esch not only misses the tackle on the play, but also gets pancaked to the ground by the blocker. Vander Esch has shown he has issues when he can't either elude a blocker, or shed them immediately upon contact.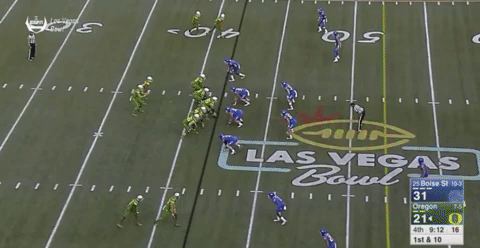 Vander Esch does an excellent job coming up to meet the ball carrier before the 1st down sticks, but is unable to bring the runner down to the ground. These types of plays can really hurt a defense, especially if the offense is mounting a long drive.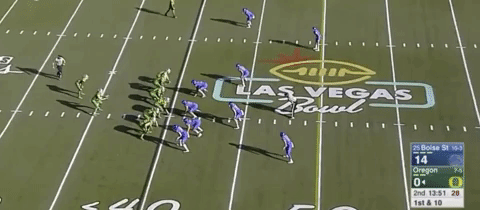 On this last play, Vander Esch again does an excellent job of reading his keys and attacking the running back in the correct hole. Vander Esch goes high on the tackle attempt, and the back is able spin away from his grasps to turn a potential loss into a short gain.
Strength
Despite his size, Vander Esch doesn't play to his 260 pound capability each down, and in each game. On tape he looks like a smaller player, and his 20 reps of 225 lbs at the combine tied for 11th best. When blockers get their hands on Vander Esch, often times they're able to take him out of the play completely. He must work on his counter moves in order to shed blockers more consistently.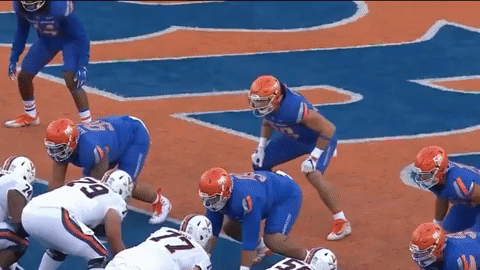 Here Vander Esch takes on the lead blocking fullback, and loses his one-on-one match up terribly. Instead of taking on the FB squarely, Vander Esch cheats to his left, allowing the fullback to use his momentum against him and drive him into the ground.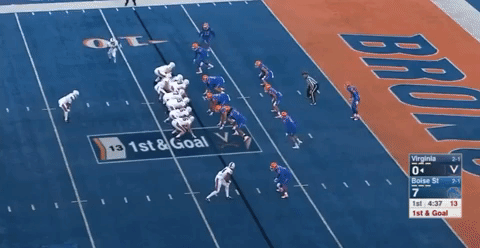 Vander Esch can't prevent the lineman from getting his hands on him, and is never able to free himself from the lineman's grasp. Ultimately the lineman stays engaged to the end of the play, driving Vander Esch into the ground for a pancake block.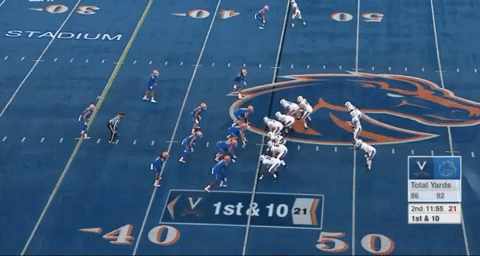 Again Vander Esch can't get free from the blocker, and again the blocker drives Vander Esch into the ground for a pancake. Vander Esch struggled with the larger and more physical offensive linemen from Virginia.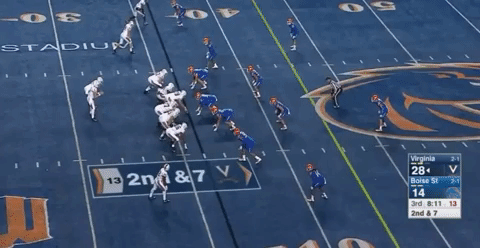 Usually Vander Esch does a good job of getting his arms extended to prevent successful cut blocks, but this time he allows the UVA lineman to get into his legs and take him out of the play.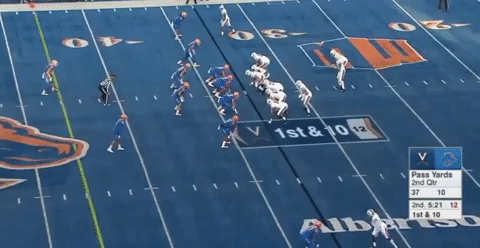 Vander Esch gets turned completely sideways on this play, and can't disengage from the right guard. The running back takes the hole that was vacated by Vander Esch and runs off of his back for a big gain.
Limited Production
No doubt about it, Leighton Vander Esch had a blow up season in 2017, and is deserving of all of the accolades he's received. You do have to question though if this was a one year flash in the pan or was this the beginning of a dominating future for the big linebacker. He played a total of 14 games combined in 2015 and 2016, due to injury and inexperience. He compiled a total of 47 total tackles, 1 total sack, and 1 INT.
In 2017 Vander Esch played in all 14 games, matching his career total, and recorded 141 total tackles, 3 sacks, 2 INTs, and 3 forced fumbles. Watching him on tape, it's clear to see that he has the size, speed, and talent to be successful in the NFL. Keep in mind however that there have been several players that only produced one year in college, blew up the combine, and yet failed to produce in the NFL. While I don't necessarily believe that will be the case, it is something worth considering, especially as Vander Esch's draft stock continues to sky rocket.
Overall impression
I was thoroughly impressed by Leighton Vander Esch on tape, as he displays the traits that you look for in a modern NFL linebacker. He's capable of moving fluidly in space, utilizing great hip flexibility. He can spy the QB, contribute as a defender in the passing game, rush the passer, and also provide outstanding run stopping ability. While his one year of true experience is definitely a flag, Vander Esch has plenty of room to grow as a linebacker, and shows more than enough to be drafted in the first round. The way his stock is currently booming, he may not make it all the way to pick #32, but if he does he'll certainly be in play for the Eagles.
On the negative side, Vander Esch's missed tackles, and inability to sometimes escape from larger blockers are definitely places that he'll need to focus on improving. Vander Esch has really strong tackling form, so by adding more strength to his frame, he should be able to bring down ball carriers at a higher rate of frequency. Also by adding strength to his frame, he should be able to keep blockers away from his pads and body, shedding them more often to get to the ball carrier. Vander Esch will need to also stop relying solely on speed to beat blockers to the ball, and will need to take them head on, and squarely, to shed blocks at a higher level.
Pro Comparison– T.J. Watt (LB Pittsburgh Steelers) Steelers
There are so many comparisons between these two it's not even funny. Watt blew up in his rookie year, and provided the Steelers with an outside pass rusher that was also capable of dropping back into coverage. Watt's versatility was his calling card coming out of Wisconsin, and was a major reason the Steelers chose him 30th overall in the 2017 NFL draft. Watt and Vander Esch have very similar frames, and measured very similarly at the scouting combine. If Vander Esch were to still be available when the Eagles select, it would be very hard for the Eagles not to pick him up, which would be only two spots after where Watt was selected a year earlier. I expect Vander Esch to have a similar rookie year impact as Watt had, with Vander Esch having the aility to play as a 3-4 ILB or as a 4-3 WILL (weakside), using his speed and intelligence to his advantage.
---